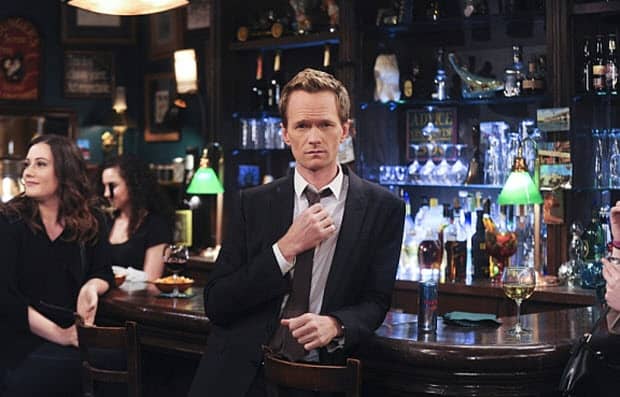 The date is finally here. After watching Marshall (Jason Segel) slap Barney (Neil Patrick Harris) eight times, Robin (Cobie Smulders) shine as alter ego Robin Sparkles, and Ted (Josh Radnor) finally find his true love, How I Met Your Mother will conclude after nine amazing seasons. I am sure there will be some laughs, a few tears, and some legendary moments, so be sure to watch this episode entitled, "Last Forever Parts One and Two." That is, if you haven't already!
I am not a very emotional person, unless it involves television. In the last year, I cried when the employees of Dunder Mifflin said their good-byes, when Booth and Bones got married on Bones, and while watching the aftermath of Will's death on The Good Wife. This episode of HIMYM brought plenty of tears. Be sure you have a box of Kleenex next to you while you tune in.
The episode begins with a flashback to 2005. The gang has just met Robin. Lily (Alyson Hannigan) is the most excited because all the group currently talks about is scotch and sports. Little does she know, but the dynamic won't be changing all that much. Also, no one is allowed to hook up with Robin unless they marry her. Though Ted didn't marry Robin, Barney did so at least one of them followed Lily's rule. The scene then takes us back to the present where Ted first lays eyes on "The Mother" (Cristin Milioti). We are only two minutes in and I have already started crying.
Barney sees "The Mother" on the dance floor and remembers her from their first meeting. He finds out she is single and wants to play his "Haaaaave you met Ted?" game on final time. Sadly, Ted needs to leave for Chicago. He takes turns saying farewell to his closest friends. It was nice seeing these five friends get so sentimental, something we don't always get to witness. We then find Ted is telling another story, this time to some random old lady at the train station. I guess Ted has told so many stories, he has run out of people to tell them to. Ted and the elderly woman are not the only people waiting for the train. The future Mrs. Mosby is also waiting to get picked up.
It is now 24 hours later and Lily and Marshall are sad that Ted has left. They walk into MacLaren's and are caught off guard when they see him there drinking a beer. He has informed them that he is not leaving because he met a girl. For most people, that would not be reason enough to not move away. Since we are talking about Ted, I buy it. Marshall is upset that Ted keeps falling in love too fast and then getting hurt, but Lily sees something different. She knows Ted has found the one. I see the look too. Ted just has an overjoyed grin on his face, that is so nice to finally see.
It is now 2015, Ted is talking about getting married and Robin is traveling for her stint on World Wide News. Though she is hardly in New York, her and Barney are still doing well, though I am not entirely sure that is the truth. However, I do think Barney always was the better match for Robin. Then "The Mother" arrives with some shocking news! She is pregnant with baby number one! And here comes the second round of happy tears.
Time for yet another time leap. Now to May 2016. The gang is hanging out at Ted's house after the birth of his child. It comes to light that Robin and Barney have been arguing because of Robin's traveling. I am sad to report that after three years of marriage, Barney and Robin have parted ways. Instead of being sad, I am angry! Everyone should end up together in a series finale. Ross and Rachel, Dwight and Angela, and now Barney and Robin, right?! At least some good news was delivered during this flash forward. Lily and Marshall are expecting baby number three.
In October 2016, Lily and Marshall decide it is time to move out of the apartment. Marshall is hosting a Halloween party and the entire gang is able to make it. Robin does make a late appearance. When she sees Ted from afar she gets that look on her face. You know the one. The same look that was overplayed for nine seasons. She still has feelings for Ted. When she sees, "The Mother," she makes a quick getaway. However, she does run into Lily and confides in her that the dynamic has changed and it is time to move on. I don't know who was more sad to hear this, Lily or myself.
The gang is back together hanging out in 2018. Barney is ecstatic because everyone is back together again, except for Robin. Marshall has more good news to share. His dream of becoming a judge has finally become true. It has been five years since the wedding, but Barney still has not grown up. He is the same man we first met in 2005. This means we have years and years of bro code books to purchase at Barnes and Noble. Apparently, the rest of the gang has not entirely grown up either. In 2019, they are at a Robots vs. Wrestlers event. This is where we learn that Ted still has not put a ring on "The Mother's" finger. Oh, and we also find out that Barney bed 31 girls in 31 days and the last one got pregnant. If you sleep around that much, it is bound to happen. It is a surprise it took this long for Barney to become a daddy.
Now we are in 202o. Ted is showing his daughter the building he designed when he bumps into Robin, who's story has been pretty non-existent for the final episode. Her and Ted have a quick moment and she is gone again. Ted is now at the hospital for the birth of Barney's daughter. The minute Barney looks at his daughter. He falls in love. And if you are keeping count, this is the third time I have teared up. Barney has had his tender moments over the years, but this scene where he talks to his daughter takes the cake as one of the best. Looks like he was finally able to grow up.
2020 is also the year that Ted marries "The Mother." The gang meet at MacLaren's for the big day. Even Robin makes the trip to congratulate Ted. "The Mother" takes this opportunity to take a picture of our favorite fivesome, that bares a strong resemblance to the picture of the group in the opening credits. And this is the moment I pretty much lose it for the rest of the show.
Ted and "The Mother" do tie the knot and we get a glimpse of some of the happier moments in their life. Then Ted breaks the news we has been dreading for the last few weeks, "The Mother" is sick. Ted is at her bedside, but then we get a flashback to that moment at the train station when Ted talks to Tracy McConnell. Yes! With only five minutes left we finally learn her name.
Now we are back to 2030 and Ted has finished his story. Penny has an awfully good question. She wants to know why they had to listen to that story, especially because their mother is hardly even in it. And she makes the discovery I was hoping we would not have to hear. She exclaims her dad, Ted, is in love with Robin. This is his way of asking his kids if it is okay to ask her out. It has been six years since Tracy has passed away. With his kids approval, Ted drives to New York with a present for Robin, a blue horn. Then the credits role.
And there it is, the end of an era. I hope you enjoyed watching How I Met Your Mother as much as I did reviewing it for you. It was a great run and though I did not want Ted and Robin together, in the end it was the perfect match-up. Thanks for taking this ride with me as I reviewed the final season of one of my favorite shows.
[Photo: Ron P. Jaffe/Fox © 2014 Fox Television. All rights reserved]