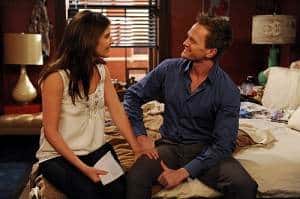 Tonight's How I Met Your Mother starts with future Ted of 2021 stuck in the Hong Kong airport and through a flashback to present day marked the return appearance of the Captain, the start of Marshall's eco adventure and Barney admitting he actually (gulp) likes Nora.
Oh yeah, Ted and Zoey were still together at this point too.
The best part of tonight's episode was again all Barney. He spent much of the episode denying his feelings for Nora but Robin, always knowing better, finally got him to make the call for a second date. The boy has got a big smile for his tiny laser tag partner.
His persistent denial was adorable and hilarious. Yet, when Barney offered to throw Robin a bone to break her dry spell and Robin asked for one back in an attempt to get him to admit his feelings, I found myself wanting them to get back together or at least, ya know, 'pork.'
Marshall, meanwhile, was ignoring the many sexual advances from Lily and was wrapped up in a documentary called 'Garbage Island.'Having once told his Dad he was going to be an environmental lawyer, he decided he needed to try and save the world now instead of staying a corporate 'stooge.'Still grieving, he wanted to be the good man he always told his dad he would be. If they had kids now, he told Lily, he'd be stuck. The two decided they will wait to start a family for a year after 'he's cleaned up all the oceans and saved the planet'because we all know that's how long it takes.
Ted attempted to be a good boyfriend and head to Zoey's old apartment to get a box of her things. It was hear he met the Captain and heard his version of how things went down in their divorce and realizes that in this story he's the bad guy. He's the other man, who stole Zoey.
While at the Hong Kong airport, Future Ted confirms to Wendy the Waitress that Zoey's not the mother and that things between them end quite badly. So with this confession, I have to wonder when will this relationship end and what will it teach us about Mr. Mosby? Here's hoping we find out soon before we get sick of watching what we know doesn't pan out.
Some additional thoughts:
Alyson Hannigan is such a great actress. I think she's so under rated. And did everyone catch her pawing of Marshall at MacLaren's? Amazing.
Loved the throwback to 'The Mermaid Theory'episode with the Captain's 'murder in the eyes, happiness in the smile'gag
Robin and Barney banter always = a win.
Ted's got a great mustache.
This may just be a crazy thought, but has anyone else thought that this wedding thatTed meets the mother at could be Barney and Robin's?!?!
Quips of the Night:
'Please, cheese, you like this girl.'— Robin
'I don't get smitten, I smite.'— Barney re: being smitten on Nora
'With great penis, comes great responsibility.'— Barney
'We had great big boners for each other.'— The Captain re: him and Zoey
'In what moonman language is that a 5?'— Barney re: reading Nora's phone number of a torn napkin
What were your favorite quips of the night? Do you like Barney's affection for Nora or do you think him and Robin should get back together? What about Zoey and Ted? Should the writer just end them now since we know she's not the mother? Let us know in the comments below!
Photo Credit: CBS (Although it's not from tonight's episode it's Barney and Robin, so hurray!)
Tell us what's wrong with this post? How could we improve it? :)
Let us improve this post!