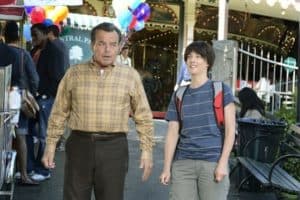 On How I Met Your Mother this week, we get a flashback to 1994 where Robin's dad takes her to NYC for the first time. She's just glad they aren't on a wolf hunt like they were on last year; she did almost die after all. Robin's dad leaves her for a moment and Robin takes that few seconds alone to bury a locket so that one day when she gets married in New York, "to a man with a sick mullet" she will have her something old.
Something Old: Present day Robin tells her father about burying the locket, something he doesn't seem to care much about because he is meeting Barney to play laser tag in 15 minutes. He takes off early he is so excited, leaving Robin to do her own searching.
Robin spends all day in the park looking for her locket. She digs a massive amount of holes and when she is close to giving up she calls Barney. She says she needs his help but he is obviously into his laser tag game so when he asks if it is important she says, "Nah it's stupid." so he hangs up and goes back to his game. Awhile later Robin tries Ted. Ted is about to go into a big meeting though so when he asks if it is important she again replies, "Nah it's stupid."
She is about to give up when Ted appears. He says he knows that,"Nah its stupid" is Robin code for it is very important. He says everyone knows that. Robin says everyone but Barney apparently. Robin is worried Barney is too similar to her father. Ted says if she had told Barney it was important he would have been there. She counters with she didn't have to tell him it was important. Ted takes her spade and looks around deciding where to dig next.
Robin and Ted are both digging now while she tells him what they are digging for. Ted thinks it is awesome that at some point she thought about having a something old at her wedding. It's so sentimental which isn't too in line with the current Robin we all know. Ted calls her a girl to which she gets all defensive. Just then she finds the box with the locket and starts to get teary eyed. She admits that she has doubts about Barney, sure sometimes he is a mature caring adult but she isn't sure he is ready to be married. Finding that locket though was a sign that she was supposed to marry Barney, that everything was going to work out. Unfortunately she opens the box to find it empty, there is no locket.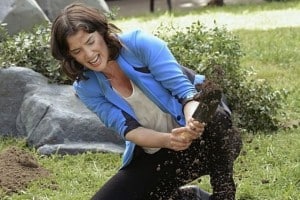 Robin is sure the missing locket is a sign from the universe but Ted says she is a skeptic, she doesn't even believe in universe signs. Ted assures her she is doing the right thing by marrying Barney. Of course at that moment the skies open up and it starts pouring. Ted tells her the universe has better things to do then weigh in on their relationships. He is done believing in signs, he knows what he wants and he knows she does too. Robin takes Ted's hand and they sit staring at each other as it continues to rain.
The Packing Guru: In another story on this weeks How I Met Your Mother, Marshall and Lily are packing for their year in Italy. They can't decide what to throw away and what to keep. According to Marshall an essential is his massive binders on Sasquatch. Lily's idea of an essential is handbags she shoplifted in her 20's. They decide the best person to help them pick what stays and what goes is Ted. He shows up in shades with a tape gun holstered to his belt. He barely makes it in the door before Marshall and Lily regret calling him. Ted though doesn't notice because he is telling the tale of how he backpacked through Spain for two weeks with everything he needed in a fanny pack. He is just that good at packing.
They have until 3:00pm when he has to make an interview for a possible new building design. He will say what goes to Italy and what goes out to the Bermuda Triangle. The Bermuda Triangle is the spot on the sidewalk in front of their building where you leave something and it will almost immediately disappear.
Ted decides to play, "Have You Used It in the Last Year". If they can answer yes than great the item goes, if not it stays. Ted is doing fine at first but then he starts to make some suspect decisions. Ted says they are for sure going to want the leaking, smells like Dorito dust and beer beanbag chair because it will feel like home. Marshall and Lily want to disagree but Ted is having none of it, so they try a different tactic. They tell Ted he is right, his rulings are final and in fact they would like a few of his "hands free belt satchels". That is what Ted calls a fanny pack. He is so thrilled to go get them their hands free belt satchels he runs out of the apartment.
Ted gets back to Marshall and Lily's with the fanny packs only to realize he has been played. He gets there as Marshall and Lily try to throw the beanbag chair out. He decides he is going to sit in it until they decide to keep it, interview be damned.
Marshall wants to know why Ted doesn't keep the beanbag chair if he likes it so much and the truth comes out. It was the first thing they bought when they moved in together. It was the only piece of furniture they had for a week. He is worried their friendship won't pass the, "Have You Used It in a Year" test. Lily and Marshall insist Ted is their best friend, which will never change. Ted says he just needs a moment with the chair and he will be fine.
In voiceover Ted says, "Kids, you can't cling to the past, because no matter how tightly you hold on it is already gone." He gets up, hails a cab and when he turns around the Bermuda Triangle has already taken the beanbag chair.
Last Man Standing: Over at laser tag Robin's Dad is bonding with Barney. He says it is nice to finally have a son, to which Barney just about cries. They are having a great time until Barney says he running point and Robin's dad says he is running point or he is off the team. Looks like the bonding is starting to unravel.
Barney and Robin's dad split into two teams. Barney gives his team of small children a lecture on how their actions will echo for eternity. Robin's Dad is across the arena lecturing his own team of children. It is shaping up to be one epic battle.
The battle rages for some time or at least I assume it must because Robin's Dad is talking to his team about the possibility of cannibalism. Understandably his team has had enough and they take off while Barney, meanwhile, is giving his team candy and asking them if they want to try a cigar.
Finally Barney and Robin's dad come face to face. Robin's dad goes to shoot Barney but Barney has removed his batteries, making it impossible for him to get a shot off. When it comes down to it though Barney can't go through with shooting Robin's Dad and they decide to team up and take down Barney's team of children.
How I Met Your Mother airs Monday 8/9c on CBS