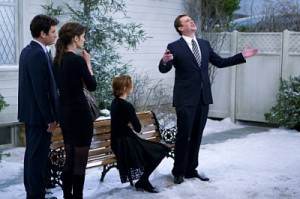 'Rent Crocodile Dundee 3…I caught it on the cable last night. It totally holds up.'
While I'm a little partial to the original Crocodile Dundee, Marvin Erickson's "last words" to his son were amusing and gave you a peek into who he was. As we find out towards the end of the tonight's episode, Marvin's last words to his son are actually 'I love you ….and let me know if you find my foot cream. The fungus thing is acting up again" but it was a sweet moment when Marshall decided to keep those words to himself and his friends.
I must say I LOVED tonight's episode of How I Met Your Mother. It was a stellar example of how a show can handle grief and death in a poignant yet humorous way.
It was at moments heartbreaking and yet in others heartwarming and still others, downright hilarious. Jason Segel was hands down the all star in tonight's episode portraying Marshall's grief in a perfectly realistic way.
As he tried to accurately remember his dad's last words to him, and yelled angrily at God for giving him what he thought was a voicemail but actually was a pocket dial that turned into a voicemail, my heart ached. The moment he spoke "It was a pocket dial. It was nothing." the tears began to flow.
Marshall was in obvious despair at the funeral of his father and the rest of the gang supported him in the best way they knew how. Ted and Barney looked up nut shots on youtube in an attempt to make him laugh, Robin had a handbag full of vices (cigarettes, alcohol and Crocodile Dundee 3), and Lily let Marshall's mom Judy yell at her.
Robin's handbag of tricks was a hilarious gag woven throughout the show. If someone had asked her for a pony I'm sure she would have somehow figured that one out. It was a consistent laugh needed for an otherwise heavy topic.
Lily and Judy were also quite funny tonight. It was adorable how she helped her mother in law by being there for her to yell at. Everyone needs someone to be angry at in times of grief. Lily pulled that off well.
The only part of the episode that felt a bit out of place was the appearance of Danny Strong (another Buffy Alum!) as a bully who terrorized Marshall in High School. I love a Buffy Alum appearance more than most people but his jokes weren't that funny and there was really no point to his role. The episode would have been better without it.
As the show closed, we had some inkling about future episodes as Barney told his mom he was ready to meet his dad. According to TVLine, John Lithgow, who most recently won the Emmy for his role as the Trinity Killer on Dexter, will be playing him. Should be interesting. As many know, Lithgow can bring the funny as well as he did the creepy, having played the entertaining Dr. Dick Solomon on 3rd Rock From the Sun for 6 years.
Some additional thoughts:
I should reiterate how amazing Jason Segel was in this episode. His performance was Emmy worthy.
Alyson Hannigan was also wonderful.
I'm going to miss Marshall's relationship with his dad. I hope they keep bringing him back in some flashback capacity.
Robin's storyline was hilarious tonight, let's have more of that.
Quips of the night:
"You're like Mary Poppins if her magic purse was also filled with drugs'- Ted Re: Robin and her bag of tricks
"Guys! I have a role, I'm judy's b!" – Lily re: what she is doing to help Marshall and his family
"My dad was my hero, he was my teacher, he was my best friend […]" – Marshall (All together now AWWW)
"That dress makes you look like a Kansas City whore" – Judy, Marshall's mom to Lily after thanking her for what she's done
"I really really really love you guys…and i'm going to go drop a deuce" – Marshall's last words to his friends if he doesn't come back
So what did you guys think? Was tonight's episode the perfect mix of funny and sad? What part did you think was the funniest…Robin and her bag of tricks or the boys and their nut shots? and What do you think about the casting of Jon Lithgow as Barney's dad? Let us know in the comments below!
Photo Credit: CBS
Tell us what's wrong with this post? How could we improve it? :)
Let us improve this post!