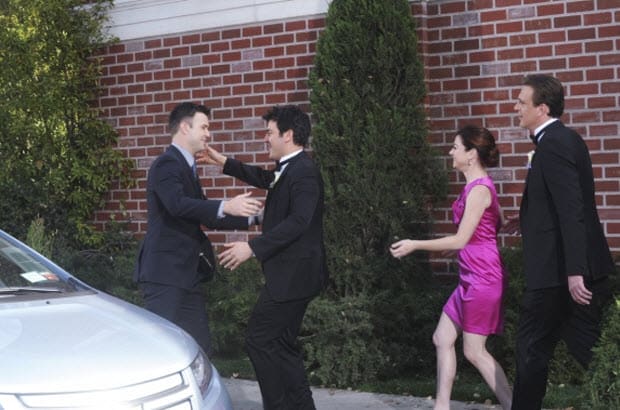 Happy St. Patrick's Day! If you are out having a few green beers with your friends and were unable to watch the latest episode of How I Met Your Mother, you are in luck. I am here to fill you in on all the important information you missed while you were doing shots on a Monday night. Until you get a chance to relax and watch it on DVR, I am here to prepare you for the water cooler conversation at work on Tuesday.
The episode is entitled, "Gary Blauman," and focuses on the various encounters the gang has had with Gary (Taran Killam) over the years. Fun fact: Taran is Cobie Smulders real life husband. I am sure it meant a lot to Smulders to have her husband come to the set so close to the ending. Since he is a wedding guest, I am sure he will be back in the next two weeks.
The episode kicks off with "The Mother" (Cristin Milioti) three days after Barney (Neil Patrick Harris) and Robin's (Smulders) wedding. She meets up with Ted (Josh Radnor) and they are going out on their first date. Watching their interaction, you can tell they are perfect for one another. This is when Ted tells "The Mother" the first of his many stories and it is about… Gary Blauman.
Robin is having a meltdown because Gary Blauman has shown up at the wedding, but he neglected to RSVP. Marshall (Jason Segel) is there to help and vows he will find a place for Gary. After watching this season, I am able to see all the ordeals a couple must go through to get their wedding to go off without a hitch. It really makes me never want to get married. After Marshall looks at the current seating chart, he immediately panics because he can not find a spot for Gary. When Ted hears who they are trying to find a seat for, he becomes angry. He detests Gary Blauman.
While throwing a party at his place, Ted begins to talk to a pretty girl about Teddy Roosevelt. Gary Blauman joins in on the conversation and after days of talking about Mr. Roosevelt, a tired Ted gives the woman an ultimatum to decide who she likes and he loses. If I were Ted, I would hate the guy to. I mean it was his apartment and his name is even Teddy! Lily (Alyson Hannigan) walks in on the conversation and admits that she loves Gary.
Lily encountered Gary in 2006 after her breakup with Marshall. She shows off a tattoo of a half butterfly that she has kept covered up. Unlike Ted's hilarious tramp stamp butterfly tat, Lily has hers on her right shoulder. Blauman talked Lily out of getting the whole tattoo done, which was going to be a huge tattoo of Mark McGrath. Now I like Gary.
The story is interrupted when "The Mother" spots her ex-boyfriend. She claims she is in a bad place right now and is not ready to date. Ted, being the great guy he is, offers to walk her home. "The Mother" asks to hear the rest of the story and Ted continues. Marshall, Ted, and Lily can't decide where to seat Gary Blauman. They take it up with Barney, who ends up siding with Ted. He wants to ruin Gary's entire weekend and kick him out of the wedding. Which makes you wonder why he was even invited in the first place. In the past, Gary ate four of Barney's fries. The fourth fry was an "accidental curly." After hearing this, my opinion has changed. I am siding with Ted and Barney on this one.
James (Wayne Brady) pops up at the right moment to inform the gang that Gary Blauman is the man he cheated on his husband with and ruined his marriage. Even though Blauman wrecked Barney's brothers life, Marshall still gets to make the final decision on whether he stays. He allows him to stay because the bride gets whatever she wants on her wedding day. Barney already kicked him out, so everyone goes after him. Blauman decides to leave and asserts he will never see any of them again, but later returns. Marshall admits that he hasn't seen many of the people that attended his wedding after that day.
That statement causes Future Ted (Bob Saget) to name all the people he stayed in touch with over the years. Carl (Joel Nieves) is still running the bar, Jeanette (Abbie Elliott) went to prison and received counseling from Kevin (Kal Penn), Ranjit (Marshall Manesh) owns the limo business, Patrice (Ellen D. Williams) hosts her own radio show, Billy Zabka won the American Humanities Award for Literature, Zoey (Jennifer Morrison) is still protesting, Scooter (David Burtka) married Jasmine AKA Stripper Lily, The Blitz (Jorge Garcia) kicked his gambling habit, Blahblah's (Abigail Spencer) name is Carol, Sandy Rivers becomes a reporter in Moscow, and James gets back with his husband and started his own family. Sadly, no mention of Stella (Sarah Chalke), the Slutty Pumpkin (Katie Holmes), or Abby (Britney Spears).
In the end, "The Mother" and Ted share a kiss and continue their walk. We still haven't found out her name! Maybe we will next week at the wedding. Don't forget to RSVP.
[Photo: Ron P. Jaffe/FOX/CBS © 2013 CBS Broadcasting, Inc. All Rights Reserved]