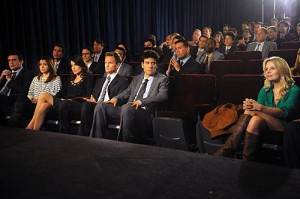 Hurray!!
Is that ok to say?
Zoey and Ted are done and I couldn't be happier. Don't get me wrong, Jennifer Morrison is a great actress but time had come and gone on this relationship about 3 episodes ago. So I say '˜Halleluiah!'
The break up goes down at the NYC landmark preservation commission meeting where Ted, when asked by the commission panel whether or not the Arcadian is a landmark, says 'No.'
To our surprise or mine at least, Zoey then got on stage and played the message she recorded of Ted saying the building IS a landmark and that he hates working for GNB. It was a lame calculated move that made me even more excited to see her go.
Two days prior to the meeting, Ted was of course all in love with Zoey and ready to back up his girlfriend in her quest to save the building. Yet, once learning that not only him but also Barney would lose his job if he were to save the Arcadian and then also having a flashback dream with Barney as the Arcadian's architect, he realizes that the building has to go.
The episode in and of itself wasn't great. Okay it wasn't very good at all actually. Though it was a necessary episode to get rid of this relationship I found myself not caring much for the storyline or the jokes. At least we can take away the fact that their relationship is finally over and that the Arcadian is not a landmark.
Now we can move on, to next week's season finale where Ted is best man at the wedding, meets the mother, and Barney sees Nora but grows closer to Robin.
Here's hoping for an upturn where the finale is more on par with episodes like 'Legendaddy'than 'Landmarks!'
Some additional thoughts:
There were some amusing bits with Marshall's rhymes and Arthur (the GNB boss) yelling at his dog.
The angry birds gag was pretty awful and unnecessary.
Quips of the night:
'If you end an argument in rhyme, it's convincing all the time.'— Marshall
'Homegirl is pretty diabolical…'— Marshall re: Lily
'You're not tugboat! You'll never be tugboat!'— Arthur
What did everyone else think? Are you as happy as I am that Ted and Zoey are dunzo? What would you like to see happen in next week's season finale! Let us know in the comments below