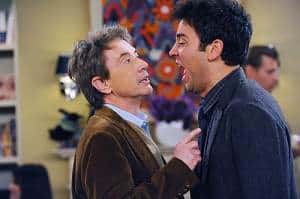 With Marshall and Lily all settled in to their house in the '˜burbs, it was only a matter of time before How I Met You Mother creators Carter and Bays had the two throw a housewarming party to bring all their friends from the city out to Long Island.
Last night's episode, the second new episode of 2012, 'The Burning Beekeeper'did just that for a raucous (not really) house party that lasted all of five minutes. While overall the episode was somewhat lackluster and forgettable in that I only laughed out loud maybe twice, I really enjoyed the structure of how the story was set up. Moving from room to room to explain how the party became such a disaster, piece by piece, was a clever idea. However, I didn't find anything that happened in any of these rooms all that entertaining. A big wheel of gouda off the Internet, some mice, a crazy cat lady, an almost brawl over vegan spring rolls and a basement full of bees? Nothing grabbed my attention.
There were, of course, some great one-liners though. (see '˜Quips of the night'below). It appeared that only sentiment which pushed the continuing plot of the series forward seemed to come with Lily's revelation that a crisis every 30 seconds is just like parenthood will be. To me, her comment appeared to be thrown in to forge a connection and justify the episode of crises but I'm really interested to hear what all you readers think. Also where exactly did her dad get all those bees?!?!
Some additional thoughts:
A cat bah mitzvah, really? That lady was the craziest cat lady I've ever seen!
Can Lily's dad (played by Chris Elliot) leave now?
Where is Kevin (Kal Penn)? I don't mind him not being around but I didn't miss a breakup or anything did I?
Quips of the night:
'This party is important to me. So I can only assume and I say this with love you're going to ruin it.'— Lily to her Dad
'You know mother earth is also having a housewarming party too. Only hers ends in human kind at the bottom of a rising ocean passing through the digestive track of a sting ray.'— Mr. Cootes (Martin Short)
'Every penis is a girl, Robin. Everyone knows that. Like ships and lake monsters. '— Barney
'I know you got it off the Interent. Why does that make it impressive? You know what else you can find on the Internet? Zoo animals masterbating.'— Barney
So give it to us readers….Did you like last night's episode? Do you still care about the old gang? What would you like to see happen to these characters? Let us know in the comments below!
Tell us what's wrong with this post? How could we improve it? :)
Let us improve this post!