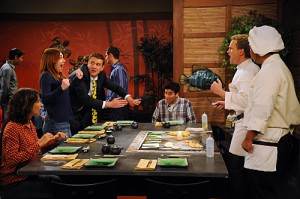 'And we have weird.'
Says Victoria. In tonight's episode of How I Met Your Mother, the Ted/Robin/Barney of it all is projected forward as we see the aftermath of Victoria and Ted's run in at the architect's ball interwoven with a hilariously elaborate Barney scheme to touch Lily's new pregnancy boobs.
So what exactly does Victoria think is weird? Well the fact that the aforementioned triangle of exes hang out together every night. (That is kind of weird, huh?) While the pair reminisces while cleaning up her bakery she tells him this is the reason they never worked out and probably why all of his other relationships haven't either. What we learn from future Ted is that although they don't know it then, she's right. I'm speculating that this has to do with Barney and Robin eventually (hopefully) getting together but is this a bit of foreshadowing for some future Ted and Robin developments? I'm not sure. We know she's not the mother so it will be interesting to see what if anything plays out in that department.
Though just as quick as Victoria popped back into Ted's life, she flew back out hopping on the Jitney to the Hamptons where close Klaus from her class (in Germany) will propose to her.
The Barney vs. Marshall/Lily bet was ridiculous great fun as it was played back and forth with Ted's story. Barney's conditioning of Marshall with his sneeze to get him to suggest Shin Jitzu was fantastic as was his face when Lily flashed him and caused him to drop the shrimp. Now we get to see Barney rock Marshall's ducky tie for a year. Though I could be mistaken I believe it made an appearance in the season premiere when we see Barney and Marhsall at the casino.
Some additional thoughts/observations:
Loved the return of the 'Bangedy Bangedy'song.
How fantastic was the chemistry between Ashley Williams and Josh Radnor? Their 'Klaus from your class'bit was adorable.
Did anyone catch Barney's cat mug at the Hibachi restaurant? That thing was awesome! I want one!
Quips of the night:
'You make it sound like I've dated a series of Steig Larson novels.'— Ted
'Jeez Lily it's like you have a butt on your chest. '— Ted
'I believe your about to give a big speech on fate.'— Victoria
So now it's your turn. What did you all think of tonight's episode? Are you sad the Victoria's appearance was so short and sweet? What did you make of what she had to say? Let us know in the comments below!
Tell us what's wrong with this post? How could we improve it? :)
Let us improve this post!