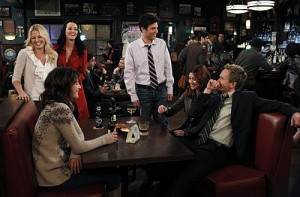 Burn your dinner and stock your fridge with ketchup, there was finally a new How I Met Your Mother tonight!! And boy was it a good one!
So good in fact, I had to tear myself away from a game of Clue against myself.
First things first, YAY TED and ZOEY!!
Tonight marked the beginning of Ted and Zoey's real relationship! With a little help from Marshall and Honey (played fabulously by Katy Perry) we learned that Zoey and the Captain are getting a divorce, leaving her available to engage in the hookup we all anticipated was coming.
Will this be the final hookup for Ted? Is she the mother?
According to what we know about the mother so far, she's not, but for what it's worth, that doesn't really matter to me right now. Zoey and Ted have some great chemistry together and it's fun to watch them flirt and make eyes at each other. If she's not the mother, oh well, at least they'll be fun to watch!
The big reveal at the end of tonight's episode was quite near the cutest thing I've ever seen and I couldn't help but watch it a couple of times before I finally tore myself away. Kudos to Jennifer Morrison for playing the scene perfectly with her timid excitement!
Katy Perry was quite impressive in her guest-starring role as Zoey's cousin. She played the naïve dimwitted girl well and I didn't find myself focusing on the fact she's a pop star during the episode (as I did with Britney Spears and Carrie Underwood in their guest appearances). I particularly loved Marshall's 'Oh Honey'while on the phone with Robin and Honey's 'Oh Honey'to Barney in the bedroom.
The corkboard gag and Marshall's family listening in on the rotating phone calls were also rather amusing and I like that they realistically kept Marshall with his family for a while longer as they are still grieving his father.
Some additional thoughts:
Neil Patrick Harris is pretty good at the squeaking bed noises huh?
"Hurts donut" hahaha. Marshall's dumb sometimes.
Marshall's brother Marcus' explanation of Ted and Zoey's relationship was hilarious.
Quips of the night:
"It's not like you can screw up a hot dog." – Lily
"Long story short, I'm going to be on LOST." – Honey
"Fridge full of ketchup. How? How may I ask you?" – Zoey
"Good manners are what separates us from the elbows on the table Wisconsinites." – Marshall
Next week's episode is all about Valentine's Day and the day before which Barney declares is "Desperation Day" a holiday for desperate women. I'm assuming we can also expect some Ted and Zoey action with the love of the holiday in the air!!
So how do you think Katy Perry faired against previous pop stars Britney and Carrie? What are your thoughts about Ted and Zoey's relationship? Do you care that she may not be the mother? Do you think she is the mother?! Sound off in the comments below!