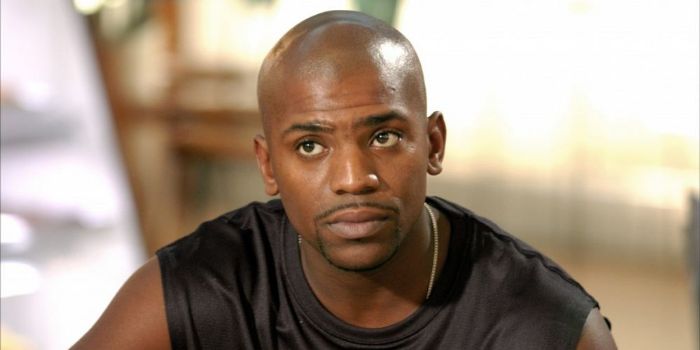 If you don't know who Mekhi Phifer is then you might need to brush up on your movie lore since he's been around for a while and he's been front and present for a lot of great movies. A few that are fairly memorable are Clockers, the Dawn of the Dead remake, 8 Mile, and even I Still Know What You Did Last Summer. The great part about Mekhi is that he doesn't really play many, if any, roles that go against his usual character, meaning that he plays characters that are more or less the way he actually is. It's easy to see just how he's not the favorite actor of some folks since his roles do kind of overlap at times but at the same time he plays a very personable individual in his movies that's easy to relate to and can be the kind of everyman that some folks like to see. His career has had its ups and downs throughout the years, but for the most part he's been pretty successful.
Here are a few things about Mekhi you might not have known.
10. He's in his 40s at this time.
That's hard to believe unless you started watching him a while back and realize that you too are starting to get a bit older. Mekhi has been around for a good deal of time and even in his 40s he still looks relatively young as he's kept himself in pretty good shape.
9. He's one of the many that has been Punk'd by Ashton Kutcher.
It's kind of a wonder that Ashton never got his butt whipped a time or two, but then again it's likely that he picked individuals that he knew or could at least guess wouldn't turn violent once it was revealed that they'd been the subject of a prank. Obviously some celebrities wouldn't have been so forgiving.
8. Mekhi owns an Athlete's Foot franchise.
The shoe stores are actually a safe investment it would seem since it's easy to think that people are always going to need shoes and in that case a lot of people are going to want the best they can get, which involves paying the most for quality and for the type of shoes that are known to carry at least a bit of prestige with them.
7. He enjoys going to the rifle range to relieve stress.
Everyone's got a hobby and a way to relieve stress, though some might think that going to a gun range might be the opposite of meditation of any type. But then again, meditation does take a different form for every person and for some the idea of going to the gun range is somehow cathartic.
6. He really is good friends with Eminem.
Whether it happened on the set of 8 Mile or before is hard to know but he is a good friend of Marshall Mathers so it's easy to think that the movie might have been easier to shoot if the two of them were already in good standing with each other.
5. At one time he was a rapper for Warner Bros. Records.
It doesn't sound like his stint as a rapper lasted all that long since acting seemed to be his biggest contribution and was easily seen as his biggest talent. Some rappers have been making their way into the spotlight for a while, but others have managed a pretty healthy balance between their music and acting.
4. He loves being a dad.
Mekhi is fully into being a dad since he happens to love doing all the dad things that he can. A lot of times you hear about celebrity dads being great or simply being too busy to spend time with their kids, but on the whole a lot of fathers at least try to be the best parents they can to their children, especially considering that in show business it seems that a person is hustling for work constantly or is working all the time.
3. He's not a big fan of hospitals.
This is a dislike that Mekhi isn't alone in since the general feeling that some get is that they don't like the smells, the atmosphere, or even the implication of needing to be there. Obviously there's more to a hospital than just sick people, as the maternity ward is usually a fairly cheery place.
2. His presence on social media is fairly prominent.
For someone with his current status in Hollywood his number of followers seems very understandable but after so many years in the business one might actually think that he would be a little more popular.
1. Mekhi's debts are around $1.3 million.
Again, with the kind of career he's had you would think he might be worth a lot more, but somehow he's managed to rack up quite a debt that seems to come from back taxes owed to the IRS.
He's a good actor, but he definitely plays more of a supportive role.