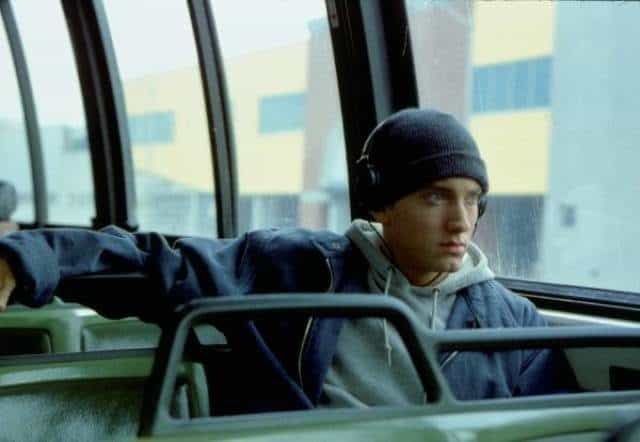 8 Mile was released 15 years ago, can you believe that? This hard-hitting film that details the life of Eminem through his fictional character came out as a favorite among many fans and remained that way thanks to the gritty and very real style that it kept throughout the movie. It wasn't put up as an overall success film, you didn't get to watch Eminem become rich and famous. He had to make his way through some of the worst parts of his life that anyone could ever imagine. A mother that was constantly drunk and dating a guy his own age, being forced to live in a trailer park in a trailer that was barely big enough for both of them, and trying to maintain a steady job were all just another day in the life of this character. It would be enough to drive a lot of people crazy in a short time, but Eminem's role was to show how one got through it and somehow made it work for them.
After all, you only get one shot.
10. The song Lose Yourself won an Oscar.
Eminem wasn't there to pick it up however since he thought someone else would win. He's had a rather dim view of the Oscars for a while.
9. Quentin Tarantino was the first choice for director.
He reluctantly declined because he was filming the Kill Bill films at the time and couldn't pull himself away.
8. The rap battles were real.
There were 300 extras on the set and when they started getting bored the director came up with the idea of letting them have a rap battle to see who got to rap against Eminem.
7. Eminem lost a lot of weight for the role.
He lost a reported 24 pounds for the role and yet he still looked to be in good health for all that.
6. Eminem and Brittany Murphy actually dated during production.
Brittany Murphy made the comment on Letterman that the two of them were dating but Eminem said nothing. There was a rumor that he was involved with Kim Basinger too, but he denied that while Kim said nothing.
5. The house-burning scene was almost cut.
Detroit had a problem with arson at this point and time and took a great deal of convincing for the city to allow the film to shoot this scene.
4. Eminem grew up near 8 mile.
Eminem knows the area pretty well but decided to come up with a fictional name and life so that the movie wouldn't be an autobiographical piece. He wanted it to be a regular movie so he did what he could to not let people associate the Eminem persona with the film.
3. The rapper that Eminem goes up against in the first scene is his best friend.
Lil' Tic was supposed to play the character of Future but he didn't show up for rehearsal so he got cast as an extra instead.
2. Giovanni Ribisi was supposed to play Wink.
Ribisi might have been a good character in the film but he asked for too much money for the part and priced himself out.
1. Eminem really did perform in a place called Shelter.
These scenes in the film were shot in an empty warehouse because the real Shelter just looked too nice for the tone of the film.
It was a dark and gloomy movie but it enough raw adrenaline to make it all worth it.