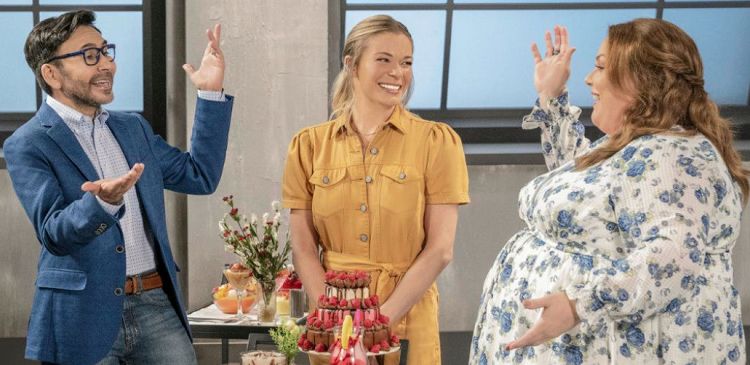 When Discovery+ has a new idea, they run with it. The network's newest idea is a good one, too. It's a show called "Meet Your Makers Showdown," and it looks to be quite good. With some famous faces already on board, a concept that might be so much more fun than it sounds, and a lot of twists along the way, it seems the network already has a hit on its hands. If you've yet to hear much about this new show, we have some information for you right here.
1. The Hostess with the Mostest is Leading the Way
This show has a famous face running things, and you already love her. Her name is Chrissy Metz from "This is Us," one of the biggest shows of the decade. She's already so beloved by so many that we imagine people don't even care what the show is about as long as they get to see her. Fans will tune in.
2. Famous Judges Appear
In addition to a famous host, you'll see a few other famous faces judging this show. One such famous face is that of singer LeAnn Rimes, famous for so many things in her life. Mark Montano, the man who hosts television shows and writes best-selling books, will also judge on a weekly basis. Additionally, there will always be a third judge – but that judge is a guest judge every new episode.
3. What is the Show About?
You probably want to know this, and here you go. This is a show about making things. Are you talented or crafty? If you are, you can come onto this show and show off your skill, win, and take home a prize worth a lot of money. It doesn't matter what your talent is, either. As long as you're good at something, you can show it off.
4. This is Not DIY Crafting
The catch, however, is that this is not just your average DIY crafting at home. You may be the world's best mom with the world's most fun DIY projects with the kids, but you won't win this show. It's advanced DIY stuff. Can you make your own candles? It's a big deal.
5. Chrissy Metz is Not Crafty
She might be the host of this cool new show, but she's not someone who stands a chance if they ask her to participate. She's a self-described novice. She may have some creativity in her, but nothing like what she is hosting on this show. She's not in this to win this.
6. LeAnn Rimes is Crafty
We already know she's a talented singer, but did you know she's also a good crafter? She actually makes candles, but it's not a skill she knew she had until she was older. She might not be as good as some of the people competing to win, but she's good enough.
7. The Ladies are Excited
One thing both Metz and Rimes are excited about is the fact that they get to be themselves on this show. Rimes is famous for being a singer and an actress, and unfortunately for engaging in an extramarital affair with a married man when she was also married (she was married to her first husband and her now-husband was married to Real Housewives star Brandi Glanville), and she'd like the world to see her for who she is rather than the things written in tabloids. Metz wants the world to see her as someone other than the character she plays on television.
8. LeAnn Rimes has an Eye for Detail
She says she's in this business because she knows what it's like to create something from nothing – and she's not going to stop now. She pays attention to detail. Details are the things she notices most, and she's in this to make sure she continues this aspect of her own creativity.
9. No One Likes Elimination
Neither of the regular judges is happy to have to eliminate someone each week. The situation is simple – these are all talented people, and it hurts to tell someone so talented that they just aren't the most talented in the bunch. If they were with a different bunch, the story might be a bit different. Either way, nether Rimes nor Montano appreciates eliminating anyone.
10. Montano Wants to Promote a Creative Outlet
At the end of the day, he's in this because he's hoping he can make it cool to find creative outlets again. He feels the world is too much of this, too much of that, and that adults are too busy and too distracted and overwhelmed right now. He wants people to remember that there is time – and there is a need – to be creative.
Tell us what's wrong with this post? How could we improve it? :)
Let us improve this post!