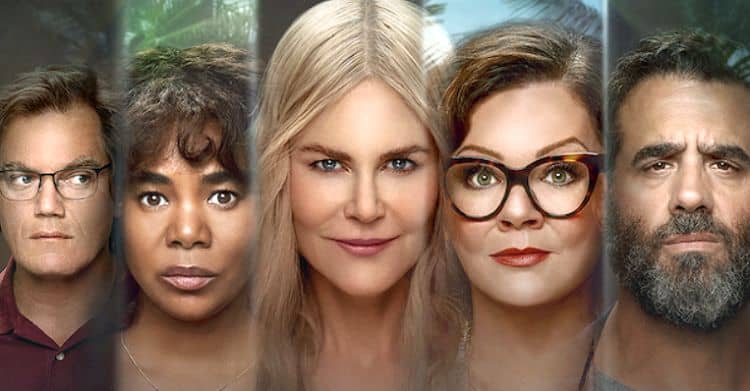 Going on a retreat to a health and wellness resort sounds like an ideal way to unwind and relax. Yoga, meditation, a spa session, and the works. The perfect accompaniments to a break from the daily hustle. It's almost difficult to imagine anything that could go wrong in such a tranquil setting. But as in life, one can never be too certain. Hulu's upcoming show, Nine Perfect Strangers, is here to prove otherwise.
The Names Behind the Series
Fans of hit series, such as Big Little Lies and The Undoing are in for a treat. The show's famed creator, David E. Kelley is joining forces with John Henry Butterworth (Ford v Ferrari) and Samantha Strauss (Dance Academy) for a show that is filled with mystique. Buckle up, fans are about to go on another exciting adventure filled with jaw-dropping storylines, impeccable casting, stunning locations, and a killer soundtrack. Another binge worthy series to welcome the end of summer.
Just like the creators' previous shows, Nine Perfect Strangers is based on another bestselling novel of the same name by famed author, Liane Moriarty. The limited miniseries will be top-billed once again by award winning actress, Nicole Kidman (Eyes Wide Shut), who plays a mysterious but ethereal-looking health and wellness resort director named, Masha Dmitrichenko. Kidman is known to take on challenging and unpredictable characters. Will she be a friend or a foe this time around?
What to Expect from the Series
The story begins with nine strangers who have decided to take time off from the city, and attend a 10-day retreat at Tranquillum House, a remote boutique health and wellness resort. The strangers arrive with high hopes, as the said program promises to transform their lives and heal their emotional traumas. Masha introduces herself as the resort's host who is in charge of facilitating the retreat. The guests are encouraged to keep an open mind in order for the program to be able to effectively reinvent and reinvigorate their lives. Doesn't sound like a bad plan at all. Little do they know that their lives are about to change forever. Looks are indeed deceiving. Masha jumpstarts the retreat by making her guests do all kinds of odd activities. One even involves having the guests lie in their own fake "graves" while dirt is being thrown on them. The peaceful paradise they once envisioned to be an escape from reality turns out to contain all sort of unimaginable secrets. The nine strangers also realize that their co-attendees may not be as innocent as each one seems. Masha, herself is not blameless either. Beyond her calm demeanor lies something that is much deeper and darker. Does the 10-day retreat turn into 10 days of madness? Will the program bring forth inner peace, or will it be the cause of more emotional turmoil? Things are not so perfect in 'paradise' after all.
Kidman is no stranger to chilling crime series anymore. This is already her third time working with the team behind the series, and each time has proven to be even bigger and better. It's not surprising for viewers to have high expectations for this upcoming series. The team is here to deliver. Apart from its promising storyline, the show also boasts of a powerhouse ensemble that is not often seen in the small screen. The nine titular strangers are composed of household names, which include, Melissa McCarthy (Bridesmaids) as Francis Welty, Manny Jacinto (The Good Place) as Yao, Michael Shannon (The Shape of Water) as Napoleon Marconi, Luke Evans (Beauty and the Beast) as Lars Lee, Bobby Cannavale (The Irishman) as Tony Hogburn, Regina Hall (Black Monday) as Carmel Schneider, Samara Weaving (Hollywood) as Jessica, Melvin Gregg (Snowfall) as Ben Chandler, and Grace Van Patten (Tramps) as Zoe Marconi.
More Series Updates
The miniseries will contain a total of eight episodes that is set to air weekly. Fans need not wait much longer, as the show is scheduled to make its debut on Hulu on August 18, 2021. Viewers residing in other parts of the globe with limited access need not fret either, as the series is also set to be released in Amazon Prime Video on August 20, 2021. Looks like the creators have got it all covered. The public was able to catch a first glimpse of the show through a teaser that was played during the 93rd Academy Awards broadcast, which aired on ABC last April. Additional feelers were dropped in June when another teaser called, "Your Journey to Wellness Begins Soon", was released. The fun doesn't stop there. Hulu finally released the show's official trailer a week ago. Just a few more sleeps until the doors of Tranquillum House open to the public. It's best to enter with caution.
Tell us what's wrong with this post? How could we improve it? :)
Let us improve this post!