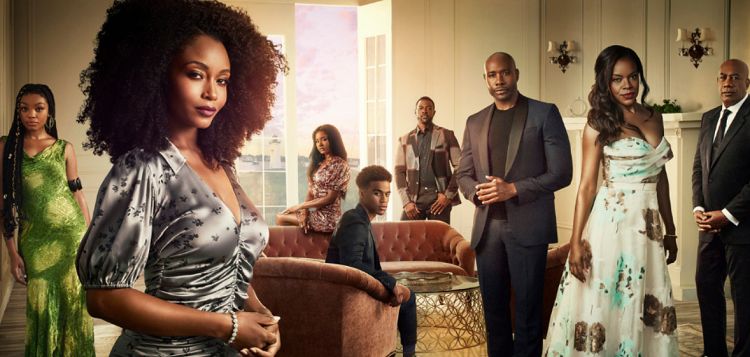 Welcome to Oak Bluffs also known as the "Black Martha's Vineyard" a small yet prominent community in Massachusetts. Our Kind Of People explores the elite black society of Oaks Bluffs where its wealthy members are used to calling all the shots and having their way for decades. In the Black Martha's Vineyard status, connections and wealth mean everything. This Fox drama produced by the legendary Lee Daniels is full of scandal, betrayal, and romance. After just a month on the air, Our Kind Of People has garnered great reviews. The characters do a great job at making this drama come to life so it's only right that we take an in-depth look at them and how they contribute to the show.
Angela Vaughn
YaYa Dacosta plays the beautiful and strong Angela Vaughn a young single mom of a teenaged daughter. Angela decides to relocate to Oak Bluffs after her mother's death and her daughter gets into some legal trouble stemming from a school fight. Angela is a hairstylist that is passionate about hair care. She is determined to grow her hair care business and build an empire for her daughter in the wealthy black community. Although she is met with resistance, Angela never backs down which is what we love most about her character. In a community where money and status can make or break relationships; Angela is good person with morals and values that she instills in her daughter.
Nikki Vaughn
Niki is Angela's seventeen year old daughter. Niki's character played by Alana Bright is a good girl simply going through growing pains. Adapting to a new town, a new school and trying to make new friends hasn't been easy for Niki. In fact, she feels like a fish out of water. Like her mom, Niki always stands up for herself and she cares nothing about the vanities of Oak Bluffs.
Leah Franklin DuPont
Leah Franklin DuPont (Nadine Ellis) is a confident businesswoman who was born with a silver spoon in her mind. Leah knows the elite inner circles of Oak Bluffs all too well. Leah doesn't trust Angela and she feels that she has it out for the DuPont family.
Raymond DuPont
Raymond DuPont (Morris Chestnut) is Leah's husband and the head of the DuPont family. Raymond is the CEO of his corporate business. Although he loves his family, his marriage is slowly falling apart.
Teddy Franklin
Teddy Franklin (Joe Morton) is Leah's father and the pillar of the community. Teddy is a corporate giant. He has a close relationship with his daughter that often interferes with her marriage. Teddy Franklin has spent years turning his daughter into a "corporate bulldog" and it's finally paying off. Teddy has a less than stellar past. He stepped out on his marriage to Leah's mom years ago with Angela's now-deceased mother who was once one of his employees.
Patricia Williams
Patricia Williams (Debbi Morgan) is Angela's aunt and her biggest support system. When Angela decides to relocate to Massachusetts, she moves in with Aunt Piggy for a few weeks. Patricia also helps Angela with her raising Nikki. Patricia knows the ins and outs of the social circles in Oak Bluffs and she helps Angela navigate the world.
Quincy DuPont
Quincy DuPont (Kyle Bart) Quincy DuPont is Leah and Raymond's son. He lives a lavish life and he's also really sweet and welcoming to Nikki.
Lauren DuPont
Lauren DuPont (Rhyon Nicole Brown) is Leah and Franklin's daughter. She's spoiled, entitled and she is a certified mean girl. Lauren struggles with her sexuality and coming out to her parents.
Tyrique Freeman
Tyrique Freeman (Lance Gross) is a friend of the Franklin-Dupont family. If you let Leah tell it, he owes his success to her family. Tyrique owns a successful construction company and he has taken a liking to Angela. Tyrique seems to be a good man that's well respected in the Oak Bluffs community. In the show, he gets caught between his loyalty to the Franklin-Dupont family and wanting to develop a relationship with Angela who he knows is a good person.
Taylor
Taylor (Nicole Chanel Williams) is Lauren's best friend and also her secret lover. However, she doesn't take any of her crap. Taylor likes to have fun and she has a super chill personality which is why she almost instantly bonds with Nikki much to Lauren's dismay. Taylor wants to go public with their relationship but she's willing to give Lauren the time she needs. She genuinely loves Lauren but we can tell at some point she's going to outgrow their relationship.
Tell us what's wrong with this post? How could we improve it? :)
Let us improve this post!