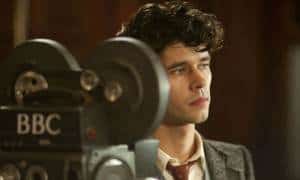 It always brings a warm feeling to my heart when a television star makes the leap into a highly-publicized film. That's the case with actor Ben Whishaw, whose biggest role to date has arguably been the lead role of the BBC drama The Hour. Whishaw, who has a "sizeable female following" according to The Hollywood Reporter, has been cast as Q in next year's James Bond film Skyfall.
In my review of The Hour, I described Whishaw as "a blend of James Badge Dale (Rubicon) with Matt Smith (Doctor Who)." While I haven't seen him in anything outside The Hour, his performance still sticks out to me as a series highlight — I'm already looking forward to the show's announced second series because of his great performance as the investigative journalist Freddie Lyon.
Whishaw, who has also appeared in such films as Layer Cake, I'm Not There, Brideshead Revisited, and The Tempest, takes over the role of gadget-master Q from John Cleese, who last portrayed the role in 2002's Die Another Day. Skyfall will mark Q's first appearance in the franchise since 2006's Casino Royale, which rebooted the franchise with star Daniel Craig in the lead role as James Bond. Prior to Cleese, the role had been played by Desmond Llewelyn, who portrayed the character in seventeen Bond films from 1963 to 1999.
At 31, Whishaw will be the youngest actor yet to portray Q, and the first to be younger than the current James Bond. Craig, at 43, is a good twelve years older.
I'm personally happy to see Whishaw nab such a fairly large role in a major motion picture. After his stint with James Bond is through, though, Whishaw will likely return to film a second series of The Hour, which was confirmed shortly after the first series aired. No premiere date for series 2 has been set.
Skyfall will premiere in October 2012.
Tell us what's wrong with this post? How could we improve it? :)
Let us improve this post!