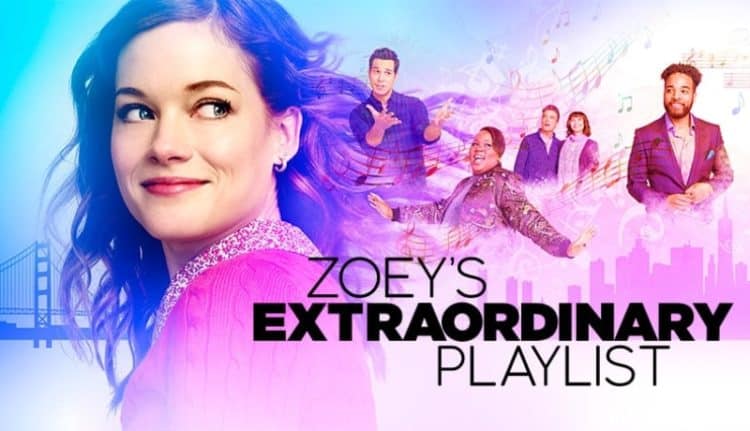 Entertainment columns recently lit up with the news that Lauren Graham, the beloved actress of such enduring classics as The Gilmore Girls, is set to return to TV as part of the line up the new NBC musical drama, Zoey's Extraordinary Playlist. Graham joins a cast of young stars led by Jane Levy as Zoey, a smart but socially awkward young computer coder who discovers she can pick up on the innermost thoughts of people around her as songs and musical numbers. Although NBC hasn't confirmed the exact date of release, it's expected to be midseason 2019- 2020. Get yourself prepared now with our who's who guide to the cast.
Jane Levy as Zoey
Taking on the role of Zoey (a character NBC describes as "a socially awkward, smart, charming, type-A whip-smart coder with a nervous energy and an impressive ability to talk a lot") is Jane Levy, a 29-year-old actress who rose to fame in the TV series Suburgatory. Levy's first role after graduating from the Stella Adler Studio of Acting was in the recurring role of Mandy Milkovich in Shameless. In 2011, she won the lead role of Tessa Altman in Suburgatory and stayed with the series for a further 3 years. Since then, she's won international acclaim for her work with director Fede Alvarez, which includes the 2013 horror film Evil Dead, and the 2016 thriller, Don't Breathe. On the home front, Levy married fellow actor Jaime Fritas in March 2011, but the couple divorced in April 2013, citing irreconcilable differences as the cause.
Skylar Astin as Max
Prior to landing the role of Max in Zoey's Extraordinary Playlist, Skylar Astin was perhaps best known as Jesse Swanson in the musical films Pitch Perfect (2012) and Pitch Perfect 2 (2015). In addition to his film work, Astin has developed a respectable career on stage, having appeared in both on and off-Broadway productions of Spring Awakening (2006- 2008), Rent (2010), West Side Story (2016), Good Bless You, Mr Rosewater (2016), What We're Up Against (2017), and Into The Woods (2019). While Austin's professional career is on the rise, his personal life recently took a nosedive when in April 2019, he and his partner of 13 years (and wife of 3), Lauren Pritchard, announced their separation.
Peter Gallagher as Mitch
Playing the character of Mitch is Peter Gallagher, a 30-year old veteran of the industry whose professional career has taken in such highlights as a 5-year run on teen drama, The O.C., a recurring role on Law & Order: Special Victims Unit, and as Jane Fonda's love interest Nick on the smash hit, Grace & Frankie. Outside of acting, Gallagher is a keen musician; in 2005, he released his debut solo album 7 Days in Memphis with Sony BMG. The album included the singles "Don't Give Up On Me" (which featured on The O.C. soundtrack), and " "Still I Long For Your Kiss" (the music video to which starred Gallagher alongside his O.C screen wife, Kelly Rowan).
Alex Newell as Mo
Tackling the character of Mo is 27-year-old Alex Nowell, an actor best known for his role as Unique Adams in the smash-hit musical series Glee. While he's enjoyed screen roles in several noteworthy projects (Geography Club and Imaginary Friend to name but two) since Glee ended, Newell has spent most of the intervening years developing his recording and stage career. In 2016, he released his debut EP "Power", and has subsequently released several tracks with other artists such as Clean Bandit, Blonde and The Knocks. He's also shown off his singing credentials on Broadway, appearing as Asaka in the stage production of Once on This Island. His contribution to the soundtrack to the musical even earned him his first Grammy Award nomination for Best Musical Theater Album.
John Clarence Stewart as Simon
The character of Simon is taken by John Clarence Smith, an actor whose IMDB profile claims is " a Storyteller whose sole mission is to tell the truth". When he's not doing that, he's making appearances on shows such as Suckas Need Bodyguards, Manifest, Blowin' Up the Spot, DWYCK, Soliloquy of Chaos and You Know My Steez in Season One and Wig-Out, All Souled Out, The Basement, On and On, The Creator, Can't Front on Me and They Reminisce Over.
Lauren Graham as Joan
52-year-old Lauren Graham shot to fame in 2000 as Lorelai Gilmore on Gilmore Girls, the young at heart thirty-something mom of teenage daughter Rory. Since then, she's established herself as a Broadway star and writer, with 2 New York Times Best Sellers to her name (Someday, Someday, Maybe (2013), and Talking as Fast as I Can: From Gilmore Girls to Gilmore Girls (and Everything in Between) (2016). As E! notes, Zoey's Extraordinary Playlist will be Graham's first TV outing since her appearance in 2017 on Curb Your Enthusiasm (and prior to that, her appearance on reunion miniseries Gilmore Girls: A Year in the Life in 2016), making it a must-watch for fans of the actress.
Mary Steenburgen as Maggie
Last up is Mary Steenburgen, a 66 year old industry veteran whose award-winning career has taken in such highlights as a Golden Globe nomination for Ragtime (1981), a BAFTA TV Award nomination for Tender Is the Night (1985), an Emmy Award nomination for The Attic: The Hiding of Anne Frank (1988), and both a Golden Globe and Academy Award for Melvin & Harris. Other notable appearances include roles in Parenthood (1989), Back to the Future Part III (1990), Philadelphia (1993), What's Eating Gilbert Grape (1993), Elf (2003), Step Brothers (2008), and The Help (2011). Steenberg's personal life has been almost as newsworthy as her professional one: in 1978, she met acclaimed actor Malcolm Mc Dowell on the set off Time After Time. They began dating and married a short time later. After two children, the couple divorced, with Steenburgen later to re-marry Ted Danson.