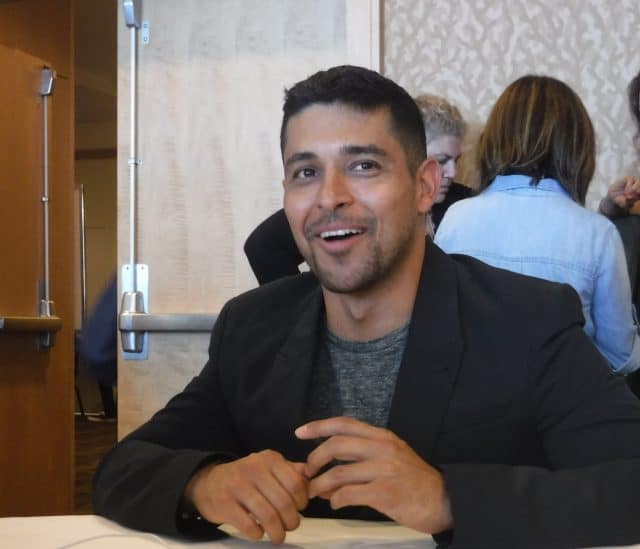 CBS' #1 drama is entering its 14th season in a very big way. There was much speculation about how the hit drama NCIS would recalibrate following the exit of Michael Weatherly, who starred as Special Agent Tony Dinozzo for 13 years. The show did not choose a replacement, but instead found a way to enter a new phase in the show's development with the addition of Wilmer Valderrama as NCIS Special Agent Nick Torres. Last month at Comic-Con Valderrama previewed his new role, including the distinct shift from any other role he's had, and what this represents for minorities in the entertainment industry.
First off, this wasn't the direction NCIS producers originally thought they'd go. Valderrama was all set to appear in a new pilot for CBS which wasn't picked up by the network. However the network executives like him so much they pitched him to NCIS. Valderrama was immediately welcomed and says he is "very excited, very honored, and I was really flattered." So who is Nick Torres? "To me the character is one of the biggest reasons I wanted to come onto the show, something I've never played before. He's a lone wolf, doesn't play well with others, he's been undercover for a long time. His cover gets blown in South America and he's a different man." Different may be an understatement since when the series opens Agent Torres is so undercover his superiors thought he was dead. "When someone lives a double life for so long you kind of question who you really are, who you really trust."
Trust is definitely something that is necessary when working with the NCIS team, especially with its leader Agent Gibbs. Most of Valderrama's early scenes are with Mark Harmon. "He's gonna have a tough time adjusting to the team, adjusting to what Gibbs wants him to do. Our characters butt heads but they see things eye to eye" says Valderrama of Torres' relationship with Gibbs. Much of that head-butting comes from the difference in character traits. "He goes through the window first and asks questions later" Valderrama says of Torres. At that time in production Valderrama had "already shot a guy off a motorcycle and blew up a car, so my character's going to be very unpredictable!"
An unpredictable character sounds pretty good for an unprecedented role on the show. It's not lost on Valderrama that his casting marks what he calls a courageous shift for minorities in television. "I started back in 1997-98. I was the only Latino on FOX network for many years on That 70s Show. I've seen the evolution of how television shows and movies have had to desperately figure out how to look like what America actually looks like." This point is so important to Valderrama, who firmly believes in the American Dream after growing up in Venezuela when he was a child. After so many years in the industry he believes the situation is improving. "The initiative is more inclusion" where more shows feature Latinos and all other minorities as the central focus, not just guest roles. "They [networks] spend a lot of money every year developing [such projects]. The problem is that most of those projects are not getting picked up. They have to be able to support what they start. That's the dilemma right now."
This role is definitely a step in the right direction. Valderrama is positively giddy about his new role, if a little tired. "At 36, some things truly slow down" he joked, but he's definitely up for the challenge given how physically formidable Nick Torres is going to be. "I'm locked and loaded, I'm excited."
See Wilmer Valderrama in his new role when NCIS returns September 20 on CBS.
Tell us what's wrong with this post? How could we improve it? :)
Let us improve this post!