'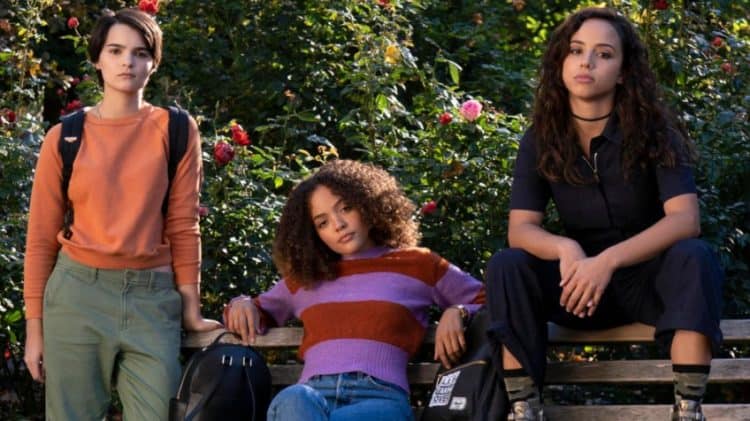 Trinkets' is a teen drama series that is available on the streaming service Netflix. It is based on Kristen Smith's novel of the same name. It is about a group of people who become friends after they meet at a Shoplifters Anonymous meeting, and focuses on the differences in the personalities of the characters. The series was launched on June 14, 2019. According to Variety, the series was renewed for a second and final season in July 2019. The following is an overview of the cast of 'Trinkets' to give you a chance to get to know them better.
Brianna Hildebrand
Hildebrand plays the lead role of Elodie Davis, who is a kleptomaniac who has moved to Portland, Oregon, from Albuquerque in New Mexico. The socially awkward teenager makes this move to live with her father after her mother dies. Although she has problems building a relationship with her father, she soon makes friends with Tabitha and Moe. Hildebrand began her acting career in 2014 and is already well established in the entertainment industry. She is best known for her role in the web series 'Annie Undocumented'. She also played Negasonic Teenage Warhead in the 2016 film 'Deadpool'. She reprised this role in 2018 for 'Deadpool 2′. In her personal life, she has revealed that she is bi-sexual.
Kiana Madeira
Kiana Madeira is another of the main cast members of Trinkets. She plays the role of Moe Truax, who is a bright teenager who comes from a poor family. Her criminal father is absent from the family, and this has led to trust and commitment issues. Madeira began her career as an actress at the age of just five. She is probably best known for her roles in 'Really Me' and 'Sacred Lies'. Madeira is an up-and-coming actress with a busy schedule ahead of her. She is playing the role of Suzie in the upcoming film 'She Never Died', which is set for release in 2020. Also set for release in 2020 is the film 'Fear Street', which she is currently filming. She will reprise her role from this film in 'Fear Street 2′, which is in pre-production with no release date as yet.
Quintessa Swindell
The role of Tabitha Foster is played by Quintessa Swindell. She comes from a wealthy family and is a kleptomaniac who attends the Shoplifting Anonymous meetings with Elodie and Moe. Quintessa Swindell is also known for 'Voyagers' and 'Euphoria'.
Brandon Butler
Brandon Butler plays the role of Brady Finch, who is Tabitha's abusive boyfriend. Other than his role in 'Trinkets', Butler is known for playing the role of Scott Reed in '13 Reasons Why' in 2017. He also played Luke in the 2019 drama film 'Ring of Silence', which was directed by Nicole Bowers Wallace, who also co-wrote the film alongside Shannon Callsen.
Larry Sullivan
Sullivan plays the role of Elodie's father Doug Davis. This actor has had roles in 'Will & Grace', '24′, 'Big Little Lies', and 'CSI: Crime Scene Investigation. Larry Sullivan is married to David Monahan, also an actor, and they have adopted a child together. An interesting fact is that Sullivan, Monahan, and their child appeared together as a family in a 2015 Campbell's Soup television commercial.
Odiseas Georgiadis
Odiseas Georgiadis is an actor who began his career in 2011. Aside from his role in 'Trinkets', he is known for his roles in 'Dr. Bird's Advice for Sad Poets' and 'The Perfect Date'. In 'Trinkets', Georgiadis plays the role of Noah Simos. This character is in a secret relationship with Moe, although he would prefer that their relationship was public. Noah is very supportive of Moe in all aspects of her life.
Dana Green
Elodie's step-mother, Jenna, is played by Dana Green. This actress is known for her roles in 'Sex Tax: Based on a True Story', 'The Librarians', and 'Snowpiercer'. She has also had small roles in 'Here and Now', 'Grimm', 'Tenfold', and 'Early Edition'.
Henry Zaga
Henry Zaga is one of the recurring cast members rather than a main cast member. He plays the role of Luca Novak, who is a fellow attendee of Shopaholics Anonymous and the love interest of Tabitha. He has also had a relationship with Sabine. This Brazilian actor began his career in 2015 and his profile was raised when he played Josh Diaz in the MTV series 'Teen Wolf'. He has also had roles in 'XOXO', '13 Reasons Why', and 'The New Mutants'.
Katrina Cunningham
Katrina Cunningham plays the role of Sabine, who is the former love interest of Luca Novak and the current love interest of Elodie. Cunningham is both an actress and a musician, and she has performed as part of 'Cirque Du Soleil's Paramour'. She has been cast in the new season of the HBO series 'The Deuce', alongside James Franco and Maggie Gyllenhaal. This actress identifies as queer and lives in New York City.
Linden Ashby
Another recurring cast member of 'Trinkets' is Linden Ashby. This actor is best known for playing Dr. Brett Cooper in 'Melrose Place' and Johnny Cage in the film version of 'Mortal Kombat'. He is also famous for starring in the MTV series 'Teen Wolf' in the role of Sherriff Noah Stillinski. Ashby is married to actress and former model Susan Walters, and the couple has two daughters together; Frances Grace and Savannah Elizabeth. In his spare time, he enjoys martial arts, including Kung Fu, Tae Kwon Do, and Karate. These are the hobbies he has enjoyed since he was 21. He has struggled with panic attacks throughout his adult life.
Parker Hall
Parker Hall is a child actor who plays the role of Elodie's young stepbrother and Jenna's son, Spencer Davis. This is not Hall's first television role as he has also had roles in 'Interconnect' and 'The Slows'. He is also playing the role of Michael at 5 in the drama film 'Here Awhile', which is currently in post-production.
Tell us what's wrong with this post? How could we improve it? :)
Let us improve this post!