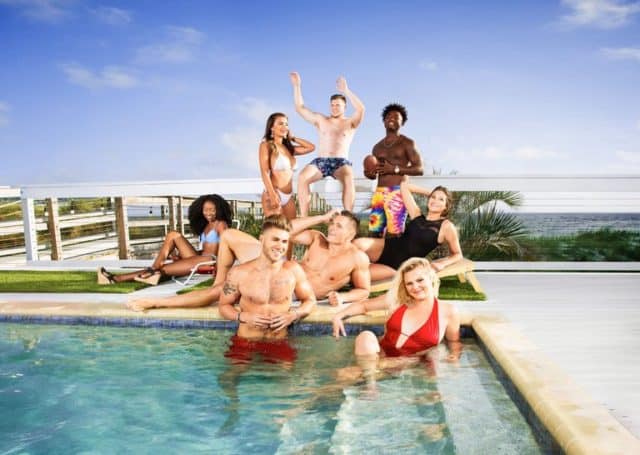 MTV brought in a cousin television series to the family in a spinoff of the "Jersey Shore" show. It was advertised that an announcement of the return of the "Jersey Shore" crew would be highlighted at the end of the premiere of "Floribama Shore." Fan reactions were swift to the first episode and here are the mixed reviews that have come in so far.
What "Floribama Shore" is about
If you missed the premiere, then here's a quick overview. "Floribama Shore" follows eight friends who come together to spend time with each other in Panama City Beach. They're there to throw a party and escape reality for the summer. The premiere was a two hour special to help you et to know the cast a little better. Kortni is 21 and has just moved from her parents' home. She enjoys drinking and having a good time, perhaps the most of the group. She had a little too much in the premiere and woke up in a bed that wasn't her own, in a puddle of her own pee. We also see the possibility of a love triangle forming between Jeremiah, Nilsa and Gus. Its not a situation that fans reacted positively to. It was more interesting to see Kortni Pee in a garbage can. To summarize, there are roommate hookups, a lot of poor decisions and even more drinking.
Viewing statistics
The premiere of "Floribama Shore" seems to have done very well according to the statistics that were available. 846,000 viewers tuned in to watch the two hour premiere. It drew in a remarkably high number of viewers and is now the second biggest draw for MTV in the last three years. Viewership of 87% was retained for the second episode that was shown at 11 pm.
Fan reactions
Viewers were quick to get on their social media accounts and give their opinions. What we saw was a mix of "Jersey Fans" who shared their disappointment in the show. It seems that they were willing to give it a try, but in th end, there is only one "Jersey Shore" and the spinoff, didn't come close in the estimation of many who gave the show a chance. The real carrot was the information that they were awaiting about the return of "Jersey Shore" in 2018. It seems the premiere ran a little slow for some of them and wasn't as interesting as they had hoped, but this was a small percentage of fans. We must also look at the 87 percent who tuned in for the 11:00 episode and realize that the majority were interested enough to come back for more.
Initial assumptions
It's looking like there were plenty of "Jersey Shore" fans who had an interest in seeing "Floribama Shore," but they weren't that impressed. It isn't what many were hoping for and although there were heavy doses of drama and a lot of partying going on, the premiere didn't go over as well as it could have. From the fan feedback we saw, most who were willing to share their opinions weren't that pleased with the new show, but we'll see what happens in the weeks to come.
Tell us what's wrong with this post? How could we improve it? :)
Let us improve this post!