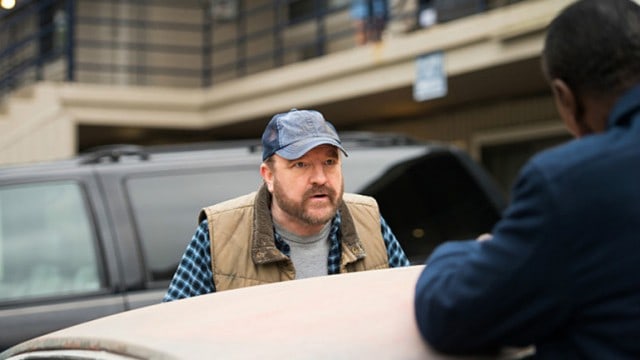 The thematic thread of this episode of Supernatural is not clear. The Soul Eater doesn't offer any sort of window into the boys, nor do the flashbacks of Bobby and Rufus signal an exploration of how the past influenced the future. There are themes, because all stories have themes, but there is no overarching message here, or at least not one that I can locate.
Having said that: this was a fun, exciting, and clever episode of Supernatural. It's almost unfair, really; time travel and dealing with being outside of reality are two things that I think about often. This is the kind of story that I come to fantasy shows for. Unfortunately, that doesn't leave me with a lot to say.
Here's one thing I can and will say: this episode would've been near-perfect, had the payoff of Bobby not writing in his journal amounted to anything. There should've been some recognition of Dean being from the future; Bobby is, I believe, aware that the Soul Eater nest is outside of time and space. He should've held off from writing in his journal because he knew that Sam and Dean had to experience this thing blind, or else they would be trapped with the Soul Eater.
Had that been the case, this would've been the perfect "filler" episode; it would've given a glimpse of the world of Season 4 outside of the boys perspectives, and also pulled apart the world a little bit, making it bigger than previously thought (not that Supernatural needs much more world-building). Perhaps that is just me projecting, but I think that would've really wrapped the episode into a nice bow.
* * *
The flipping back and forth between The Old Guys and Brothers Winchester didn't add much to the narrative. Not a lot of insight; more of a continuation, and very little of it contained a new perspective. It would've been a much more lackluster experience had Steven Williams' Rufus not returned. I had no strong feelings on Rufus watching Supernatural once through the first time; he was a good foil for Bobby, but I was never invested in their friendship. I'm not sure if Williams found another gear or the writers found another perspective, but Rufus was easily the best part about this episode.
The nostalgia of he and Bobby taking down monsters is a big part of it, and anytime Jim Beaver is in a series (let alone perhaps the role he is most well-known for), it's going to be good. But Rufus was so funny, and so brash, and so refreshing when faced with the dourness that the show can occasionally sink into. It's not that Rufus is an optimistic character; far from it. But it does seem that, instead of retreating inside himself, he expanded outwards. He refuses to be cowed by the job or the people around him, and when dealing with the slow degradation of Bobby and the fatalism of the Winchester brothers, it makes the show an easier watch.
It's also nice to see Bobby and Rufus actually like one another. My memory is fuzzy on how close they were during their run on the show, but there was a sibling vibe coming from the two. They didn't take advantage of it, or at least not to it's fullest extent. There should've been a moment hen Rufus has to risk his own life to save Bobby's, to really hit home the abandoning of the "oldest rule".
That complaint goes back to the opening paragraphs; there is just no thematic through line. I don't meant to harp, but there is a lot of juicy ideas presented, and only one of them is followed through on. It's so clever, and such a great revelation, that Sam and Dean freed the souls from the Soul Eater from the future; the writing on how and why the souls escaped when Bobby and Rufus worked the case is played very quietly, and in the background. You almost don't realize that question is hanging in the air, until it sits on the back of your neck.
* * *
In the end, Sam and Dean essentially shrug off the time-displacement thoughts and go get drunk, and while it's played for laughs, it's also serious business. Sam's response is bemusement, saying his head hurts, but I don't buy it. The fact that the Soul Eater exists outside of space and time has massive implications for the world going forward.
I sincerely doubt that the Soul Eater nest mechanics are going to reoccur, but then again, I never thought the Teselecta were going to return in Doctor Who, and guess what happened? I'm not even sure that I'd like the time wonkiness to return; it feels like a too easy "Get Out Of Jail" free card for the Winchesters to use. The Teselecta did, too. If that is the first and last reference to the Soul Eater, I'm perfectly fine with it.
This was an interesting, engaging episode of both Supernatural and television. There are a lot worse things you could be doing or watching than this.
Summary
Sam and Dean deal with an old Bobby and Rufus case in the 16th episode of the 12th season of Supernatural.