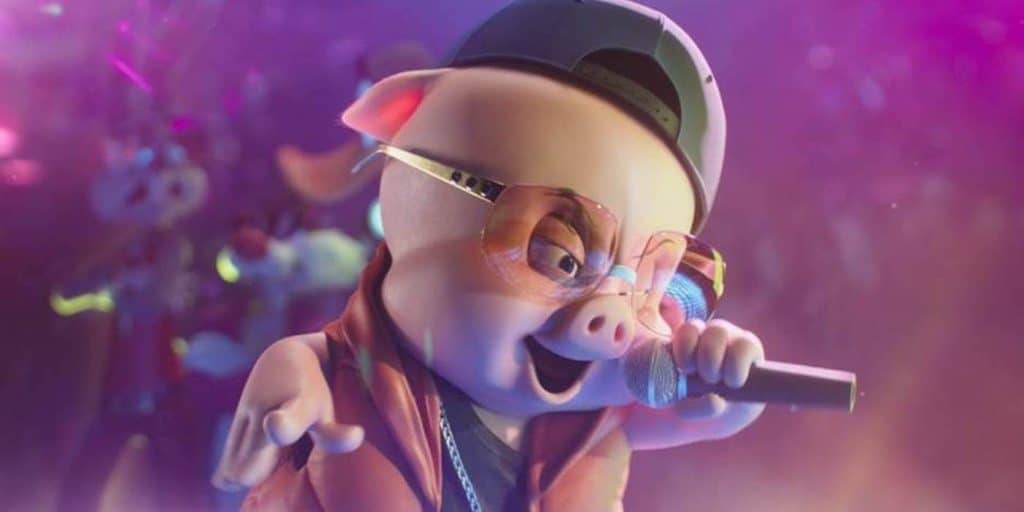 People are ready to complain about the strangest things these days, not to mention some of the most ridiculous. It's true that the next Space Jam hasn't really faced an overwhelming welcome from everyone since one idea was 'why bother?', especially since the original movie with Michael Jordan and the Looney Tunes felt good enough. But when studios feel there's a chance to make money with an idea they're going to push for it and, well, now we have Space Jam: A New Legacy coming out with LeBron James and the Looney Tunes in a new look that some people don't happen to like. One of the clips that have dropped recently is this idea of Porky Pig making his way forward to initiate a rap battle against Don Cheadle's character. Now just looking at it, yeah, the scene does kind of look a little bit awkward and perhaps a little cringe-worthy, but the rap itself is actually handled pretty well since Daffy introduces him as the Notorious P.I.G., an obvious reference to the Notorious B.I.G., people apparently haven't been responding in an overly positive manner.
One has to wonder why though, especially after watching the rap, which makes good use of Porky's customary stutter before he launches into what is actually a well-planned rap explaining just who Porky is and how long he's been around, basically slamming Cheadle's character when it comes to the idea of getting and giving respect. Sure it's a little over the top, and yes it's enough to make a person roll their eyes, but overall it's not quite as bad as some folks have been heard to think it is since the evolution of the Looney Tunes has been ongoing for years and if there's one thing that the Tunes have been seen to do, is take the stage and show people that even if it is kind of cringy, they can adapt to pretty much any situation they're given. The rap battle is one that people have been seeing on TV for a little while now and why anyone would think that the Looney Tunes couldn't, or shouldn't, be allowed to represent is kind of confusing.
The online comments have ranged from people saying that this isn't the Porky Pig they remember to people stating that they won't watch the movie now that they've seen this clip. Here's a safe bet though, a lot of those claiming that they won't watch the movie are bound to be those that will still go to see the movie just out of curiosity. They might still cite that a rapping pig wasn't their favorite part just to keep up appearances, or they might bash the entire movie, but the point here is that they'll still watch it. As much as I'm not a fan of LeBron James, mostly for his attitude and the things he says at times, I'll probably watch this movie just to say I did watch it and can therefore comment from an informed perspective. But complaining about Porky Pig grabbing the mic and laying it down? That's just pure comedy there, especially from the moment his stutter turns into beatboxing. And fitting in his most classic line at the end before the mic drop? Oh yeah, that's pure Porky.
Those that have an issue with this are, like it or not, hypocrites when it comes right down to it. We're all hypocrites in one way or another at certain times in our lives since things change, people change, and the ability to roll with it tends to facilitate the need to allow our moods, likes, and interests to change as well. But in the grand scheme of things, Porky Pig entering a rap battle is one of the smallest changes that people have raised a stink about, and to be certain, it's not that big of a deal. It's one moment in a movie that a lot of people aren't psyched for anyway, but hearing people complain about this scene makes it obvious that they were at least willing to give themselves a reason to sit down to watch it, and might have been looking for one reason to blast it, perhaps to make themselves feel better or perhaps because they were bored, it's hard to say.
The new Space Jam movie does feel like it's going to draw a big enough crowd to say that it might be successful, but we'll have to wait and see what happens. Quite a few people are no doubt going to be making comparisons between the first movie and this current version, but while the premise is the same in a lot of ways, it's still different enough that one should be able to treat the new experience with a small amount of respect at the very least. And seriously, leave Porky alone.
Tell us what's wrong with this post? How could we improve it? :)
Let us improve this post!