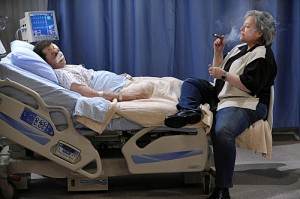 Charlie Harper is back–from hell. Unfortunately for whoever is in charge of eternal punishments, Charlie does not mind at all that he's in a body that looks strikingly like Kathy Bates. After all, Charlie loves women, so what could be more awesome than being one? He needs to make it clear, though, that he still has half of his man parts too.
On last week's episode of Two and a Half Men, Alan and Walden had decided that they were going to get rid of their girlfriends and go back to being roomies. This week, when Walden fails to go through with the plan after being flooded with cuteness and love from Zoey's daughter, it causes Alan to have a heart attack. And when he's comfortably on a morphine drip in the hospital, Alan is visited by his brother Charlie (Kathy Bates).
Face it–Kathy Bates made an awesome Charlie Harper. As rude and crude as Charlie ever was, she just needed a bowling shirt and cigar to top it all off. This only served as additional proof that Kathy Bates can play any character. Charlie had a specific plan for his trip back to earth. First, convince Alan that he was actually talking to his dead brother, which he did by recalling one of his childhood pranks and then telling Alan his five favorite words to hear from a woman: "I can't spend the night." Next, make Alan feel guilty for sponging off Walden and convince him to grow up, be a man, and move out of the beach house. Finally, reveal to Alan–after he is settled in a one-room, sketchy apartment–that the whole plan was to screw him: "I had to come back from hell to do it, but I finally got you out of my freakin' house."
This season has had a lot of zingers against Charlie, but this episode let Charlie dish out some of his (her?) own again. When Alan suggests that he could move in with his girlfriend, Lyndsey, Charlie clarifies, "I'm not suggesting that the tape worm find a new colon to crawl into." He calls Alan useless, like tonsils, and makes him catch his cigar ashes. Ghost Charlie might even be a tad meaner than alive Charlie; surviving death into some sort of afterlife has probably inflated his ego even more. This episode made me appreciate that the Ashton Kutcher reboot of the series provides humor that is (slightly) less vulgar than the original.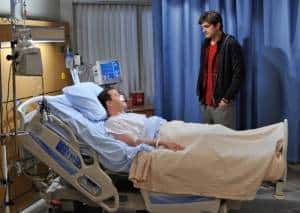 The rest of the episode dealt with the struggle between Walden and Zoey after Alan falls ill. Zoey thinks Alan faked the heart attack so he could move back in. Walden, on the other hand, doesn't want Alan's death on his hands, so he pays for all of his medical bills and tells him that he can stay at the house for as long as he needs to. The title of the episode came from a doctor who saw Zoey complaining about Alan needing a low-stress couple of months; thinking that Walden was Alan's boyfriend, and being gay himself, the doctor says it's girls like Zoey that are "why we gave up women."
At the end of the episode, Charlie makes a final appearance to Jake, who despite hints doesn't realize that it's his uncle. Not willing to spend time on that project, Charlie announces, "Screw it, I'm going back to hell." He–she–takes a tall, red-dressed lady in each arm and proceeds to return to the afterlife.
I don't think anyone could have ever imagined that Kathy Bates, the Academy Award winning actress, would one day be portraying the ghost of Charlie Harper a year after Charlie Sheen's final appearance. Some people couldn't even imagine that the show could survive without Charlie Sheen, but here we are near the end of the ninth season with the show returning for season 10.
What did you think of Kathy Bates as Charlie Harper? Watch Two and a Half Men, Mondays at 9/8c on CBS.
Tell us what's wrong with this post? How could we improve it? :)
Let us improve this post!