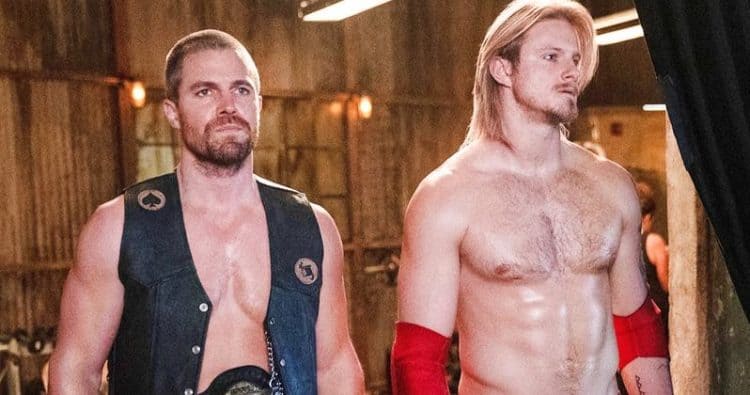 Stephen Amell and Alexander Ludwig are already looking like they're ready to tear each other apart in Heels, which is looking like it might an interesting brother vs. brother series that will be hitting Starz this coming August. That sounds like it's still a ways off, but to be fair this year is starting to progress pretty quickly as things continue to push forward. The two brothers will be vying for a bigger and better life as they take to the ring and attempt to get noticed as a hero and a heel while the tension to see who's going to make it to the top and how they'll continue to honor their father's legacy and wrestling promotion is bound to hang in the balance. Both stars are coming off of very big roles that took up a good deal of their time over the years, as Amell concluded his role as Oliver Queen, aka Arrow a while back, while Ludwig wrapped up the final season of Vikings as Bjorn Ironside, a role that was definitely good while it lasted. Both men are big names in their own way, but it feels as though both of them have been hampered by something in the business that has kept them from rising too far too fast, or has at the very least kept them from becoming the type of big names that might be seen in blockbuster movies. Wrestling in the movies and on TV has been steadily growing in influence over the last few decades as the WWE has maintained its dominance for quite some time while other promotions have been doing what they can to keep up and to sign on talent that the WWE has either let go or never had in the first place. But one thing about pro wrestling that a lot of people have come to find out is that despite being scripted, it's a tough gig for anyone to get into.
Movies such as The Wrestler with Mickey Rourke, Fighting with My Family, the story of Paige from the WWE, and a few others have tried to portray what it's like to try and get into the ring and to maintain a presence that people will pay attention to and enjoy. Beyond the Mat was one of the first movies to really show what it was like inside the ring and the kind of toll this form of entertainment takes on people, as Mick Foley and Terry Funk, as well as Jake 'The Snake' Roberts showed that wrestling is in fact a very hard job and that it takes a bigger toll on a person's life than a lot of fans realize. The constant traveling from one show to another, the difficulty in having a family during this time, and what people have to give up for this life is something that a lot of people don't take into account when they think about watching someone bodyslam another person into the mat. The hope is that Heels will show a bit of this as well, though it's likely that it will be dramatized to such a degree that it will fit the narrative while overplaying or understating the overall experience. That's okay though, it is a drama and that's a part of the story. In fact, there are likely some wrestlers out there that would say it's bound to be pretty accurate since, despite the fact that some of them are quite well off and earn a pretty healthy paycheck, a lot of wrestlers work their butts off for very little and continue to do so since they have a love for the act that goes beyond getting paid.
The gist of this show does make it feel that the brothers are going to be vying for the kind of attention that would get them paid however, as one of them, Ludwig, is playing the brother that washed out of college football apparently, while Amell's character is a guy that works in a small town as a lawnmower repairman and wants more out of life. That appears to be the long and short of it at the moment, but it also feels that the brothers are going to come to blows at some point in the show as well since from the look of the trailer it would appear that Ludwig's character is a bit strung out and wants out of his place in life, but can't figure out how to do it. Amell's character sounds like the ambitious type that simply wants to do something else and something bigger than what he currently has, which is a big reason why a lot of people dare to do something as big as these two appear ready to do. It should be an interesting show, to say the least.
Tell us what's wrong with this post? How could we improve it? :)
Let us improve this post!