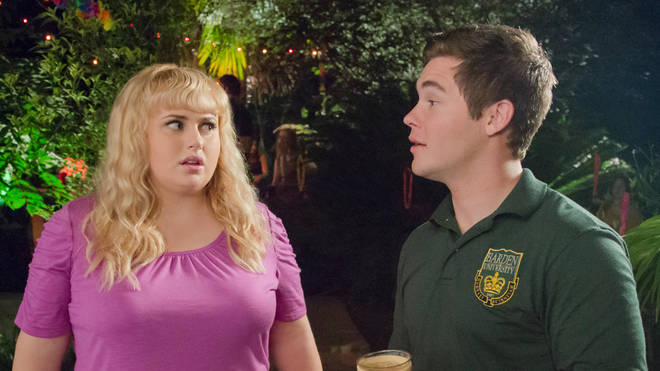 The hit Pitch Perfect film franchise is coming to TV! Titled Pitch Perfect: Bumper in Berlin, the series will be streamed on Peacock and features a familiar list of cast members. Pitch Perfect: Bumper in Berlin is created by Megan Amram, who worked on shows like Parks and Recreation, Silicon Valley, and The Good Place. Here is a description of the show's storyline, according to Deadline: "It will follow Devine's Bumper Allen, several years after viewers saw him in the films, as he moves to Germany to revive his music career when one of his songs becomes big in Berlin." Susan Rovner, chairman of entertainment content at NBCUniversal, commented on the upcoming musical series, saying: "Our upcoming Pitch Perfect series is another example of the unmatched synergy NBCUniversal is able to expand upon with our wide-ranging library of IP," said Susan Rovner, Chairman, Entertainment Content, NBCUniversal Television and Streaming. "When we saw the opportunity to create a series for Pitch Perfect with Elizabeth Banks, Max Handelman and Paul Brooks plus more earworm classics for super fans to enjoy, we jumped at it. And to top it off, we are so fortunate that Adam Devine is headlining the series and bringing fans the quirky, laugh-out-loud sensibility they loved in the film franchise." The show features an interesting list of cast members, with its star having been a mainstay of the film franchise. If you want to learn more about the cast members of this series, read ahead. Here are the cast members of the upcoming Peacock musical comedy series Pitch Perfect: Bumper in Berlin.
Adam DeVine
Adam DeVine is set to star in the upcoming comedy series Pitch Perfect: Bumper in Berlin, appearing in the show as Bumper Allen. He played the role in Pitch Perfect and Pitch Perfect 2. He's also worked on movies like The Intern, Mike and Dave Need Wedding Dates, Why Him?, When We First Met, Game Over, Man!, The Package, Isn't It Romantic, Jexi, Magic Camp, and Extinct. He is set to appear in an upcoming comedy movie titled The Out-Laws, which is currently being filmed. DeVine has also frequently appeared on different TV shows, having guested on hit comedy series like Community and Arrested Development. Adam had a recurring role in the mockumentary series Modern Family. Currently, he stars in The Righteous Gemstones, alongside Danny McBride, John Goodman, and Edi Patterson. In an interview reported by Collider, DeVine revealed that he was surprised that he was being asked to reprise his role in a TV series, this time with him starring in the project.
He said: "No way in hell did I think this was gonna be a thing that was gonna happen. I wouldn't have thought of it, in a million years, but I always loved playing that character. I never shot down or poo-pooed the idea. So, when that opportunity came around, I was like, 'I think this could be a really fun thing to try.' And so, we're already deep in the process. We have scripts coming out. At the top of the New Year, I'm gonna head off to Germany and become Bumper Allen once again." Talking about how he'd like his character to develop in the series, DeVine said: "I'm excited to see him grow a little bit. Bumper was pretty one-dimensional. He was just a maniac. And then, in the second movie, you see a little crack in the facade of a guy that is just so insecure that he has to put on this little Butterball of braggadocio. He's this little guy who's just singing and dancing and is way too intense for his own good, and obviously there's some underlying insecurity there. So, I'm excited to watch him. What happened in those seven or eight years between the last time we saw him to now. I'm assuming quite a bit. I'm really excited that the scripts are coming in great. Megan Amram, who was a producer on The Good Place and Parks and Rec, is showrunning the show and she's doing an amazing job. I'm excited to shoot that."
Flula Borg
Flula Borg will also be starring in the upcoming Pitch Perfect series as Pieter Kramer. A German actor, musician, and comedian, Borg also appeared in the movie Pitch Perfect 2, portraying the character he is set to reprise in the series. Borg has been very busy lately, having appeared in at least 10 projects in just the last two years. Borg has lent his talents to projects like Amphibia, DuckTales, Jellystone!, Aquaman: King of Atlantis, Centaurworld, The Suicide Squad, Mr. Mayor, Chip 'n Dale: Rescue Rangers, and Luck. He also worked for Conan O'Brien as his DJ on the late-night host's 18-city comedy tour.
Sarah Hyland
Sarah Hyland will be playing the role of Heidi in Pitch Perfect: Bumper in Berlin. The show serves as a reunion for her and DeVine. The two worked together in Modern Family and depicted an on-screen romance. Aside from her starring role in Modern Family, Hyland has appeared in shows like Shadowhunters, Veronica Mars, and Epic. On the big screen, she's performed on Vampire Academy, Date and Switch, See You in Valhalla, Satanic, and XOXO, which she also executive-produced.
Jameela Jamil
Jameela Jamil will be playing Gisela in the upcoming series Pitch Perfect: Bumper in Berlin. Most people would recognize her for her highly acclaimed role as Tahani Al-Jamil in the NBC fantasy comedy series The Good Place. She's also worked on shows like Robot Chicken, The Misery Index, Legendary, Rugrats, Star Trek: Prodigy, and Animaniacs! Aside from Pitch Perfect: Bumper in Berlin, Jamil is also set to play a lead role in the upcoming MCU series She-Hulk: Attorney at Law. She will be playing the role of Titania, the primary villain in the series.
Lera Abova
Lera Abova is an up-and-coming actress who will portray DJ Das Boot in the upcoming Pitch Perfect series. Abova previously appeared in the movie Anna. She also has a respectable Instagram presence, having a total of 94,000 Instagram followers as of writing.
Tell us what's wrong with this post? How could we improve it? :)
Let us improve this post!