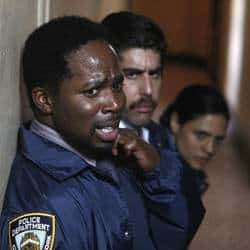 "The Unusuals" is ABCs quirky new cop drama, but it hasn't done very well so far in the ratings, despite good reviews. The new series is on Wednesday nights following "Lost" and even features Lost alum Harold Perrineau as Detective Leo Banks (it also stars Jeremy Renner and Adam Goldberg). The Alphabet Net seems to be making a valiant effort for the new show, airing two new episodes this week, and pre-empting "Cupid", to help it find it's audience. But if ABC really wanted this series to do well, why would they set it up to fail by placing it following Lost? For that matter, is Lost still a viable lead-in series for ABC, or would the network be better off placing it in the 10pm timeslot?
Now before Lost fans start sending me hate mail, please understand that I love the show more than anything else out there, and I prefer the timeslot it is in right now, because it fits best into my Wednesday night routine. But you can't deny the facts that first of all, Lost isn't really carrying the viewership for a good lead-in series, and second, the proof is in the pudding, so to speak, with the show's track record of new series that follow it.
Lost Season 2 (2005 – 2006)
The new series Invasion premiered following our favorite island drama, and although Lost was pulling in an average of over 15 million viewers for the season, Invasion fell flat and was canceled. It did manage to put away a full season of 22 episodes, something no series following Lost has done since.
Lost Season 3 (2006 – 2007)
This season of Lost the new series was called The Nine, and it was actually a pretty well put together tv series. Lost's ratings had started to fall slightly during season 3, and was only pulling in an average of 13.7 million viewers. The Nine only made it seven episodes and pulled in an average of just 7.7 million veiwers. For the second half of the season Lost was moved to the 10pm timeslot and was therefore followed by local news.
ABC did try to give the series a second chance the following year (not after Lost) but it was too late for this series. Lost had already done its damage.
Lost Season 4 (2008)
In 2008 Lost started season 4 at mid-season and this time the freshman show was Eli Stone, a quirky legal drama. Eli Stone was given great reviews but once again couldn't grab the audience. During its 13 episode first season its ratings averaged only 7.2 million. The series got picked up for a second season (cough-writers strike-cough) but only averaged about 6.1 million viewers. ABC canceled the series without airing the final 4 episodes, though it seems now they might air those episodes this coming summer. Regardless, Eli Stone proved that even quirky procedurals couldn't make it after Lost.
Lost Season 5 (2009)
So far for season 5 Lost has fallen to a series low average of only 9.82 million viewers. This season has now seen 2 new shows airing after Lost, the first being the much hyped British crossover Life on Mars, and the second being the aforementioned The Unusuals. Life on Mars started off decently during the first half of the season, but once it moved after Lost at the midseason mark, it lost almost 40% of its lead-in audience. The numbers got worse and worse until it was inevitable that the series be canceled. It seemed obvious enough to me that perhaps Lost just wasn't meant to be followed. Then low and behold ABC puts its hot new midseason replacement series, The Unusuals, into the same timeslot. Surely they didn't think that having Harold Perrineau in it would make this series any different? Last week The Unusuals brought in barely over 6 million viewers and the network is surprised. I have little doubt that the Lost Curse has already struck this show dead, and its only a matter of time.
I can't speak for the rest of the world, but only for myself. When I'm finished watching Lost, I'm drained. I'm either pissed off (if the episode wasn't as good as I expected) or I'm so dileriously excited that I can barely contain myself. I have to take a few minutes and think about what all I saw. I have to rewatch certain parts of the show to see if I missed anything. I have to get on the net and see what other people are saying, or what mysteries I might have missed during the episode. To make a long story short, I don't have time to watch another show. Lost engage's its audience that much! So perhaps its time that ABC stops playing these games with some very good television, and moves Lost to a timeslot that its ratings, and its past lead-in experience, deserve. Do you think Lost should stay in the same timeslot? Or is it time to save some other new shows and move Lost to a time when it can't affect others. We want to know what you think.