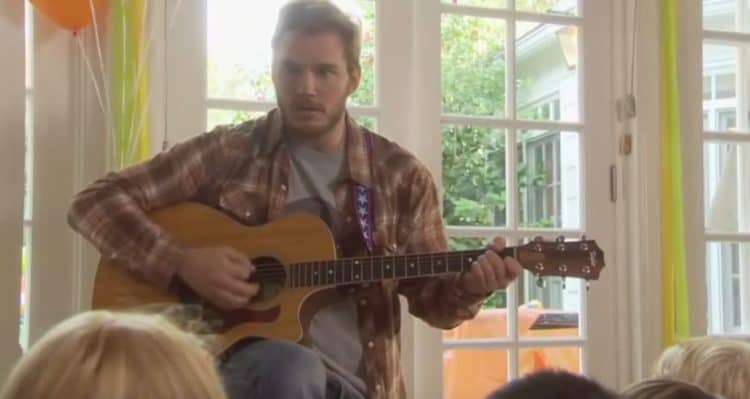 Parks and Recreation, one of TV showrunner Michael Schur's most popular works, is an awe-inspiring example of good sitcom writing. Every single character, from the overly eager Leslie Knope, to the staunchly capitalist Ron Swanson, to random Pawnee citizens, is well written and fits the entire Parks and Recreation universe perfectly. But one character from the show emerges as its most iconic: Andy Dwyer. The character, played by current Hollywood superstar Chris Pratt, made Parks and Recreation 10 times funnier. It's hard to imagine the show without the lovable goofball. Here are reasons why Andy Dwyer is the best character on Parks and Recreation.
Andy is likable (even more so than Leslie)
Andy's character is so well-written. He's a very unique character who makes the show better than it already is. He has a lot of great qualities that make him stand out from other characters on the show. The first thing that makes Andy the best character on the show is his likability. He is always upbeat and smiles at everyone he meets, even when his day isn't going well. Andy also doesn't take anything too seriously. He has a sense of humor about himself and can make light of any situation, which makes him funny to watch and easy to like. In fact, some of his funniest moments are the ones where he overreacts or doesn't understand something a certain way. Another reason why Andy is so likable is that he helps people in need. He'll do anything for anyone's needs and won't hesitate to put himself in danger if it means helping someone out. This ability to help others and not worry about personal safety is what separates Andy from other characters and makes him such an entertaining character to watch on screen. Yes, we all love Leslie, and it's hard to come up with a single bad thing to say about her, but Andy Dwyer simply is a different creature.
He's one of the most relatable characters on the show
Andy Dwyer is a goofball, but he also exhibits many human qualities that make him one of the most relatable characters on the show. He's extremely enthusiastic, which makes him a great companion, even though he is often oblivious to the things happening around him. The fact that Andy takes his job so seriously shows just how much he cares about his friends and co-workers. It also shows how eager he is to please everyone around him and give them exactly what they want at all times. He's not stubborn or prideful—he's just enthusiastic about his life and job and wants to make others happy. Andy is sometimes put in charge of the group, which gives him a chance to be a leader. But more often than not, he is an excellent follower. He does whatever he can to make sure everyone else is happy and gets what they want. This includes both his coworkers and his friends, so the show has a great balance between the serious issues facing the Parks Department and Andy's silly antics with everyone else.
Two words: Burt Macklin
Andy Dwyer's alter-ego, NBI agent Burt Macklin, is one of the show's most hilarious running jokes. The character is a parody of the typical action hero, complete with an all-American accent, an impressive physique, and a penchant for shooting guns. But the character is so much more than just a one-note joke. Burt Macklin's main purpose on the show is to serve as an outlet for the show's writers to have fun with their characters. The best part about Burt Macklin is that even though he's only on screen for less than 10 minutes per episode, he's still one of the most memorable characters on the show. CBR wrote about Burt Macklin and how it made Andy Dwyer one of the funniest characters in the series: "Andy may not have been cut out to be an FBI Agent (or even a weekend security guard), but his use of Macklin is one of the reasons Andy is so beloved. Taking on the persona of Macklin to help Leslie and the Parks department shows his fierce loyalty and desire to protect his friends at all costs, even if it dovetails with his child-like fantasies."
Chris Pratt's improvised lines
Perhaps another thing that makes Andy Dwyer the best character in Parks and Recreation is the fact that so many of his most memorable lines were improvised. One such line was when Leslie Knope was sick and that Andy Dwyer Googled his symptoms online. Dwyer innocently said Knope might have "network connectivity problems." CinemaBlend wrote the following about the iconic moment: "The line was not scripted at all. Chris Pratt thought of it on the spot while the camera happened to be on as Michael Schur tells it. The Parks and Recreation creator has said he thinks its the funniest joke in the whole show that made him kind of mad. He actually almost cut it out of the show out of spite. Another great improvised line in "Flu Season" comes from Rob Lowe's Chris Traeger, who says "stop pooping" into the mirror as the usually "finely tuned microchip" combats the sickness."
His love for April
One of the main reasons that Andy is one of the best characters on this show is his chemistry with April Ludgate (played by actress Aubrey Plaza). Their love for each other is what made their relationship and banter so interesting to watch. Even though he doesn't have much life experience, he knows how to connect with April. And because she opens up to him about her problems, it allows him to be there for her when she needs help. The relationship between Andy and April is definitely one of the best things about Parks and Recreation. Screen Rant took note of one of Andy Dwyer's unconditional love for her in an article, writing: "Andy and April had been through a lot once the series was beginning to wrap up. And through it all, they had only come out stronger than ever. Andy made sure at this point to let April know just how much she meant to him and that nothing would come between them, not even fame or fortune."