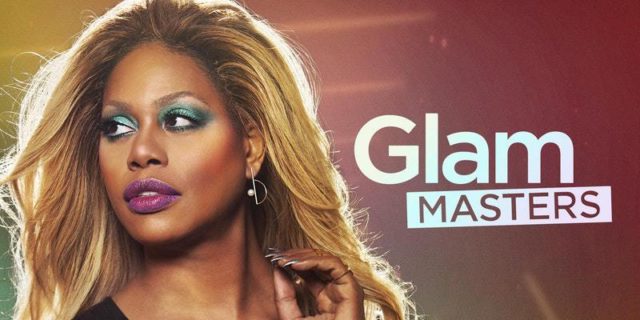 The impact that reality television has had on the shifting of cultural paradigms in this country cannot be overstated. There are multitudinous cultural norms that were formed through behavior that first became acknowledged and accepted on reality television. When it comes to reality television, there are some who view the Kardashian clan as royalty. With that being said, it is not surprised that when the crowned Princess of the royal family, Kim Kardashian-West, announces that she is launching a new series, it is no surprise that television fans get all excited in the anticipation of the what the show has to offer. Kim is launching Glam Masters, a filmed beauty competition that premiered this week on Lifetime.
In order to get you up to speed, we decided to share five facts about the show you didn't already know.
1. The Show Is An Extension of Kim's New Makeup Line
Last year, Kim launched a makeup line called KKW Beauty, with the line wearing her initials. The show is meant to highlight the idea of beauty and how to push the parameters of how people perceive beauty. Obviously, the show will definitely help to boost the brand awareness of her makeup line and increase the size of her bank account, but it is also an opportunity to breath new life into the industry by invited some fresh minds into the game.
2. Kim is Executive-Producing the Show
Kim has teamed up with Diana Madison to co-executive produce the show. Madison got her career off the ground at Entertainment Tonight and the E! Network. She eventually launched the Obsev Studios Company and she will be teaming up with Kim to bring this show to life. According to those close to the project, Kim and Madison appear to be a match made in heaven. As it turns out, they both are Armenian, which gives them great cultural connectivity.
3. Kim And Madison Have a History
While it may appear as if the two Armenian beauties just came together to create this new series, the truth is that they have known one another for more than a decade. In fact, the two met before Keeping Up With the Kardashians was launched. The met at one of the many events held in Hollywood on a weekly basis. It was there Armenian connection that brought them together. They both had previous knowledge of one another because of their rising popularity and Armenian ethnicity.
4. The Idea Seams to Be the Brainchild of Madison
According to content revealed in a recent interview with Madison, she has been immensely influenced by the different stylists that she has had the pleasure of working with on shows like StyleLab and The Lowdown. The makeup artists and stylist would be responsible for ensuring that Madison was looking her best for each episode. She decided to create a show that would allow these people who are normally behind the scenes to have a moment to shine.
5. A Hands-on Approach
It seems that these two executive producers will not be taking a back seat during the selection process or during the competition. Both have admitted being involved in narrowing down the list of those who would be competing during the first season. Madison even says that she recommended a few stylists that she personally knew because of the great job that they did for her. With these two beauties at the helm, the show has a bright future.
Tell us what's wrong with this post? How could we improve it? :)
Let us improve this post!