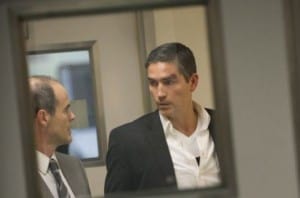 The man in the suit is…Mark Snow? Talk about a major frame up, but at least John is in the clear finally. Let's back it up a bit and see exactly how this went down.
Last night's Person of Interest starts up with a nice little replay of what went down almost a whole month ago. Detective Carter, John and that out- for- blood Special Agent Donnelly, are trapped in their overturned SUV. Is it just me or does anyone else think that he could be the long lost doppelganger for Kevin Spacey? So, a woman walks up to the car, shoots Donnelly and injects John with some kind of tranquilizer. Camera turns up to show us her face and oh my goodness! It's Kara, John's thought to be dead, but not so much ex-partner. Wow, did not see that one coming.
Kara has John and their old boss, Mark Snow, hostage with bombs strapped to their chests. She gives them a list of "errand" to run and a bag of guns. Good luck boys. Admit it Kara, you just did not want to run these errands yourself, so you had to get some lackeys to do them for you.
Back at the scene of the accident, Detective Carter is playing it smoother than Michael Jackson with the SAIC when they come to investigate the death of Special Agent Donnelly. Detective Fusco is once again doing Mr. Finch's bidding. He was sent on a wild goose chase in search of John. I love seeing the whole team work together. For the longest time, there were two separate teams happening here. Fusco was the inside man and Carter was on the hunt for the Man in the Suit. It's so much better to work together.
Errand number one: Negotiate with some crazy, gun toting, psychos and get some hard drive that these guys clearly do not want to give up. Kara kills them and sends John and Mark to errand number two. They have to carjack and impersonate two ATF agents. Okay, pretty sure that's not how the government works, but hey, let's plays dress up.
Ooh, ooh….a flashback! China, 2010. Both Kara and John were given explicit instructions to exterminate one another. Twisted right?! This was all over a laptop filled with crazy government secrets. I totally understand why she would hold a grudge. So, after she was left for dead, she wakes up in a hospital with this old British guy with a creepy smile standing over her bed. He and Kara swap some riddles and crazy metaphors involving classic literature, the titans and Zeus. Way to hide what you are talking about. Keeps the juices flowing and the fans guessing I suppose. Well, luckily I cracked their code. He was referring to his organization. He claims it to be just like the old gods and that the CIA acted as new gods. The old and the new recognized her potential, but the CIA saw her as a threat. His organization sees her as an asset.
Their final errand is up on the very secret, exclusive 21st floor of an evacuated building. There is a lab inside that holds the nastiest computer virus unknown to most men. "Cignus" could kill the internet with one swipe of its claws. John attempts to wipe the hard drives, but of course Kara stops him. She activates their bombs, leaves with the virus and locks them in the lab with five minutes on the clock. Mark busts out and leaves John to die, but luckily Finch is here to save the day. He has five possible bomb unlock combinations and only three strikes until its kaboom! 3095. The code that saves John with seven seconds left on the clock. Phew!
Mark blows up Kara at the end and they are framed as the bombers. According to the FBI, Mark looks "exactly like the man in the suit". What? Since when? Now, with John off the hook, he does not have to lurk in the shadows. He is in the clear. Case Closed!
[polldaddy poll=6873514]