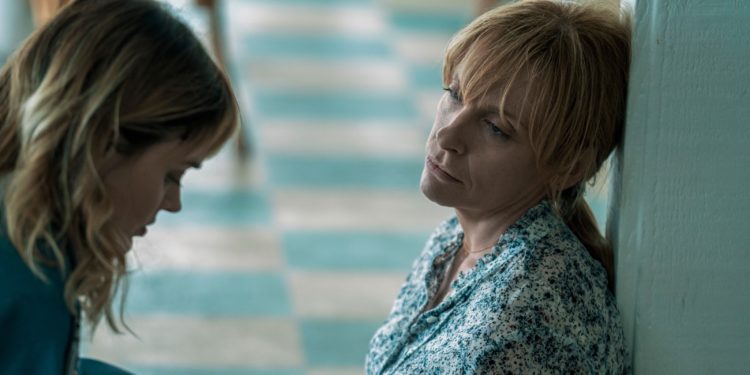 Pieces of Her is an upcoming TV drama set to drop on Netflix in March. The series is based on the 2018 novel of the same name by the author Karin Slaughter, who had previously written Cop Town. The book was adapted for TV by Charlotte Stoudt, who had worked on Homeland, House of Cards, and Dinner Party. The show's official synopsis, according to IMDb, is as follows: "When a Saturday afternoon trip to the mall with her mother suddenly explodes into violence, an adrift young woman's conception of her mother is forever changed." Pieces of Her features a who's-who of cast members, carefully assembled to provide thrill and edge-of-your-seat excitement for every crime and thriller drama enthusiast. Here's a list of the performers who are set to appear in Pieces of Her.
Toni Collette
Hollywood superstar and Australian-born actress Toni Collette stars in the upcoming series Pieces of Her. She is set to play the lead character, Laura Oliver, in the series. One of the most dynamic actresses working in Tinseltown, Toni Collette can play pretty much any type of character to perfection. From playing roles in horror flicks like Hereditary, to comedies like In Her Shoes, and to murder mysteries like Knives Out, Toni Collette has done it all. Despite having appeared in multiple films and TV projects, Collette says that her role in Pieces of Her still managed to surprise her, according to Vogue. "Every scene was more emotionally demanding than I anticipated," the actor told Vogue. "I had no idea how intense it was going to be and was truly exhausted by the end. I think I let myself get fooled, because I might not have done it if I knew where it would take me." She also described the depth of her character, saying: "I love that she's so complicated and you rarely know what she's thinking," Colette says of her character. "She appears to be one person until we learn that she is not exactly who or what she seems."
Bella Heathcote
A relative newcomer, Bella Heathcote also stars in Pieces of Her alongside Toni Collette. Bella stars as Andy Oliver, Toni Collette's character in the show. Previously, she gained fame for her recurring role in the soap opera Neighbours, playing the character Amanda Fowler. Despite her young career, Heathcote already brags a lengthy list of projects in her filmography, many of which are major productions. She's appeared in Dark Shadows, Not Fade Away, Pride and Prejudice and Zombies, and Fifty Shades Darker. On TV, she's played roles in The Man in the High Castle, Strange Angel, and Bloom. She also appeared in one episode of Awkwafina is Nora From Queens. In an interview with NME in 2020 for her work in Relic, Heathcote explained what draws her towards roles in dark and thrilling projects, which is what her character in Pieces of Her is about. When asked by NME about her relationship with horror, this is what she had to say: "I was really into it as a teenager. I loved The Craft and Scream. I loved to be scared. As I've gotten older, it's more like Midsommar and Get Out. With Relic, a friend of mine whose wife is suffering from pretty advanced Alzheimer's said that he loved the film because horror provides a buffer between the viewer and a really difficult subject. There's a thrill that you get with horror. For that reason, Relic was easier for him to watch than a straight drama."
David Wenham
David Wenham is also set to star in Pieces of Her alongside Toni Collette and Bella Heathcote. A Lord of the Rings alum, Wenham is most popularly known for playing Faramir in the fantasy trilogy. He's also played roles in Van Helsing, 300 and 300: Rise of an Empire. His last projects are the cartoon Peter Rabbit 2: The Runaway and the biopic Elvis. In an interview the actor did with Amex Essentials, he explained how he chooses the roles he works on, which might explain why he decided to take on the role in Pieces of Her. "It can be a number of things. The script has to work, and you can tell relatively early, when you're reading scripts, what they're going to be like. Also, the character has to intrigue me in some way, shape or form. There's the creative team as well – a director that I'd love to work with, or if it's a social piece that aligns with my thinking. There's lots of different little aspects that will draw me to a particular role or a particular film."
Jessica Barden
Jessica Barden stars in Pieces of Her, playing the character of Jane. The young actress has appeared in movies like Hanna, The Lobster, The New Romantic, and Pink Skies Ahead. She's also had a lead role in the British TV series The End of the F****ng World.
Joe Dempsie
A Game of Thrones alum, having played the role of Gendry Baratheon, Joe Dempsie joins the cast of Pieces of Her alongside Toni Collette and Bella Heathcote. Aside from Game of Thrones, Dempsie is most popularly known for his role in the series Deep State, playing the role of Harry Clarke.
Jacob Scipio
Another young actor joining the cast of A-listers in Pieces of Her is Jacob Scipio. He's previously known for his roles in comedies like Bad Boys for Life. He has a number of upcoming high-profile action flicks in 2022, which include Batgirl, Last Looks, and The Expendables 4.
Omari Hardwick
The actor and rapper Omari Hardwick is set to play a role in Pieces of Her named Gordon Oliver. While not much is known about this character, we know that this is going to be a main character in the series. Hardwick has previously appeared in Army of the Dead, Spell, and American Skin. He is currently working in an upcoming film called The Mother, starring Jennifer Lopez and Joseph Fiennes.
Recurring Characters
Actors set to play recurring characters in Pieces of Her include Gil Birmingham, Terry O'Quinn, Calum Worthy, Nicholas Burton, and Aaron Jeffery.Knives Out
Tell us what's wrong with this post? How could we improve it? :)
Let us improve this post!