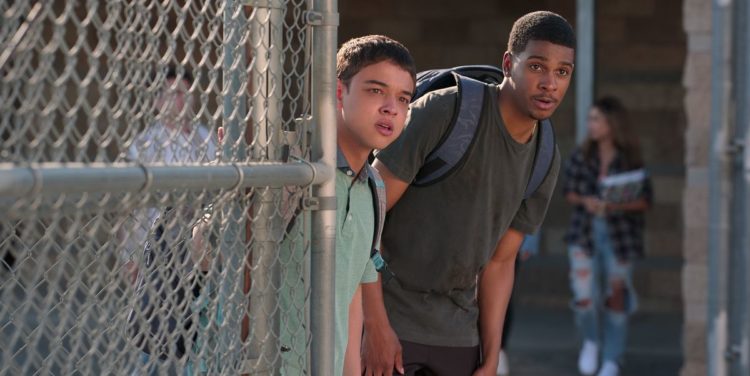 When On My Block was released on Netflix in 2018, the show became a hit almost instantly. Featuring an almost entirely Latino cast, the series was praised for bringing some diversity to the world of Netflix original series. In addition to the show being great, the cast members made headlines in 2019 when they demanded to be paid on par with some of the platform's other shows. Now in its final season, On My Block will certainly be missed, but its fans can only hope that the actors they've fallen in love with will continue to get opportunities within the entertainment industry. Continue reading to learn about the cast of On My Block season 4.
Sierra Capri as Monse
Born and raised in Baltimore, Sierra Capri was an unknown actress before the opportunity for On My Block came along. Prior to the show, all of her roles had been uncredited, so you can only imagine how exciting it was to land a starring role in a new show. Sierra Capri's character Monse quickly became a fan favorite and viewers loved her outspoken attitude. Unfortunately, it doesn't appear that she has any upcoming projects now that On My Block is done, but hopefully, we haven't seen the last of her. Outside of acting, Sierra is also interested in biology and she also has dreams of pursuing a career in that field.
Brett Gray as Jamal
Brett Gray made his first on-screen appearance in 2016, but On My Block was his first major role. Despite still being new to the industry, Brett always carried himself like an industry veteran whenever he was on screen. Thanks to the success of the show, Brett is now known to people all over the world and new doors have started to open up for him. In 2021, he had a voice role in the TV series Star Trek: Prodigy. On top of being an actor, Brett is also a talented musician. In September of 2021, he released an album titled Eleven Days and Then Some.
Diego Tinoco as Cesar
Like many of the cast members in On My Block, Diego Tinoco wasn't widely known before the show came along. However, the series' popularity has given him the perfect platform to share his talent with the world. Now there are countless people looking forward to seeing what he does next. The good news is that he already has a couple of things lined up. He is currently filming two movies including Saint Seiya: Knights of the Zodiac which is set to be released in 2023.
Jason Genao as Ruby
While several of his co-stars never had a significant acting role before On My Block, that wasn't the cast for Jason Genao. In 2017, he portrayed Napoleon in the short-lived but popular Netflix series The Get Down. Needless to say, fans were excited when they saw that he was also in On My Block. In his role as Ruby, the talented young star has shown an incredible amount of versatility and it's earned him endless amounts of respect. Just because On My Block is over doesn't mean that we've seen the last of Jason. He's working on three projects at the moment including a podcast.
Jessica Marie Garcia as Jasmine
Jessica Marie Garcia is easily one of the most recognizable cast members from On My Block. Despite playing a teenager in the series, she is actually approaching her mid-30s. As a result, she had a fair amount of acting experience prior to On My Block, but the series has definitely helped boost her career. Just because On My Block is ending doesn't mean that Jessica's relationship with Netflix is. She is the co-host and producer of a web series called Go Off with Jess & Julissa which streams on one of Netflix's YouTube channels.
Julio Macias as Oscar
Julio Macias may play a gang member on TV, but that's not at all who he is in real life. He has been acting for the last decade and during that time he's built a resume that includes more than two dozen acting credits. Julio isn't just an actor, he's also a talented writer, director, and producer. He is working on two movies at the moment, one of which will be released in 2022.
Peggy Blow as Marisol
Peggy Blow is one of the only cast members from On My Block who is a veteran in the entertainment industry. She has been acting professionally for more than 40 years, however, On My Block is the biggest role she's had so far. Some of her other credits include Melrose Place and American Crime Story.