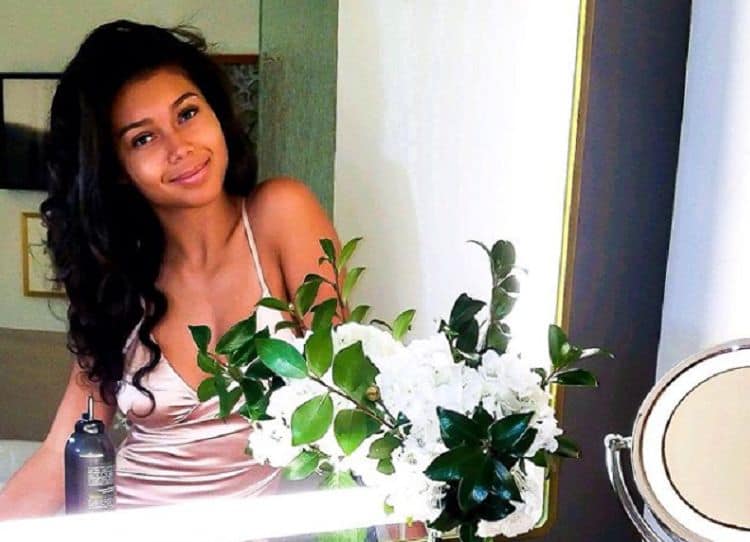 Most of us now consider Netflix it's own television star-making entity, because that's exactly what it is. The days of Netflix being a platform in which you could watch favorites you already know and love are not over, but this is so much bigger than that. It's a network of its own with its own shows and movies, and it's making people big stars. Sierra Capri is one of those stars. She's well-known for her role as Monse Finnie on the hit series "On My Block," and she's becoming a household name because of it. She's young, beautiful, talented, and someone we should all get to know a bit more before her star shines so bright the fun facts get lost in the mix.
1. She's from Baltimore
She did not stay there her entire life, though. She was born and raised her until she was 12. Her family made the decision then to move to Georgia, so she's also someone who knows a thing or two about the south. She knows southern cooking, hospitality, and so much more as a result.
2. Acting's Always Been a Passion
She is one of those women who knew when she was just a little girl she was going to be a star. She was going to be on television or in the movies, and she was going to make a name for herself among the brightest of the bright stars in Hollywood, and she's kept that dream alive her entire life.
3. She Made a Big Promise
It was for her parents. She told them that while she would always pursue a career as an actress, she would wait until after she was done with college to do it. This tells us education is a big deal not only to her but to her family as well. She did mostly keep her promise, too. She went to college in Georgia where she actually studied Biology. She's yet to graduate, but she did go to college for some time before she was given a chance to act full time.
4. She had Fun Side Jobs
While she was still a college student, she was given a chance to work on a few films and some other things as a part-time hire. She had small roles in things like "Hidden Figures," and "Neighbors 2," which only made her want to do this job more than she was already in love with doing it. She took her classes, she sent off her audition tapes, and then she got the big job as Monse. She had to take it.
5. She's So Young
She is a young woman, but she plays an even younger character. She was born on September 8, 1998 in real life, which makes her only 21-years-old. However, she plays the role of a little girl on her Netflix series. She's only 14 in the show, and that is not something that's hard for us to believe at all. She's so youthful and adorable, and we can see why it's so easy for us to see her as someone this age even though she's 7 years older in reality.
6. Her Mom is a Single Mom
She was raised by her parents together until their divorce when she was only 12. This is why she moved, and this is also when her mother became a single mom. She had to do what she had to do to keep her life going the way that she wanted it to keep going working as an activist and a philanthropist while raising her kids.
7. She's Not Dating Her Co-Star
Fans are horrified anytime that they are reminded that Sierra Capri and Diego Tinoco are not dating in real life. They are costars who have so much chemistry on the show that they both star in, and they've spent years dealing with rumors that they are dating in real life, too. But, sadly, they are not. They are, however, the very best of friend. They have a long history of happiness with one another, and they do spend their time together a lot outside of work, too.
8. Her Costars Love Her
Anytime she has to do a scene with her on-screen boyfriend that's a bit steamy, he goes out of his own way to make sure she is comfortable, she knows what to expect from him, and she's good with it. He has an immense amount of respect for her, and it shows. It shows in how well they work together, in how much they clearly respect one another, and in how much they are doing to keep the other feeling good and comfortable when they are at work. It's a lot, but they are really good together.
9. She's Fierce
Rumor has it that there was a time she modeled and spent a lot of her time doing campaign shoots prior to becoming an actress, but we don't know much about that. What we do know, though, is that she did a wonderful job modeling many things on her Instagram page. She's got a beautiful and classic look that makes us just love her so much more when we see how effortless she makes it seem to look virtually perfect any given day. She's gorgeous, and she's fierce. She has a vibe that says she's going to be your very best friend but she's never going to settle.
10. She's a Good Friend
Now, this is probably just pure speculation, but her Instagram feed makes her look like a great friend. She's got photos of her friends up on her page every few squares, and they seem like they are very close. She seems like the type who always has a kind word, a quick upbeat text to send, and a moment to spare when you need her. It's clear she values her friendships and that she makes the time to be a good one in return. We love that if it's true about her.
Tell us what's wrong with this post? How could we improve it? :)
Let us improve this post!