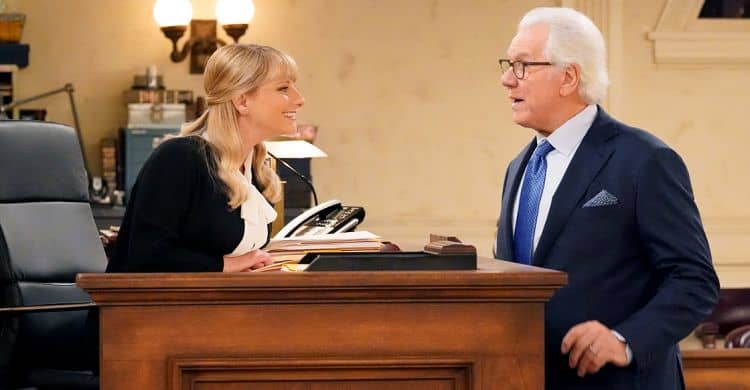 A sequel to the hit '80s sitcom Night Court is coming to NBC this year. Also titled Night Court, the show is based on the 1984 sitcom that was created by Reinhold Weege and starred Harry Anderson, John Larroquette, and Richard Moll. The sequel is written by Dan Rubin, who is best known for his work on shows like Unbreakable Kimmy Schmidt, The Village, Happy Endings, and Outmatched. Here is a description of the plot of the show, according to Deadline: "Based on the original series created by Reinhold Weege, Night Court centers on unapologetic optimist judge Abby Stone (Rauch), the daughter of the late Harry Stone, who follows in her father's footsteps as she presides over the night shift of a Manhattan arraignment court and tries to bring order to its crew of oddballs and cynics, most notably former night court prosecutor Dan Fielding, with John Larroquette reprising his role." Night Court promises an interesting list of cast members. If you want to learn more about the actors set to appear in this series, read ahead. Here are the cast members of the upcoming NBC comedy series Night Court.
Melissa Rauch
Melissa Rauch stars in the upcoming NBC comedy series Night Court. She will be portraying the character of Abby Stone, the son of Harry Stone from the original series, who follows in his footsteps as a night judge at a Manhattan court. Most people would recognize Rauch from her role as microbiologist Bernadette Rostenkowski-Wolowitz on the hit sitcom The Big Bang Theory. For her role in the show, she received a nomination for the Critics' Choice Television Award for Best Supporting Actress in a Comedy Series. Rauch has appeared in other shows, like Marven's Ant-Man, Black Monday, Robot Chicken, Animaniacs, and Sofia the First. She's also made appearances in Jeopardy! which is now co-hosted by a fellow Big Bang Theory alumnus, Mayim Bialik. On film, Rauch has worked on movies like Ode to Joy, The Laundromat, and Cats & Dogs 3: Paws Unite!
John Larroquette
John Larroquette was a member of the original cast of Night Court, and he rejoins the sequel reprising his role as Dan Fielding. For his role in the original Night Court, Larroquette won four consecutive Primetime Emmy Awards for Outstanding Supporting Actor in a Comedy Series. He's then appeared in his own sitcom, titled The John Larroquette Show, which lasted for three years. Larroquette's more recent TV credits include The Librarian, in which he appeared for 42 episodes, as well as The Brink. He's also appeared in The Twilight Zone, Blood & Treasure, and The Good Fight. On the big screen, Larroquette worked on movies like Camera Store, Keep Hope Alive, and Texas Chainsaw Massacre. In an interview with NPR, the veteran actor talked about how he got his start in show business, starting with bit roles and eventually starring in one of the most celebrated sitcoms in history. Here's what he had to say: "Having no experience, I moved to L.A., collected unemployment and on the bus one day saw a sign on a building that literally said, 'Acting lessons $10 a week.' "And I walked into that room and sat there for two months, and a fellow in that room who became a friend of mine said he had read there was auditioning for a play. I went to audition for this play, The Crucible, [and] got a role. The people in that play said, 'We're going to do a comedy. Would you like to do it?' It was called Enter Laughing. I did that, got a decent review, got an agent, met my wife and started working."
India de Beaufort
India de Beaufort will be playing Olivia in the upcoming comedy series Night Court. The British actress and singer appeared in shows like 2 Broke Girls, NCIS: Los Angeles, Veep, One Day at A Time, and Modern Family. She starred in the fantasy comedy series Kevin (Probably) Saves the World. On film, she's worked in movies such as Run Fatboy Run, The Better Half, Kimi, and the upcoming Slumberland, which is currently in post-production. India also lent her talents to video game productions, voicing Arcane Supergirl in the video game Infinite Crisis. In an interview with Cliche Mag, it was revealed that de Beaufort had originally planned to pursue a music career. When asked if she would still like to pursue it, she answered: "Yeah, for sure. I really love to sing and write, but mostly to sing. Whenever I get the chance to do that, I jump at it. I have no idea what I'll be doing next week, let alone next year, but if it involves music, it would make me incredibly happy." She also explained how she transitioned to acting, saying: "I had been on a kids TV show since I was 16, primarily as a singer, with one line here and there. I didn't even have a theatrical agent; I had a commercial agent to pay the bills, and one day, they randomly got an audition for a tiny part in a really funny film called Run Fatboy Run. David Schwimmer directed the movie, and he basically coached me through my audition. He took the time to break down the scenes and explain how to make it funny and make it work. He knew I had no idea what I was doing, but he gave me a chance, and he hired me. He basically changed my entire direction. I loved that job so much; I will remember it so fondly for the rest of my life. After that, it was all I wanted to do."
Kapil Talwalkar
Kapil Talkwalkar will be playing the role of Neil in the upcoming comedy series Night Court. Talwalkar is best known for his portrayal of Tobin in the NBC musical dramedy Zoey's Extraordinary Playlist. Some of the projects Talwalkar has been involved in include False Profits, The Loud House, Charmed, and Home Economics.
Lacretta
Actress Lacretta will be playing Donna "Gurgs" Gurganous in the upcoming comedy series Night Court. She's appeared in Second Act, Gotham, and Law & Order: Special Victims Unit.
Tell us what's wrong with this post? How could we improve it? :)
Let us improve this post!