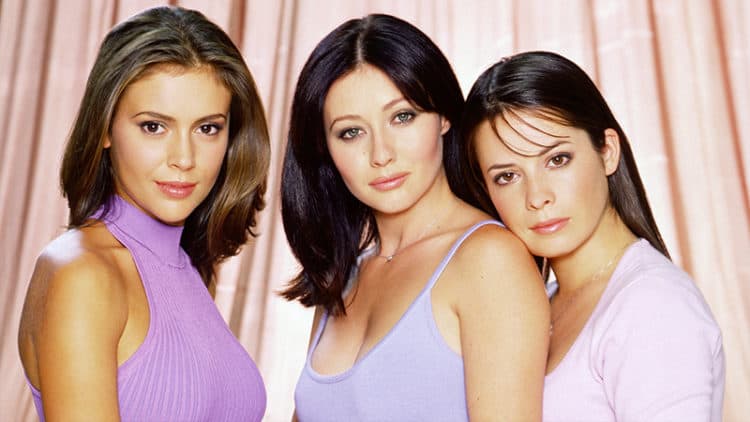 Charmed ran from 1998 to 2006, telling the story of three young women as they navigate their lives in the modern world as witches. The show starred Alyssa Milano, Holly Marie Combs, Rose McGowan, and, for the first four seasons, Shannen Doherty. Charmed's legacy continues to live, so much so that it was able to produce a reboot. Its star Alyssa Milano says that the show continues to be a gold standard for female-driven shows, with its plot heavy on feminist storylines. "Charmed is a perfect postfeminist girl-power show," says Milano, according to Entertainment Weekly. "Even independent of their special powers, these women are strong, but they're still feminine and accessible." More than 15 years since the show's finale, what has its main cast been up to?
Alyssa Milano
Alyssa Milano played Phoebe Halliwell, the youngest Halliwell sister who possesses the power of premonition, levitation, and empathy. She's also the fighter of the trio, having learned martial arts to compensate for her lack of combative powers. Milano appeared in all eight seasons of Charmed, cementing her status as a main character in the show, but the role wasn't actually originally given to her. In an unaired pilot of Charmed, her role was originally given to actress Lori Rom, but she left the project after shooting the pilot. In an interview with Entertainment Tonight, Milano admitted that she caused a lot of tension between her and Charmed cast member Shannen Doherty. "You know, I could take responsibility for a lot of our tension that we had. I think a lot of our struggle came from feeling that I was in competition rather than it being that sisterhood that the show was so much about. And I have some guilt about my part in that." Milano became a superstar after Charmed, appearing in movies like My Girlfriend's Boyfriend and New Year's Eve. Most recently, she played a character in Little Italy, starring Emma Roberts and Hayden Christensen. Milano was more active on TV, however, appearing in Mistresses and Insatiable. Most people would probably recognize Milano more for her political activism, having been active in support of democratic causes, most notably the Me Too Movement.
Holly Marie Combs
Holly Marie Combs played Piper Halliwell on Charmed, the Halliwell middle sister (and in later seasons, eldest) gifted with the ability to stop time and make demons explode. After Charmed, Holly Marie Combs became active on other TV projects, most prominently appearing in 62 episodes of Pretty Little Liars as Ella Montgomery. She's also played a role in Grey's Anatomy. She also starred in a Hallmark movie in 2016 titled Love's Complicated. In 2018, she produced a documentary called Sharkwater Extinction, which tells the story of the late director Rob Stewart. As far as her personal life goes, Holly Marie Combs has also been very busy, having been engaged to restaurateur Mark Ryan in 2016 and marrying each other in California in 2019. Holly Marie Combs continue to defend Charmed from critics, some of whom are former colleagues in the series. In response to a former writer for the show who has since come out to criticize the supernatural flick, Holly Marie Combs had the following to say: "I can attest 1000% Charmed was not bad for the world. The reasons and people are too long to list. Maybe it was bad for Krista's world at the time. End story."
Rose McGowan
Rose McGowan started appearing in Charmed on its fourth season, playing Halliwell half-sister Paige Matthews, a witch who possesses telekinetic powers. She hasn't been very active in front of the camera since her days on Charmed. Her last major film starring role was in 2017, in a movie titled The Sound, costarring Michael Eklund, Christopher Lloyd, and Richard Gunn. On TV, she's played roles in The Pastor's Wife, Once Upon A Time, Chosen, and most recently, Question Time. In 2018, she released a memoir titled Brave and also starred in a four-part documentary titled Citizen Rose. Like her costars, McGowan remains to be a sturdy defender of the series she starred in. When a star of the Charmed reboot irked the ire of the original stars, McGowan was up in arms in less-than-delicate terms to respond to the actress. "Dear Sarah Jeffery, I honestly had no idea who you were til you tweeted. I have been too busy fighting monsters & fighting for a massive Cultural Reset to notice who's in the reboot. Absolutely nothing to do with race, that's quite a stretch you took. I'm beyond glad any WOC has a well paying job. Hell yes to that. I'm sure you are a great actress." However, McGowan has not made a secret her dislike for former costar Alyssa Milano. According to People, Rose McGowan has accused Milano of cultivating a "toxic" environment on the set of the supernatural series. "You threw a fit in front of the crew, yelling, 'They don't pay me enough to do this s—!'" McGowan said. "Appalling behavior on the daily. I cried every time we got renewed because you made that set toxic AF. Now, get off my coattails you f—-ing fraud." Outside of Charmed and her other work in front of the camera, McGowan has been politically active over the past few years, with some of her statements attracting controversy. She has criticized the Democratic Party and endorsed conservative Larry Elder in the California recall election in 2021.
Shannen Doherty
Shannen Doherty played Prue Halliwell on Charmed, the eldest Halliwell sister. Prue had the ability to move objects with her mind. On Season 4 of Charmed, her character was killed off, paving way for Rose McGowan's Paige Matthews to enter the series. Shannen Doherty's exit from the supernatural flick was reportedly due to the tension between her and Alyssa Milano. Milano said the following of her costar, according to E!: "There were times when I'd come in and say, 'Good morning, Shannen,' and she didn't say anything to me," Milano admitted. "And there were times when she'd come in and say, 'Good morning, Alyssa,' and I wouldn't say anything to her." A former child actress, Shannen Doherty has a lengthy list of films under her repertoire. After Charmed, she starred in Shannen Says and Off The Map With Shannen and Holly. Just this year, she appeared in two TV movies, Dying to Belong and List of a Lifetime. On the big screen, she's played roles in Burning Palms, Back in the Day, and Bethany. Doherty has been open about her breast cancer recovery, having recovered from the disease in 2017.
Tell us what's wrong with this post? How could we improve it? :)
Let us improve this post!