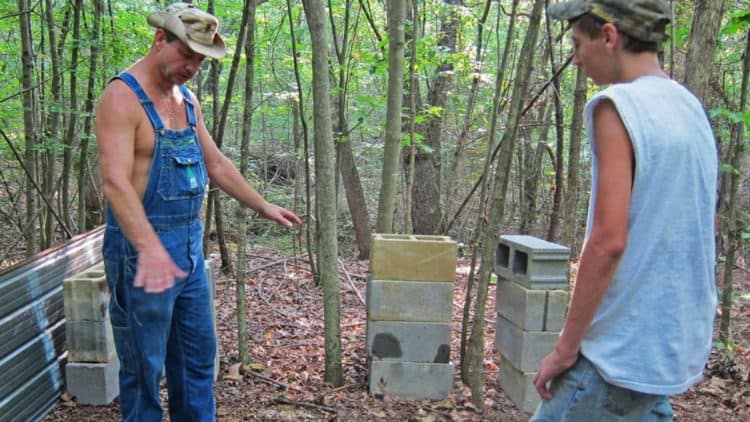 For the last decade, the Discovery Channel series Moonhshiners has given the world a glimpse into the world of illegal liquor production. The show has become incredibly popular and many of its cast members have become bonafide reality TV stars. Now in its 11th season, Moonshiners is still going strong and it isn't showing any signs of slowing down. That said, the show has certainly gone through its changes over the years. Cast members have come and gone and the industry itself has gone through some ups and downs. This season, viewers will be introduced to more new faces and plenty of exciting stories to go along with them. Keep reading to learn about the cast of the 11th season of Moonshiners.
Tim Smith
Tim Smith has been a fixture on Moonshiners since season one, and he has become a legend in the industry as well. He comes from a long line of moonshiners and he loves being able to keep the tradition going. His expertise is unmatched and he is very passionate about what he does. He is the proud owner of a company called Tim Smith Spirits where he uses his family's 100 year old secret moonshine recipe.
Steven Ray Tickle
Steven Ray Tickle is another Moonshiners veteran. At one point, Tickle was the star of his own spin-off series called Tickle, but the show lasted for just one season. Despite all of the success he's had, Tickle has also had some run ins with the law. Outside of his work on the show, Tickle has always been a fairly private person.
Digger
Digger was trained by the legendary Marvin 'Popcorn' Sutton, so you already know that anything he produces is going to be top notch. While he likes to stick to the traditional way of doing things, he also isn't afraid to try new things when it comes to his recipes. Although Digger is very serious about what he does, he is also known for having a great sense of humor.
Mark Ramsay
Mark Ramsay is another moonshiner who was trained by Popcorn Sutton. Outside of the show, he and Digger work together through their company, Sugarlands Distilling Company. Mark enjoys being able to pass down traditions to the next generation of moonshiners.
Richard
Unike some of the other people on the show, Richard hasn't been around moonshine his entire life. However, that doesn't make him any less dedicated to the craft of distilling. As a native of Louisiana, Richard loves incorporating ingredients that connect to his home.
Josh
Making moonshine is just one of the many things Josh has done over the years. He is a former professional motocross racer and stock car driver. However, he has been in the moonshine business for several years and he's hoping to become one of the biggest in the business.
Mike Cockrell
Mike was born and raised in Mississippi where he learned to make moonshine. He currently lives in Tennessee where he operates a moonshine business called the Tennessee Shine Company. Mike is dedicated to creating the highest quality product possible, and he loves being able to make something that people can enjoy.
Mark Rogers
Mark has been making Moonshine for the last 30 years and it's a major part of who he is. According to his bio on the Sugar Lands Distilling Company website, Mark " is a true American hunter, fisherman and woodsman. He has made moonshine most of his life, learning the trade from his 12 uncles when he was only 8 years old. Mark was taught to slow down and make it right. Rogers says, "Once you've had some good liquor, you'll know it."
Craig
Craig is Richard's brother and business partner and he's the type of person who doesn't back away from a challenge. He loves bringing complex recipes to life. So far, and he and his brother have proven to be an unstoppable team and they're proving all of their doubters wrong.
Kenny Law
Since making moonshine is illegal, being involved in the business can be very risky. Kenny Law knows this from first hand experience. Kenny spent time in a federal prison after refusing to snitch on other moonshiners. His decision has earned him lots of respect in the moonshine community.
Jerry
North Carolina native, Jerry, is known for his problem solving skills. His work as an engineer has earned him countless opportunities and he continues to be an asset to the distilling process. Thanks to innovative work, he constantly leaves the other moonshiners in awe.
Daniel
Daniel is relatively new to Moonshiners, but he's already been a great addition to the show. He works closely with Mark and Digger and he is known for his hard work and honestly. As his time on the show continues, it's going to be great to learn more about Daniel.
Huck
Huck is Mark Rogers' cousin and he's no stranger to the moonshine. He's always down to do whatever needs to be done for the sake of the business. In addition to being a moonshiner, Huck also likes to make knives in his free time.