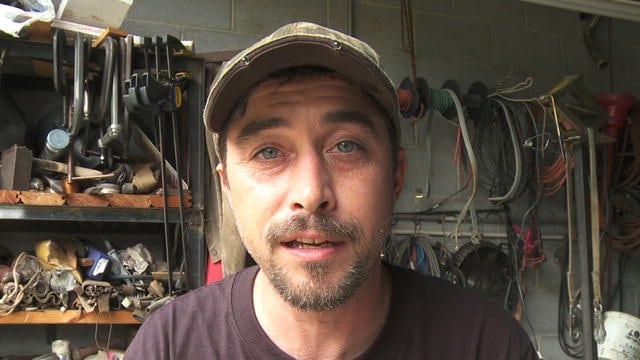 Things haven't been too great for the popular reality show Moonshiners this week. One of the biggest stars of the show, Steven Ray Tickle, has been convicted of possessing an illegal firearm. 39-year-old Steven Ray Tickle of Blairs was found guilty Thursday in Pittsylvania County Circuit Court of possession or use of a saw-offed shotgun or rifle. Prosecutor Bryan Haskins says a deputy spotted the weapon inside Tickle's truck during a traffic stop July 12.
Attorney Joe Garrett says Tickle was in a vehicle on his own property. Haskins says the deputy began the traffic stop on the highway and Tickle pulled into his own driveway. Garrett says there was no search warrant or consent to search. Tickle stars in the Discovery Channel series, which depicts how the liquor moonshine is made. Speaking of which, there's a new episode on tonight on Discovery. We have the preview below. But here are a few facts you might not know about Steven Ray Tickle.
1. He goes by the name "Tickle." Yup, that's it. Just tickle.
2. In 2013, he was reported to be a union carpenter and to have "lived in the Washington area for two years recently as a top carpenter while building the popular Clyde's restaurant near the Verizon Center downtown."
3. 2012, Tickle announced his intention to run for Congress and used an opportunity, in the form of an October 2013 interview with "Washington Secrets", to call Obamacare "crap." This was in addition to his self proclaimed Presidential candidacy
4. In 2013, Tickle was also reported to be considering running against U.S. Representative Robert Hurt in Virginia's 5th congressional district as an independent.
5. He was arrested for public intoxication in 2013.
Moonshiners is an American docudrama television series on the Discovery Channel that dramatizes the life of people who produce (illegal) moonshine in the Appalachian Mountains of North and South Carolina, Tennessee, and Virginia. The series dramatizes their liquor production efforts, law-evading techniques and life. Other stars on the show included Marvin "Popcorn" Sutton, who subsequently committed suicide, apparently to avoid serving a federal prison term, and because he had been diagnosed with cancer. Other cast members include Jim Tom, Patti, Mark Ramsey, and the dog cutie pie. Full bios can be found at Discovery. The show is narrated by Jeremy Schwartz. Here's the preview for the next episode