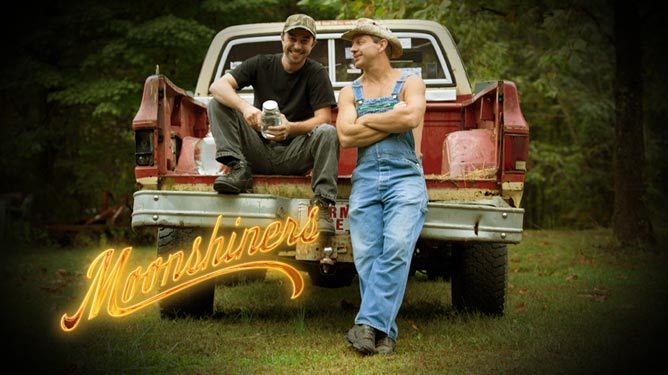 When most people hear the word moonshine, the prohibition era is probably one of the first things that comes to mind. However, the Discover Channel series Moonshiners has shown the world that moonshine isn't really a thing of the past. The show aired its first episode in 2011 and brought viewers into the liquor production world of the Appalachian Mountains. The show's cast features a group of moonshine making experts as well as law enforcement agents. Now in its 10th season, Moonshiners is still going strong. Although the show has some very entertaining elements, there are a lot of people who are somewhat surprised that it's managed to stick around for as long as it has. How has the show Moonshiners lasted for 10 seasons? Let's talk about it.
Why Is Moonshine Illegal?
Even if you don't know much about moonshine you've probably at least heard that there's always been some legal controversy surrounding it, but if you're like most people you have no clue as to why. Although there are many people who think that moonshine itself is illegal, that isn't actually the case. Moonshine isn't actually illegal, but making it at home is. According to Slate.com, making moonshine at home is illegal "Because the liquor is worth more to the government than beer or wine. Uncle Sam takes an excise tax of $2.14 for each 750-milliliter bottle of 80-proof spirits, compared with 21 cents for a bottle of wine (of 14 percent alcohol or less) and 5 cents for a can of beer. No one knows exactly how much money changes hands in the moonshine trade, but it's certainly enough for the missing taxes to make a difference."
No Illegal Moonshine Production Actually Takes Place On The Show
One of the most exciting aspects of the show is the fact that an illegal element, at least that's what many viewers think. In reality, however, there likely isn't any illegal moonshine making happening on the show. Apparently, the show is actually what most people would consider 'fake'. Allegedly most of what viewers see is actually a dramatization.
A spokesperson for the Virginia Department of Alcoholic Beverage Control told a local Fox News station "Virginia ABC agreed to participate in an informative piece that documents the history of moonshine and moonshine investigations in Virginia. Virginia ABC did not participate nor was aware of the false depiction of moonshine manufacturing, distribution and/or transportation in the filming, and would not have participated in the `documentary' had it known of this portrayal." In fact, the Virginia Department of Alcoholic Beverage Control also added that they asked producers to use a disclaimer saying that the moonshine production wasn't real, but the request wasn't met.
If what the Virginia Department of Alcoholic Beverage Control is saying is true, Moonshiners certainly wouldn't be the first reality show to push the limits of what it means to be real. With that being said though, many of the people who enjoy the show do so with the mindset that it isn't entirely real.
How Has Moonshiners Lasted This Long?
Being on the air for 10 seasons is a serious accomplishment. Moonshiners has lasted longer than lots of other reality shows and some scripted shows as well. There's no real secret to the show's success. Moonshiners has simply taped into an audience that is interested in learning more about moonshine and the history and culture that goes along with it. The show's cast members have won over countless hearts and more and more people continue to fall in love with the show. Although some people see moonshine as just another kind of whiskey, the series has proven to be about much more than just the historically controversial beverage.
Thanks to the show, people get to see the journey to becoming a moonshiner and also just how big of a role moonshine has played in certain areas of the country.
Will Moonshiners Be Back For An 11th Season
Unfortunately for all the Moonshiners fans out there, there's no word yet on whether the show will be brought back for another season. However, since we're still pretty early into the 10th season, there's no reason to worry. On the bright side however, the Discovery Channel launched a new spin-off series called Moonshiners: Master Distiller in March 2020. The show also previously launched two other spin-offs: Tickle in 2013 and Moonshiners: Whiskey Business in 2019. Even if the original Moonshiners doesn't get renewed, the franchise is going strong. At this point, we think it's safe to say that Moonshiners won't be going anywhere any time soon.