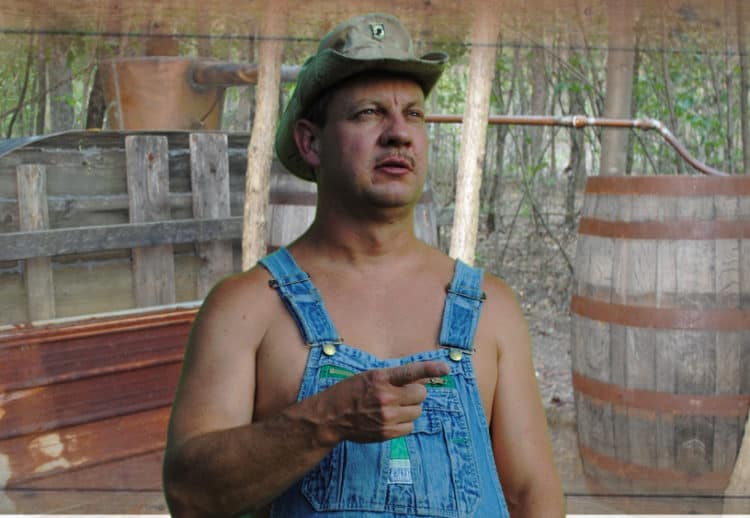 Moonshiners has returned for its new season, but don't expect quite as many outlaw antics, especially not from Tim Smith. Tim Smith is just one of the many shiners that are regularly showcased on the show. Like the others he has used the show to explain and dramatize the tradition of making moonshine. However, Tim has decided to switch over and focus more on making moonshine through lawful means. He's recently partnered with Belmont Distillery to create Climax Moonshine, his very own brand of shine that's totally legal. The moonshine may no longer be made secretively, but Tim is still sticking to tradition. His moonshine is pot distilled, and made with corn, just like it has always been. According to Tim, the lifestyle change has been good, although it has its own issues.
In a recent interview, he explained how, with illegal operations, "You don't have a whole lot of people talking to you and asking you questions, no one is in your pocketbook." Whereas with legal operations, he has to deal with "more accountability. The eyes are on you 24 hours a day." However, it's not all bad. According to him, he took the opportunity because "this was my chance to show the world how real moonshine should taste." The rest of the shiners will be back to business as usual. Look forward to the same scramble to make shine, complete with all the expected drama. There will be close calls with law enforcement, battles against the weather, and of course, plenty of distilling. And don't expect anyone to let Tim get off easy just because he's gone legal. Tickle intends to make sure his long-time friend stays tied to his roots. Overall, it's another entertaining season, just with one less outlaw.
What is Moonshiners?
Moonshiners is a show on Discovery network, that follows the misadventures of several different shiners. Shiners are people who are involved in the illegal production and sale of moonshine. For those not in the know, moonshine is an alcoholic beverage. Like most other countries, America has a long history of people producing their own grain-based alcohols. Moonshine is the most prominent example, and is made throughout the Appalachians and American south. The issue is that making and distributing moonshine independently is illegal. On the show, the fact that their moonshine is illicit makes for great entertainment. The different shiners have to continue to dodge law enforcement, while still producing, transporting, and selling their moonshine.
This has forced all of the shiners to come up with new, and increasingly interesting, ways to hide their activities. Recent seasons have even included one group of shiners making a moonshine raft. This allowed them to have their entire distillery operation floating on a lake. It was certainly clever, though most shiners settle for a more reasonable operation in a forest or other secluded spot. Some shiners also keep things fresh by experimenting with the alcohol itself. This includes the plethora of attempts to distill new, creative flavors of moonshine, including apple pie and other sweets. Overall though, the fun of the show is in watching the shiners themselves. Though they struggle sometimes, they're always willing to do what it takes to make the perfect batch of shine. There are certainly some strong personalities on the show, and it's all the better for it.
Why is moonshine illegal?
The term moonshine originally referred to illegally produced alcohol in general. However, moonshine is now seen as a specific type of grain alcohol. It's actually best described as whiskey, given the process used to make it. However, where whiskey is usually aged in barrels, Moonshine is consumed comparatively fresh. You can age moonshine as well, although it's not done in barrels, so it won't get the same color and flavor. Like most alcohol and spirits, the main ingredient in moonshine is grain, specifically corn. The corn is turned into corn mash through the standard mashing process, and is then further fermented to make alcohol.
Today, the moonshine itself is not illegal. As Tim Smith has proven, it's entirely possible to distill and sell the alcohol legally. The issue is that most of the producers on the show are not making it in a registered distillery. Like anything made to be sold and consumed, the US government has certain regulations and standards in place. This is meant to protect the consumer, and is especially important with things like alcohol, which can be deadly when made incorrectly.
In order to sell moonshine legally, you have to register your distillery and prove that you are following regulations on brewing and sale. Unfortunately, it takes money, time, and effort to complete the process and operate a legal business. For many of the moonshiners, they've learned how to make moonshine based on generations worth of knowledge. They don't have the resources or inclination to make their production fit the rigorous standards necessary for a legal operation.
How to Watch Moonshiners
You can catch Moonshiners on the Discovery Channel every Tuesday at 9pm. You can also watch reruns on demand with your cable provider. If you want to watch online or away from your television, check out the Discovery Go app or website. You can find all the latest episodes plus past episodes. All episodes are available for free, although you will need to prove your cable subscription to access past seasons. Discovery Go also has plenty of extra content, as well as every other show available through the Discovery Network. And if you still can't get enough Moonshiners, check out the spinoff show, Whiskey Business. In Whiskey Business, shiner Tim Smith tries to help a fellow brewer who owns a failing whisky distillery in Tennessee. The show follows the typical business makeover format, with Tim stepping in to offer his expertise. In this case, the alcohol in question is whiskey, though Tim has certainly proven himself a capable brewer regardless. Be sure to check out Whiskey Business and Moonshiners every week on Discovery Channel.