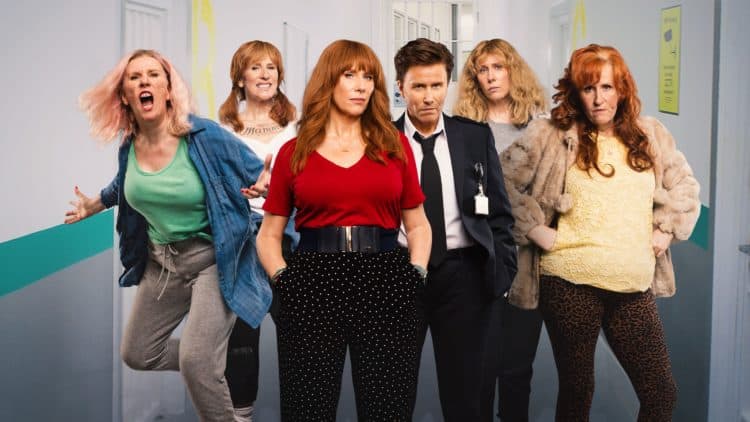 Apparently, people aren't sick of mockumentaries just yet. If they were, Hard Cell would not have made it through Netflix execs, who gave it a go-signal and has scheduled it to drop on the streaming platform on April 22. The show is created by actress Catherine Tate and is produced by Jennie Fava, Gary Matsell, Kand Kristian Smith. The cinematography is by Greg Duffield and the series casting is the handiwork of Rob Kelly. Here is a synopsis of the show, according to What to Watch: "Catherine Tate's new sitcom Hard Cell is coming to Netflix in April 2022, with the comedian taking a satirical look at life within the prison system. Filmed in a 'mockumentary' format —just like The Office, Parks & Recreations, and a host of other comedy hits — the comedy sees Catherine playing multiple characters as she guides viewers through life at fictional jail, HMP Woldsley." If you're curious about the cast of actors who will be bringing this show to life, we got you covered. Here are the cast members of Netflix's upcoming mockumentary comedy series Hard Cell.
Catherine Tate
Aside from creating the show, Catherine Tate also plays multiple characters in Hard Cell. With the power of a few wigs, prosthetics, and layers of silicone, Tate is able to transform herself into different characters for the show. One character she plays is named Laura Willis, the main character and the governor of HMP Woldsley. In her work managing the prison, she attempts to integrate unorthodox and unconventional methods to help the prisoners reform, like staging musicals for the inmates. Tate also plays a character named Ros, a popular inmate; Ange, a prisoner who had just joined HMP Woldsley; Big Viv, a widely feared and unpredictable inmate; Marco, a prison guard; and Anne Marie, playing Ros' mom. Longtime fans of Catherine Tate wouldn't be surprised by the actress' versatility and ability to take on different roles. The actress is popularly known for her character Nan, where she plays an elderly grandmother. The character has its own series on BBC called Catherine Tate's Nan as well as its own movie, The Nan Movie. Tate has also appeared in The Office, portraying Nellie Bertram, as well as Big School. For Doctor Who fans, Tate was beloved as Donna Noble. Despite her onscreen goofy persona, Catherine Tate says she's not a cheery person at all, according to The Guardian, saying: "I do think if you've not spent most of your day having a really good laugh, it's a shame. Look," she says, as if there's no point hiding her cards, "what I'm not is a cheery person. I find cheeriness quite exhausting. I find cheery people too much… they have no negative filter or sarcastic filter or dark filter. You can sniff it out. It's like a club they want you to join, do you know what I mean? I'm not a great hugger, either. Don't force me to hug people. People I like I will, but please, I don't know you, don't hug me!"
Christian Brassington
English actor Christian Brassington will also be a part of Hard Cell, alongside Catherine Tate. The actor has appeared in prominent English movies and shows like Poldark, Fisherman's Friends, Our Kind of Traitor, The Smoke, and In Love With Alma Cogan. In a docudrama titled When Boris Met Dave, Brassington played a young Boris Johnson. In a TV film documentary called Tony Blair: Rock Star, he played a young Tony Blair.
Jola Olajide
Actress Jola Olajide is also set to appear in Hard Cell. The actress had previously appeared in Creeped Out, The Power, and Doctors. In a post on Instagram, Olajide expressed his gratitude over joining Hard Cell, writing: "So grateful for this opportunity."
Cheryl Fergison
Another veteran English actress joining the cast of Hard Cell is Cheryl Fergison. The actress is best known for portraying the role of Heather Trott in the long-running BBC soap opera EastEnders, having played the role from 2007 to 2012. She has been in a lot of projects since then, including Mr. Right, The Spa and Big School, which also stars Catherine Tate. Fergison has also appeared in a couple of reality TV programs, like Celebrity Big Brother, Your Face Sounds Familiar, and Mastermind.
Niky Wardley
Niky Wardley rejoins Catherine Tate in Hard Cell. The two have worked together in The Catherine Tate Show, playing the role of Lisa Jackson, the best friend of Tate's character Lauren Cooper. She's also appearing in the upcoming The Nan Movie, which stars Catherine Tate as her Nan character. Wardley has appeared in a couple of shows over the years, including Are You Being Served?, Asylum, The Five(ish) Doctors Reboot, Love and Marriage, The Spa, Coronation Street, and In With The Flynn.
Peter Singh
Actor Peter Singh is joining the cast of Hard Cell. Singh has appeared in projects like Hampstead, Alan Partridge, and Three Girls.
Donna Preston
Donna Preston will be playing a role in Tate's upcoming series Hard Cell. An actress and writer, Preston has worked in Fantastic Beasts: The Crimes of Grindelwald, The Hitman's Bodyguard, and Judwaa 2.
Lorna Brown
Lorna Brown joins Catherine Tate in the ensemble cast of her upcoming Netflix series. Brown has worked on Les Miserables, The Batman, and Termination: Dark Fate.
Lisa Davina Phillip
Lisa Davina Phillip plays a character in Tate's new mockumentary series. According to her IMDb: "Lisa Davina Phillip is a British actress, born and raised in South London to aspirational Grenadian parents, who were part of the Windrush generation. Lisa biggest role to date has been starring alongside Forest Whitaker, in David E. Talbert's Jingle Jangle: A Christmas Journey. Also starring Keegan-Michael Key, Hugh Bonneville, Anika Noni Rose, Phylicia Rashad, Ricky Martin, Justin Cornwell, Sharon Rose and newcomers Kieron Dyer and Madalen Mills. This live action musical came out on Netflix for November 2020's holiday season."
Stacey Guthrie
Aside from Hard Cell, Stacey Guthrie has appeared in the 2019 movie Bait, starring Edward Rowe, Giles King, and Chloe Endean.
Duncan Wisbey
Duncan Wisbey has also been listed as a cast member of the upcoming series Hard Cell. He has worked in Anna Karenina, A United Kingdom, and Harry Potter and the Goblet of Fire.
Other cast members
Other cast members expected to bring life to Hard Cell are Caroline Harding, Suzie Chard, Dimeji Ewuso, Jumoke Fashola, and Anastasia Zabarchuk.
Tell us what's wrong with this post? How could we improve it? :)
Let us improve this post!