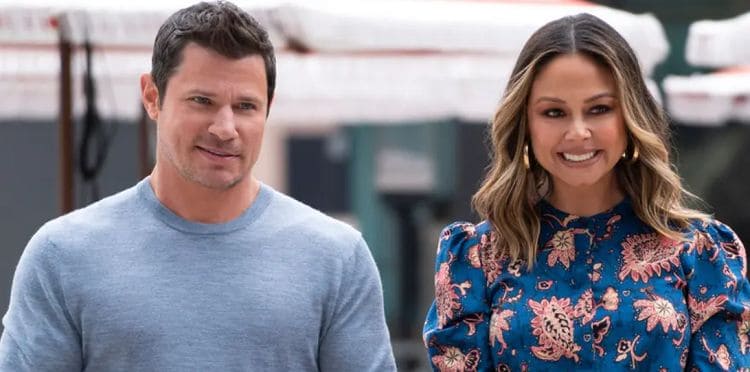 Power couple Nick and Vanessa Lachey are changing the face of reality television as far as dating is concerned. The pair, famed for Netflix's hit show Love is Blind, has blazed their trail with yet another jaw-dropping production, The Ultimatum: Marry or Move On. For two months, we have watched couples come together, break apart, date other people, only to find their way back in each other's arms. There have been moments of joy, bursts of affection, the lack of it, fights that turned physical, and equally heated lovemaking. At the end of it all, we got to know who chose to put a ring on it, and who walked away. That said, there are one too many unanswered questions. Who is still together? Did anyone try to make it work? When are the weddings happening?
Vanessa Lachey acknowledges these questions. They are part of her opening remarks as she ushers all of us into the chaos they have created. All castmates but Colby and Madlyn are in sight. Vanessa proceeds to call out for them, surprising viewers with Madlyn's very visible baby bump. Ladies and gentlemen, we have our very first The Ultimatum baby! Vanessa presents a little gift from the show's family. It's a silver goblet sippy cup that's an ode to the real stars of The Ultimatum; the silver wine glasses that have graced more episodes of the show than we can count.
Alexis is happy for Colby and Madlyn. This is surprising since she'd given her a little warning a while back. Lucky for Colby, Alexis has a soft spot for little girls. That's right, Colby and Madlyn have a baby girl on the way, and they couldn't be happier. It's always been Colby's dream to start a family. How do Nate and Lauren feel about the Colby-Madlyn situation? Vanessa has valid reasons for asking this. First, Nate had said he was going to choose Madlyn, and second, he made a quick turnaround and asked Lauren to marry him even though she'd made it clear that she couldn't promise him children.
Would Nate have proposed if Hunter hadn't set the pace? The questions directed at him are as tense as the proposal we witnessed. He and Lauren have done some work when it comes to being on the same page. They've been in therapy, and she has resorted to settling for one child for now.
Over at the Alexis-Hunter camp, the couple is very much together. She already had her bridal shower. The wedding is coming up, and they are lucky that Hunter's mom is a wedding planner who's saving them tons of dollars in planning fees.
Jake is single. So is April. We see a reenactment of the moment that catapulted it all; a video of Rae twerking. Jake has been trying to find out what he really wants. He's working on himself for now. April giggles. She knew Jake had already checked out of the relationship long before she moved in. The three weeks she'd spent with him? They were all for show. He spent the better part of the time checking on Rae. A Clip comes up of just how much Jake said he was 'dragged' into the show. The word 'dragged' was used less in a movie titled 'Dragged'. Either way, Jake didn't want this experience in the first place.
April has been dating. She is in a serious relationship and has moved in with her boyfriend. Every day, she wakes up next to him. It's blissful.
While Jake offered Rae a piece of the world, she did not go on a trip with him. Zay had something to do with it. Instead of trotting the globe with her newfound prince charming, Rae tried to make it work with Zay. It didn't work out. It's evident in how Zay and Rae revisit the situation with Shanique. Zay and Shanique did have a thing. While Shanique was honest with Randall from the beginning, Zay wasn't so upfront. All along, he'd been accusing Ray of getting intimate with Jake when she didn't. A bitter exchange between Rae and Zay ensues. He leaves the room.
Shanique's interaction with Zay somehow solidified the fact that he was not the person for her. She had to have that experience to be sure. Randall was told what happened. He insists that he could have easily gone through life without getting to see the visuals of it all.
Though Randall went down on one knee, there is no ring on Shanique's finger. She believes the proposal was very sincere, but the realities of life could not allow them to be together. The things they talked about on the show presented themselves in big ways, and when the weight was too hot to handle, they broke up. Randall and Shanique are back together, this time taking things slower, growing with a lot more patience. It's one step at a time. Randall had to reflect when he watched himself on television because he saw a more selfish side of him that he did not really like.
After their break up, Shanique had done some dating of her own. Randall, on the other hand, was dealing with a lot of pain in his family and did not get time to see other people. Nothing is holding him back at the moment.
Finally, Colby and Madlyn are a team now. As a couple, they too had their own issues. He may have gotten a different experience from the experiment, but it only helped him appreciate the things he needed to fix to make the relationship work. To make things clear, he and Madlyn are married. Their parents have come around. They are not in an open relationship. As for Madlyn's friends, they go wherever the wind blows. Right now, they like Colby.
To sum it all up, Vanessa and Nick have some interesting questions. If there were a do-over, who'd they pick? Colby seems to be the winning guy this time. Who has learned the least from the experience? Hunter has a strong feeling that it's Nate. The most shocking thing anyone learned during the show? Shanique discovered that olive oil is a substitute for lube. Last but not least, has the experience made their lives better? Colby agrees, and so does April. With that, It's a wrap on the very first season of The Ultimatum. This is definitely one for the books!
Tell us what's wrong with this post? How could we improve it? :)
Let us improve this post!