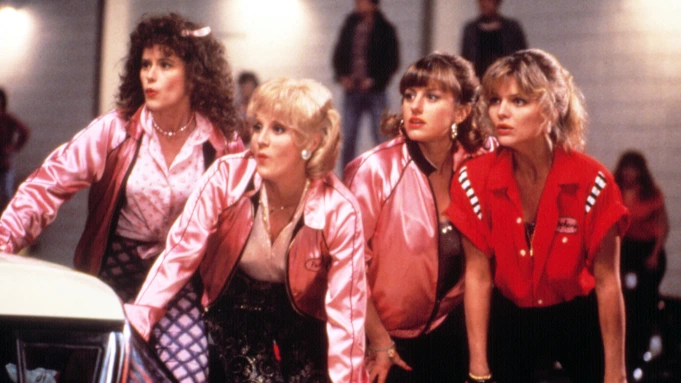 Paramount+ is set to drop a new musical romantic comedy streaming TV series this year. Titled Grease: Rise of the Pink Ladies, the show is a prequel to the first two Grease movies. The show is created by Annabel Oakes, who had written and worked for shows like All Exchanges Final, Atypical, Minx, and Virgingate. Here's a description of the plot of the show, according to Deadline: "The musical series takes place in 1954, four years before the original Grease, before rock 'n' roll ruled and before the T-Birds were the coolest in the school. It follows four fed-up outcasts who dare to have fun on their own terms, sparking a moral panic that will change Rydell High forever." Nicole Clemens, president of Paramount Television Studios, expressed her excitement over the upcoming series, saying: "We are thrilled to unveil our new original series that will introduce an incredible cast of young stars in the making and electrifying musical numbers you will fall in love with. Annabel and Alethea have managed to brilliantly capture the spirit of the iconic beloved classic film which like Rise of the Pink Ladies, is both set in the past but relevant to the present." Grease: Rise of the Pink Ladies presents an interesting list of cast members. If you want to learn more about the actors expected to appear in this show, read ahead. Here are the cast members of the upcoming Paramount+ musical comedy series Grease: Rise of the Pink Ladies.
Marisa Davila
Marisa Davila plays the role of Jane in the upcoming series Grease: Rise of the Pink Ladies. Here is Davila's IMDb profile, describing her work both in acting and music: "Born and raised in Nashville, TN, Marisa Davila was always surrounded by the arts. Her parents are professional musicians, which allowed her to experience the entertainment industry at a young age. She participated in as many theatrical performances and classes as she could in the South, and has even had a consistent voice-over career from age 6. But she thirsted for more opportunities, so she moved to Los Angeles in 2014 and has since made an impression as an actress, singer, dancer, and songwriter." Marisa Davila has 8,799 followers on Instagram as of writing, where she frequently posts about her personal life.
Cheyenne Isabel Wells
Cheyenne Isabel Wells portrays Olivia in the upcoming musical Grease: Rise of the Pink Ladies. She had appeared as a musical performer in The Late Late Show with James Corden.
Ari Notartomaso
Ari Notartomaso will be playing the character of Cynthia in Grease: Rise of the Pink Ladies. According to her official website, which features her resume, Notartomaso has more extensive theatre experience. She has appeared in stage productions of The Lucky Boy, The Last Five Years, Legally Blonde, Hands on a Hardbody, Love in Hate Nation, American Idiot, and Cosi Fan Tute. On the big screen, she's appeared as a supporting character in Paranormal Activity: Next of Kin. Notartomaso is a Penn State graduate, finishing a degree in musical theatre.
Tricia Fukuhara
Tricia Fukuhara plays Nancy in the upcoming comedy series Grease: Rise of the Pink Ladies. She has appeared in projects like Dante Falls, What She Said, and Queenpins.
Shanel Bailey
Shanel Baily plays Hazel in Grease: Rise of the Pink Ladies. Her IMDb profile describes her background as follows: "Shanel Bailey is a 2019 Syracuse University graduate with a BFA in Musical Theatre. A little over one month after graduation, she joined the cast of The Book of Mormon on Broadway as an onstage-swing and Nabulungi understudy. She recently made her television debut co-starring in episode 2 "Glory" on "The Equalizer" starring Queen Latifah."
Madison Thompson
Madison Thompson is set to portray Susan in Grease: Rise of the Pink Ladies. Most fans would recognize her from her role as Erin Pierce on the Netflix series Ozark. Prior to joining the cast of Grease: Rise of the Pink Ladies, she has appeared in shows like The Young and the Restless and American Housewife. Talking to The Italian Reve, Thompson explained how she joined show business, saying: "Growing up partially in New York City, the theatre was always a part of my life. I loved the stage and having a platform to share stories. Pursuing a career in acting was never actually my real intention! I first started taking acting classes because I wanted a way to get out of soccer practice. As I started to learn more about the world of acting and cinema in general, I realized that it was an amazing way to express my creativity. At the same time, the Entertainment Industry was beginning to grow in Atlanta, Georgia, where my family lived. All the new projects shooting in town needed talent, and I was lucky enough to be discovered!"
Johnathan Nieves
Johnathan Nieves plays Richie in Grease: Rise of the Pink Ladies. Nieves had previously appeared in Penny Dreadful: City of Angles, See You Yesterday, and Grey's Anatomy.
Jason Schmidt
Jason Schmidt will be portraying Buddy in the upcoming comedy Grease: Rise of the Pink Ladies. He has performed in shows like Out of Office and FBI: Most Wanted.
Maxwell Whittington-Cooper
Maxwell Whittington-Cooper will be portraying Wally in Grease: Rise of the Pink Ladies. He is known for his appearances in When They See Us, Godfather of Harlem, and Mrs. Fletcher.
Jackie Hoffman
Veteran actress Jackie Hoffman will be portraying Asst. Principal McGee in the upcoming comedy series Grease: Rise of the Pink Ladies. She recently starred in the FX series Feud: Bette and Joan, portraying Joan Crawford's housekeeper Mamacita. For her role, she received a nomination for the Primetime Emmy Award for Outstanding Supporting Actress in a Limited Series or Movie. Other shows she's worked in include Curb Your Enthusiasm, Difficult People, Strangers with Candy, Hope and Faith, Ed Starved, 30 Rock, One Life to Live, and Dilbert.
Recurring roles
Other actors expected to appear in a recurring capacity in Grease: Rise of the Pink Ladies include Chris McNally as Mr. Daniels, Charlotte Kavanagh as Rosemary, Josette Halpert as Dot, Nicholas McDonough as Gil, Maximo Weber Salas as Shy Guy, and Alexis Sides as Potato.
Tell us what's wrong with this post? How could we improve it? :)
Let us improve this post!