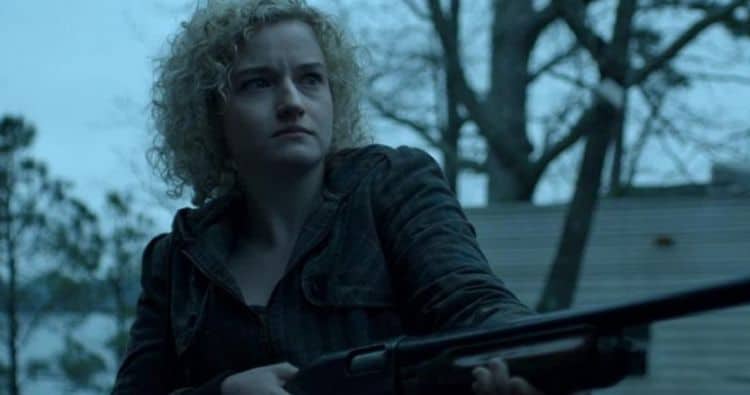 The crime drama, Ozark, has managed to defy the odds and exceed our expectations with every new season premiere. It's a shame that the show already comes full circle in just four seasons. The series hit the jackpot in its inventive and progressive storyline that was paired with such colorful and unpredictable characters. The storyline involves a notorious Mexican drug cartel and a money laundering expert seeking refuge in the Lake of the Ozarks. It may seem like a quaint and quiet town, but its residents hold a lot of surprising secrets that might just knock your socks off. One of them is Ruth Langmore, portrayed by Julia Garner (Inventing Anna). Here are five scenes wherein Ruth showed that she is the most badass character on the show:
5. When she was first asked to rob a strip club
Ruth came from a notorious family of petty criminals. The arrival of Marty Byrde, portrayed by Jason Bateman (Arrested Development), and his family to manage the money laundering operations of the cartel was a life-changing moment for Ruth. The scene where Marty asked for her help to rob a strip club gave us a preview on how Ruth knew how to haggle her way through things. She was cunning and opportunistic, which led to an even bigger and better partnership with Marty down the line. Ruth did not allow herself to be easily manipulated and never wore her heart on her sleeve.
4. When she was not afraid to confront people who got in her way
Marty and Ruth formed an unlikely bond as the series progressed. He found a reliable ally in her, while she also reaped the benefits of taking part in a largescale money laundering operation. Marty gave Ruth difficult tasks to complete, and she delivered every time. The scene where Frank Cosgrove Jr., portrayed by Joseph Sikora (Power), the heir to the Kansas City mob, butted heads with Ruth showed how relentless she was in bringing down anyone who disrespected her and her plans. Frank Jr. got a taste of his own medicine, and suffered a public humiliation. Ruth was fearless in her pursuits and did not allow anything or anyone to get in her way.
3. When she quit working for Marty
It was heartbreaking to witness the disintegration of Marty and Ruth's working relationship. Ruth's impulsive tendencies were always balanced out by Marty's calm and composed demeanor, which in turn made them a great team. The scene where Ruth quit working for Marty was a pivotal moment in the series. She has gone through the wringer for Marty and suffered one great loss after another. The death of her lover and Marty's brother-in-law, Ben, portrayed by Tom Pelphrey (Guiding Light), was the straw that broke the camel's back. Ruth stood by her decisions and was ready to suffer the consequences of her actions, no matter how difficult.
2. When she still agreed to help Marty out despite what happened between them
Marty and Ruth may have had a strained working relationship, but this does not mean that they don't have each other's backs anymore. Behind Ruth's strong personality was a kind heart that was just longing for genuine love and care. Her tumultuous family life provided no sense of security, and she had to fend for herself from a young age. The scene where Marty asked Ruth for a favor to look after his children while he and his wife Wendy, portrayed by Laura Linney (John Adams), had to go out of town to meet with the cartel showed Ruth's soft spot for Marty and his family. She may be ambitious and vicious in her ways, but there are some light-hearted moments in the series where she allows her humanity to shine through.
1. When she vowed to avenge Wyatt's death
We have witnessed countless deaths throughout the run of the series. If there's one thing we've learned, it's that no one is really safe in the world of Ozarks. Major characters can just be wiped out in an instant. Ruth learned this the hard way, especially after the death of her cousin Wyatt, portrayed by Charlie Tahan (Wayward Pines), after getting on the wrong side of the cartel. The powerful scene where Ruth confronted Marty and Wendy regarding the people behind the death of Wyatt was gripping and raw. Ruth has been through a lot in the series, but this is the first time we have seen her this angry and hysterical. Something inside of her was unhinged, and she was unstoppable this time around. Ruth could either be your fiercely loyal ally or enemy that could be your worst nightmare.in just four seasons
Tell us what's wrong with this post? How could we improve it? :)
Let us improve this post!