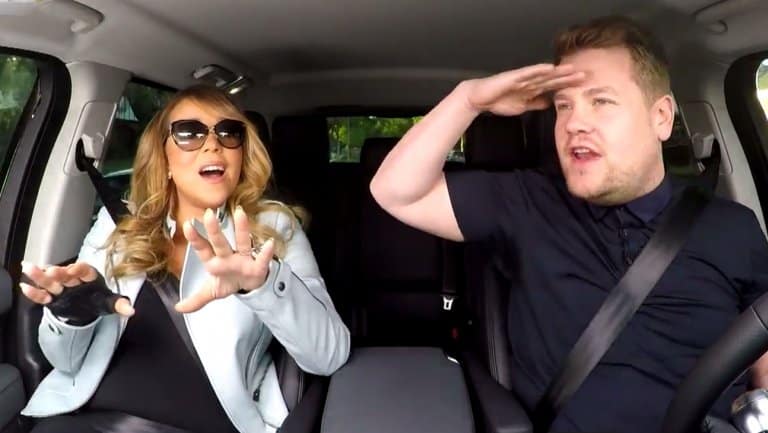 James Corden and his Carpool Karaoke moments are something fun and engaging to watch since despite the slightly cheesy dialogue it's a chance to see him jam out with some of music's greatest names and kind of just have fun at the same time. As a way of getting them to loosen up and just show what they might be like outside the set it's a great part of the show and something that people have responded to with a lot of positive feedback. Quite honestly just to be a passenger behind them and be allowed to listen and maybe even chime in, if your voice was good enough, would be an absolute blast. Maybe they could possibly make this a prize for some lucky fan someday, but that's kind of doubtful to be honest. Still, the many fans that watch Corden fully enjoy this part of the show and obviously love to see their favorite singers getting down while riding in the car.
You know James certainly enjoys it. So here are ten of the best moments of Carpool Karaoke.
10. Miley Cyrus
No matter what you think about her the truth is that Miley Cyrus does have a great voice. While it's true that she kind of went off the rails with her attitude and behavior upon growing up the realization that she's still a great singer is something you can't deny. So yes, she grew up, it happens. Yes, she got raunchy in her act and she's not pandering to those that want to see a wholesome act. You can always flip the channel.
9. Lady Gaga
When she first came on the scene Lady Gaga's weird antics really impressed a lot of people and won them over to her side, but as time went on she just got a little stranger with each passing month it seemed. One very defining moment in her career was the moment in which she sang the national anthem and did a spectacular job with it. Some folks actually thought she was going to inject it with a bit of her customary flair but she did a great job and looked absolutely gorgeous. Now it's a little easier to take her eccentricities it seems, since it's obvious that she can tone it down when she wants to.
8. Adele
Adele has had a huge upswing in her career in the last decade and has proven that she belongs in the elite class of singers. Her voice is simply haunting in one of the most pleasant ways and she can belt out a tune like no one's business. Whatever a person thinks about a celebrity is their business but the idea of hating every last thing about them is kind of ludicrous since some voices you can't help but love when they're raised in song.
7. Bruno Mars
His Superbowl appearances have made him a big star, his music has made him a big star, and his success has made him a megastar. This guy's career started going off and there was no other way but up for him. Now he's a guaranteed legend no matter where he goes and to be honest he's earned every bit of it.
6. Gwen Stefani
Gwen Stefani has had kind of an up and down career, first as the lead singer for No Doubt, then on her own, and then whatever else came next. She's always been a great singer but it's hard to tell if she really needs someone to back her up or if she can go it alone and be just as good. In some ways her voice still sounds stuck back in the 2000's but it's still fun to listen to.
5. Sia
Sia is an odd performer, it has to be said. But then again she's no stranger than any of the others that have their own gimmick and has produced some seriously great music in the recent past. IT seems that having eccentricities is, at this point, just part and parcel of being in the music industry.
4. P!nk
The great thing about P!nk, aside from the spelling of her stage name, is that she's all attitude and yet can still be the kind of artist that will allow one of her fans to take the mic and show what she can do. If you haven't seen the clip of her being blown away by the young girl she gave the mic to during one of her last concerts then you need to look it up and check it out. It's simply amazing.
3. Ed Sheeran
Ed Sheeran is loved by a lot of people and somehow detested by others. The guy's got an awesome voice and despite being thrown into an episode of Game of Thrones alongside none other than Maisie Williams (admit it, some of us thought he was going to die), he's been pretty good when he's on camera.
2. Mariah Carey
Mariah has had to deal with a lot of shade being thrown her way in the past but she's always had a solid fan base to fall back on as well. Her voice can grate on some people but for a lot of people it's absolutely heavenly and there's simply nothing she can do wrong. It's all a matter of who's a fan and who's not most times.
1. Stevie Wonder
You can't deny that Stevie Wonder is a legend, and if you do then you are not a music lover in any way, shape, or form. The man has done so much in his career that saying 'thank you' is just a common courtesy for all he's done.
Just be thankful that James took the wheel though.