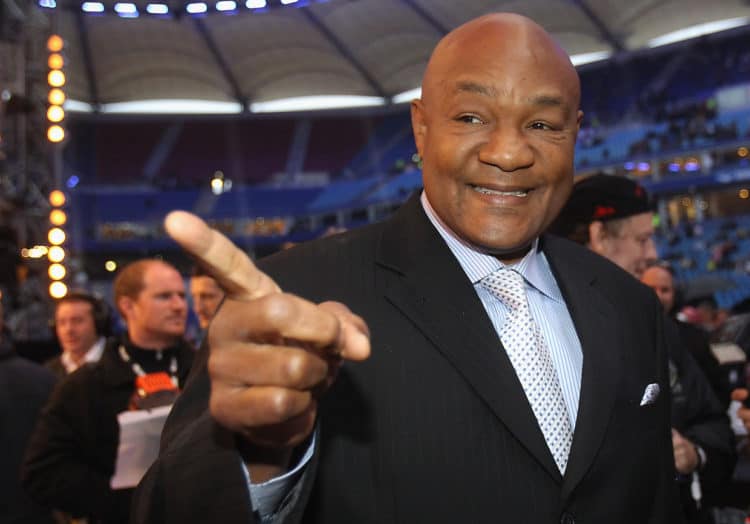 As a boxer, George Foreman had more highs than lows in his career. At the peak of his career, Foreman was not only a two-time heavyweight champion but also an Olympic Medalist. Throughout his Stellar career, Foreman only lost twice; once to Muhammad Ali in 1974's Rumble in the Jungle, which, to date, is one of the most-viewed live events of all time, and a second time to Jimmy Young. His defeat to Jimmy young in 1977 marked the end of his professional career and the beginning of retirement. On that day in his dressing room, Foreman said something happened: God arrived.
" I had a lot of hate in my heart. And I was going to be the number one contender again and get my title back. That was my whole focus. Then, when I lost to Jimmy Young, to meet up with religion like that, it just blew me away. I didn't know what to think. I had to go on street corners and preach, and I'd cut all my hair off. My beloved mustache was gone and I had gained all this weight and people would actually pass me down the street, they'd hear me preaching and it wouldn't stop. And…I'm George Foreman. Yes, I fought Muhammad Ali, Joe Frazier, but I'm here preaching for Jesus Christ." Foreman said in an interview.
And so, away went Foreman's reign as a great boxer, and he began living as a servant of Christ. He was ordained a Christian minister and served at the Church of the Lord Jesus Christ. Soon, however, Foreman ran out of money, and he had to go back to boxing after 10 years. He needed funding to keep the George Foreman Centre going. The second time around, Foreman had to put in the work a little more than the rest. He weighed more, and frankly, he wasn't taken seriously at first. " One knockout after another, it was pretty easy, " Foreman said in a past interview. Foreman holds a record as the oldest world heavyweight champion in history and has his name sitting amongst the greats in the World Boxing Hall of Fame. An upcoming biopic is in the works in his honor, detailing his entire journey, under the leadership of George Tillman Jr.
Meet The Director, George Tillman Jr.
The man tasked with bringing George Foreman's story to life is director George Tillman Jr. Born in 1969, the filmmaker is famed for his work on The Hate You Give, Soul Food, Men Of Honor, The Inevitable Defeat of Mister & Pete, and Barbershop, to name but a few. Most of Tillman Jr's movies have been inspired by and represented Chicago, where he lived for 11 years. Tillman Jr. has a penchant for telling stories that stand for the culture. The Hate You Give, for instance, is a story about an African American girl, Starr Carter (Amandla Stenberg), who stands against police brutality after witnessing its effects firsthand.
In an interview with Google, Tillman Jr. said: "What I really love about it, was, it was specifically about the culture of this young girl and her family. The idea of navigating between the two worlds. The idea of her struggling then that being compromised when she witnesses the shooting of her best friend…I just thought that was an interesting character arc. But, what I love is how the family is always centered. And no matter how tough things get, no matter how people in the neighborhood tell her not to say anything about the shooting or how much pressure she feels from the police department, and how much pressure she feels from her white friends in her white private school, she just pushes, and it makes the film have this emotional rollercoaster." It's that same rollercoaster of emotions that will likely come to the big screen in the form of George Foreman's life, and the lead cast is already up in line.
Meet The Leading Cast
In May, it was revealed that Actor Khris Davis would play George Foreman in the upcoming biopic. Davis' portfolio includes works such as Detroit, Judas and the Black Messiah, and Space Jam: A New Legacy. A peep at Davis' Instagram will let you know that he is passionate about culture and celebrating black legends. When one of the greatest basketball players to ever live, Kobe Bryant took a final bow, Davis was front and center in honoring Bryant's legacy. Davis wrote: "Kobe was more than a hero. He was LEGEND. My adolescence was filled with his victories and downfalls on the court and in his personal life. Relishing in his grace and ability. I was always in awe at how with every adversity he faced. He came out the other side better than when he went in. How he learned from his mistakes and maintained a high level of excellence…" If his caption is anything to go by, it's clear that Davis will do justice in his portrayal of George Foreman, paying homage to yet another black legend.
Alongside Davis, it was also revealed that Sullivan Jones will play the role of Muhammad Ali, and a reincarnation of one of the world's most famous fights, Rumble in the Jungle, will be part of the film. Born Matthew Anthony, Jones comes from a strong background in theatre, a subject he studied in detail at Brown University. In 2012, he appeared in his first film, Love: As You Like It, for which he earned himself a Best Supporting Actor Award. On television, he's made appearances on shows such as Parks and Recreation, and, from 2018, has been a regular on Hulu's The Looming Tower, in which he plays a law enforcement officer. While the rest of the cast is yet to be unveiled, Foreman's fans from both the new and older generations are in for a treat. The film is set to be released in 2022, and, for director George Tillman Jr., is a chance to, yet again, tell another culture story and bring it to life in the most authentic way possible, all while giving us the emotional dynamics as raw as they come.