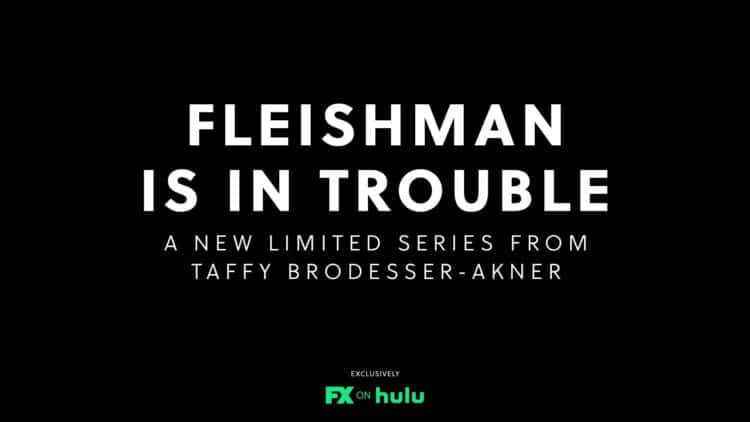 FX recently announced that they will be releasing a limited series based on the Taffy Brodesser-Akner novel titled Fleishman is in Trouble. Here is a synopsis of the show: "The story is centered on recently separated forty-something "Toby Fleishman," who dives into the brave new world of app-based dating with the kind of success he never had dating in his youth, before he got married at the tail-end of medical school. But just at the start of his first summer of sexual freedom, his ex-wife, Rachel, disappears, leaving him with the kids and no hint of where she is or whether she plans to return. As he balances parenting, the return of old friends, a promotion at the hospital that is a long time coming, and all the eligible women that Manhattan has to offer, he realizes that he'll never be able to figure out what happened to Rachel until he can take a more honest look at what happened to their marriage in the first place." The novel received widespread acclaim, with The Guardian writing: "This is an honest, powerful, human story with no apologies. And it will do the "American Novel" a power of good." The limited series based on the novel promises to breathe life into the book in front of the camera. It also promises to showcase an impressive ensemble of cast members. Here are the actors expected to appear in the upcoming FX limited series Fleishman is in Trouble.
Jesse Eisenberg
Jesse Eisenberg is set to star in Fleishman is in Trouble, playing the titular Toby Fleishman, a hepatologist (liver doctor) undergoing a divorce. After many years in Hollywood, Jesse Eisenberg is finally able to abandon his geek roots and play roles that match his age. Eisenberg first made a splash with his role in The Squid and the Whale, a movie he appeared in alongside Jeff Daniels ad Laura Linney. Since then, he's appeared in The Education of Charlie Banks, One Day Like Rain, The Hunting Party, and Zombieland. In 2010, he received a nomination for Best Actor at the Academy Awards for the movie The Social Network. However, unlike the character he portrayed on the movie, Eisenberg has expressed some distaste for social media, particularly when it comes to its tendency to be hostile, in an interview with NME, saying: "I don't understand the appeal of [social media] with strangers who seem to delight in criticising you. I have no desire to get approval from them and I have no interest in fighting with them," he says. "I'm not on it and I'll never be on it. It's not worth it to me. If it means I'm lesser-known, then that's a trade-off I'm more than happy to make." Most recently, he appeared in the sequel Zombieland: Double Tap as well as Wild Indian. He is also set to release his film directorial debut this year, titled When You Finish Saving the World. Eisenberg hasn't had a lot of work on TV, having appeared as guest star in The Newsroom as well as Modern Family. It looks like this is going to Eisenberg's biggest small screen role to date.
Lizzy Caplan
Lizzy Caplan will costar alongside Eisenberg in Fleishman is in Trouble. She will be portraying the role of Libby, a friend of Toby and the show's narrator. The actress is most popularly known for her first acting role on the television show Freaks and Geeks, Since then, she's gained widespread recognition for her roles in Mean Girls, Cloverfield, The Class, and Party Down. In 2013, she started playing sexologist Virginia E. Johnson in the Showtime miniseries Masters of Sex. She received multiple accolades for her role in the series, including nominations for a Primetime Emmy, two Satellite awards, and a Critics' Choice Award. Caplan has previously worked with Eisenberg on the movie Now You See Me 2. In an interview with The Independent, Caplan talked about her struggles to get a role after Mean Girls, saying: "I remember after Mean Girls I didn't work again for a long time," she says. "For like a year, I couldn't get a job. The next thing I did, I straight up dyed my hair blonde and got a spray tan."
Claire Danes
Actress Claire Danes has been confirmed to join the cast of Fleishman is in Trouble. According to Variety, Danes will be playing Toby Fleishman's estranged wife, Rachel. On the big screen, Danes last appeared on the drama movie A Kid Like Jake, as well as the comedy Brigsby Bear. On TV, she's appeared in shows like Homeland, in which she played a lead role, as well as Master of None and Portlandia. She is set to play lead role in the upcoming series The Essex Serpent, which is set to premiere on Apple TV+ later this year.
Maxim Jasper Swinton
Maxim Jasper Swinton has been announced to join the cast of Fleishman is in Trouble. The actor's IMDb profile describes him as follows: "Maxim is an American stand-up comedian, actor, singer, and writer. Maxim has won a major international comedy festival with his standup performance. He has appeared in numerous TV, Film, Theatre, and music videos." He will be playing Solly, a child of Eisenberg and Danes' characters.
Meara Mahoney Gross
Child actress Meara Mahoney Gross is going to be portraying Hanna, another child of Toby and Rachel in Fleishman is in Trouble. She has previously appeared in The Tender Bar, Don't Look Up, and Godmothered.
Adam Brody
Adam Brody has been announced to join the cast of Fleishman is in Trouble as Seth, a friend of Toby's. According to Variety, he's appeared in a few prominent movies: "Brody's recent credits include the features "Promising Young Woman," "The Kid Detective," "Shazam," and "Ready or Not." On television, his credits include "Mrs. America," "Single Parents," and "House of Lies." He is also known for his role as Seth Cohen on the popular Fox series "The O.C."
Other cast members
Other actors expected to appear in Fleishman is in Trouble, as per IMDb, are Talia Castro-Pozo, Josh Stamberg, Michael Gaston, Joy Suprano, Brian Miskell, Ava Yaghmaie, Ralph Adriel Johnson, Raul Torres, Tal Ben-Menashe, and Lauren Yaffe.Zombieland
Tell us what's wrong with this post? How could we improve it? :)
Let us improve this post!