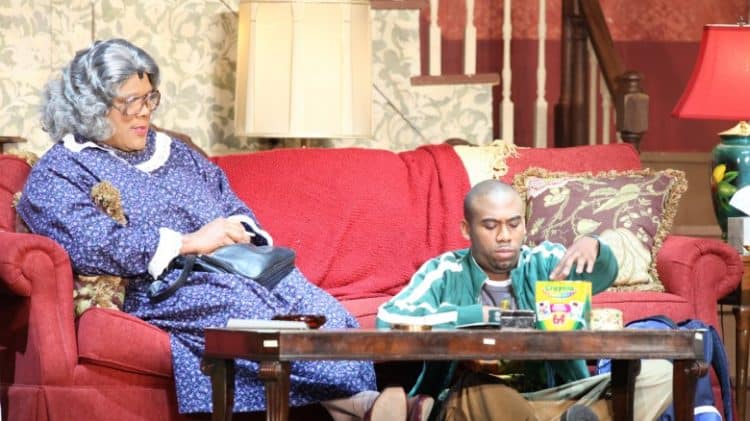 Remember when Tyler Perry stated that A Madea's Family Funeral would be the final entry of the long-running franchise? Well, money talks, meaning that the popular Tyler Perry character will make her grand return, but this time as a Netflix exclusive, A Madea Homecoming. Hallelujer! Now, the famed character has been a major reason that Perry became such a force in the entertainment industry as Madea first made waves in Broadway back in 1999. In 2005, Madea was first introduced in Diary of a Mad Black Woman and she has since been in 12 features films (including the upcoming Netflix exclusive); There's no denying the success of the Madea movies. While the features didn't exactly bring in Marvel-type money, they usually made double their budget as Perry's films tend to be on the cheap side. However, just because something is popular, doesn't mean it's good. So, is Madea a bad character?
Let's focus on the main issue of Tyler Perry's Madea films, in that they tend to be a jumbled mess of tones. At this point, Madea is used as the selling point to bring in its audience, but Madea is never truly the main character. In truth, yes, Madea is a bad character because she never changes. Is it fun seeing Madea's no-nonsense, "I'll beat the crap out of you attitude throughout her features?" Yes, Madea often tends to be the highlight because of her wacky and absurd high jinks. How could you not bust out of laughing when Madea puts a chainsaw through a couch? Or, when she thinks that "WWJD" means "What's Wrong with Jermaine Dupree"? Madea is a funny character often stuck in the wrong world. Her antics often come in the midst of serious storylines such as abuse (Diary of a Mad Black Woman) or rape (Madea Goes To Jail). In fact, it literally makes no sense that Madea exists in Madea Goes to Jail. She has nothing to do with the main plot of Assistant District Attorney Josh and a drug addict and prostitute named Candace. It feels that Madea exists in this film to lure fans in to see the melodrama that's occasionally a comedy. How can I laugh at something so absurd as Madea using a forklift to ruin a woman's car when it's followed by a serious rape scene? It feels as if Tyler Perry wants to have his cake and eat it too. Madea clashes with the ideology and messages of his films because she is a goofy and cartoonish character.
Since Madea never changes, she can never truly be the protagonist. Her schtick is to cause trouble and mayhem, with some well-intentioned heartwarming message towards the end of the film. There's never a journey for Madea to go on. Situations happen to other characters and she manages to get involved somehow. Madea's scenes often feel like a Saturday Night Live sketch. There's nothing with Madea being a side character – even though most of her movies are named after her – but the key is that she needs to serve the purpose to the main protagonist. At least with Diary of a Mad Black Woman, she helps the main character, Helen. Sure, the slapstick comedy still clashes with the melodrama, but she ultimately does serve a purpose. Even in her supposed final movie, A Madea Family Funeral, the focus is on the backstabbing and cheating scandal running around within the family. Madea is there to do her funny schtick and nothing more. It's not particularly the fact that she's not the main character of her own films. It's the fact that Tyler Perry doesn't seem to understand that Madea never feels necessary for a good portion of them. Take Madea out of Family Funeral, or Diary of A Mad Black Woman, or Goes To Jail and exactly how does the story change?
Tyler Perry needs to decide what he wants his movie to be. You can't simply tell audiences that they're getting a comedy and in reality, it's a melodrama featuring splashes of Madea craziness. It's deceitful. As I previously stated, there's no denying the success of the franchise and the popularity of the character. However, it's time to understand that Madea is an over-the-top character that continues to be trapped in a grounded and over melodramatic world. Tyler Perry should be proud that he managed to overcome the trials and tribulations he suffered through in his life, but it's hard to call him a good writer when his scripts tend to be on the bad side. Who knows, maybe A Madea Homecoming will be a great movie. Until then, she's still a bad character.