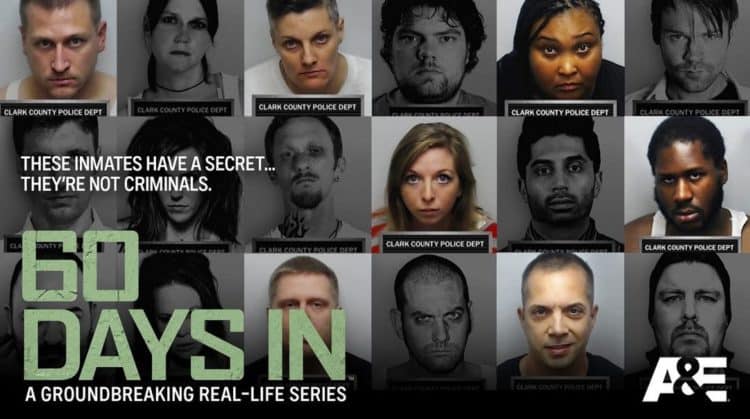 When 60 Days In debuted on A&E in the fall of 2016, it was the first show of its kind. Sure, there have been lots of other reality shows that focus on incarceration, but 60 Days In offered a unique perspective. Instead of just going into jails with cameras, 60 Days In casts volunteers who agree to go into a local jail and pretend to be inmates for 60 days. Not only do these volunteers have to successfully maintain their cover, but they are also responsible for helping get information that can be shared with jail officials in hopes of improving the facility. After six successful seasons, however, 60 Days In seems to have come to a standstill. It's been over a year since season six started and ended, and the future of the show appears to be up in the air. Is there another season of 60 Days In on the way? Let's talk about it.
Why Has There Been Such A Big Break Between Seasons?
In the past, 60 Days In has never gone a full year in-between seasons. Although A&E hasn't released any official information regarding the delay, it is more than likely a result of the COVID-19 pandemic. In 2020, COVID halted production across the entire entertainment industry. Even when productions did start to pick back up, strict guidelines were put in place in an attempt to keep everyone safe while on set. Due to the nature of 60 Days In, it simply isn't possible to follow those guidelines. With volunteers living directly in cells with inmates, there would be no way to enforce social distancing and other protocols without making it obvious that the volunteers aren't really inmates. Potentially blowing people's cover could put them at risk of serious danger. On top of that, past seasons of 60 Days In have had some hiccups that may have caused producers to use this time to think about the best way to move forward with the show. Over the years, several volunteers have put themselves and other people at risk. Plus, the longer the show stays on the air, the harder it will be for the volunteers to conceal their true identities.
What's Next For 60 Days In?
Unfortunately for 60 Days In fans, A&E has been pretty quiet when it comes to the fate of the show. The good news is that the show hasn't been officially canceled, but there haven't been any updates either. With COVID still rearing its ugly head, it could still be a while before production can get back to a regular filming schedule. As a result, it's unclear when or if the show will return. The truth is that the filming location will probably be a major deciding factor in the future of the show. Production will likely need to film in a place with looser COVID restrictions in order to make a new season work. Since there's no word on the future of the show, there also isn't any information on who would be cast for the next season. There's no doubt, however, that the series will have an all-new cast.
Is 60 Days In Fake?
As with every other reality show, there has been lots of speculation over whether or not 60 Days In is as real as it claims to be. Some people simply aren't buying that the volunteers are really able to pass themselves off as inmates. However, those who are connected to the show insist that everything is real. In a Reddit thread, Johnny Ramirez who appeared in season four said, "The show is legit. Please I stress don't get this mixed up with prison! It's a whole different game. Prison is different from what I hear from my son and homeboys. Now me being there myself in Fulton county Tebow was loud but could t fight. He was out of breathe so there is that. Trust me this show at least in my season and season 3 it wasn't fake. It was harder than shit. Plus we were snitches only against guards again only for guards never for inmates. " Despite this argument for the show's authenticity, there's no doubt that editing plays a huge role when it comes to the final product. Reality TV is notorious for editing things to make them look more dramatic, and this is something 60 Days In is probably guilty of. In the meantime, however, 60 Days In fans are just going to have to sit tight and wait for the next season. More than likely, we'll be getting another season of the show before it's all said and done.