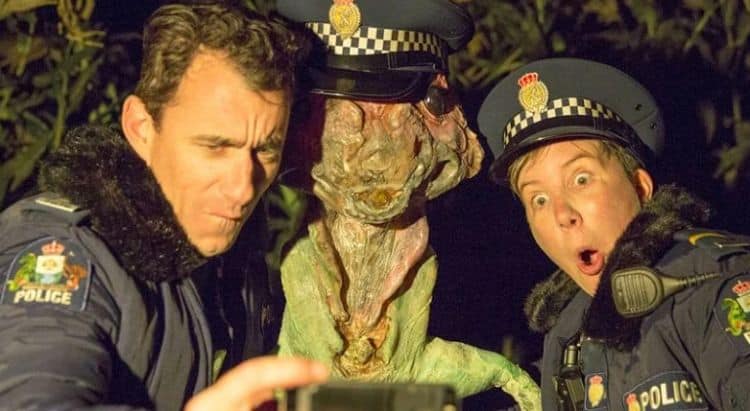 Goofy horror is definitely something that people are into and there's a good reason for it when it works. Wellington Paranormal, a spinoff of What We Do in the Shadows, is slated to make its way to the US this coming July and will be airing on the CW, go figure. The CW has been pretty good about keeping up with some of the hottest shows and while it's definitely known as a landing site for DC-based programs it's also been a popular network for grabbing up other properties that have been just as effective in their own right. Wellington Paranormal is a horror mockumentary that takes place in New Zealand and has been fairly popular over the years as it's managed to gain a second and now a third season before it interested someone enough to think about bringing it over to the US. It kind of sounds as though the show manages to cover a wide variety of horror-themed ideas and as such it's bound to be a least somewhat popular in the states since as anyone should be able to guess, horror is a pretty big thing here. But the different types of horror that people of the US enjoy range from the ridiculous and extremely low-budget to the high class and artistic movies that are far more cerebral in nature and tend to cater to those that are far more intellectual and need a different type of stimulation. To many, horror is essentially something that terrifies people, that disgusts them, that gets them out of their seats and ready to run for the door since they can't stomach what's been put in front of them. But then again, it also lends itself to comedy now and then since there are plenty of elements in horror that are so hard to believe that they become comical in nature after a while.
There are all types of horror, and a lot of people stick to the types that they enjoy, but some actually take an issue with anything horror-based being funny, which is amusing in itself since Wellington Paranormal is one of many productions that have been made to embrace and spoof horror at the same time, and have been successful in the process. One thing about laughing at horror is that it takes a bit of the overall terror from the moment and makes it a little more fun for people to enjoy. There are horror buffs all over the world that love the adrenaline rush that comes when they're scared silly, but there are also plenty that prefer shows such as Wellington Paranormal since it's a chance to have fun with the horror while also engaging in the type of stories that might end up giving people nightmares. A strong horror threshold is hard to come by at times since a lot of people can only take so much horror before they begin to shut down. Others simply aren't scared of anything and need a continual rush of adrenaline and are the types that will end up visiting the most aggressive haunted houses and will find the most appalling horror movies out there. But Wellington Paranormal is designed for horror fans to have fun with it and to show something that's a nice blend of horror and comedy and manages to get people in the mood to laugh right before they feel like screaming.
The tone of the show is bound to be something that will be appealing to a great number of people that aren't exactly horror buffs but do enjoy a good scare now and again, and more than ready to laugh at whatever is presented. It's going to be interesting to see this show on HBO Max when it finally arrives. It will hit the CW first and then be available on the streaming site the next day according to the reports, and since it's already been renewed for a season 4 it's likely that people will enjoy what they see since not a lot of shows these days are lasting past a couple of seasons if they fail to appease the fans. Horror-driven series haven't always had such a great track record in the past in the US, though over the years the formula that's been used for various shows has improved somewhat until it's been found that people are actually paying attention and starting to respond to the ideas that are being pushed. Of course, outstaying a welcome has been the downfall of many shows, including horror stories, but it's better to give Wellington Paranormal the chance to entertain yet another crowd before passing any judgment on whether it's effective or not. There's a lot of faith that the show will be a hit, but we'll have to wait and see how things go.