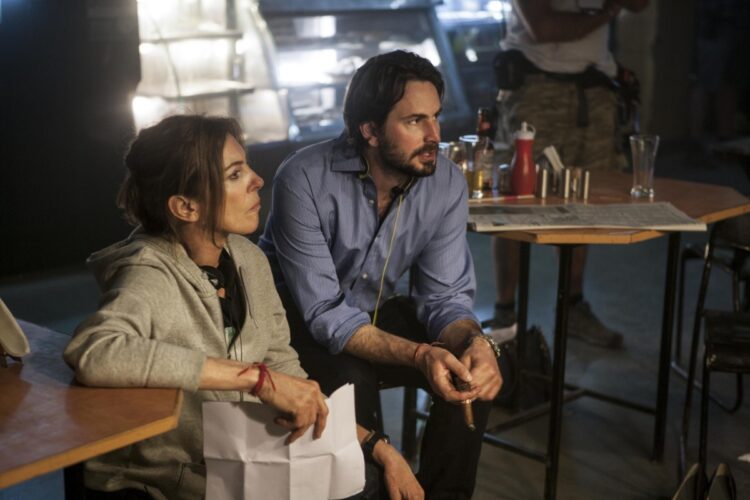 Based on an Israeli TV show, Echo 3 is scheduled to premiere on Apple TV+ later this year, with an impressive lineup of cast members to breathe air into the show's compelling storyline. Echo 3 is inspired by the TV show When Heroes Fly as well as the novel of the same name written by Amir Gufreund. Echo 3 is written by journalist Mark Boal, who is most famous for writing and producing the Academy-Award-winning movie The Hurt Locker. The show's premise is as follows, according to Deadline: "Echo 3 is set in South America and follows Amber Chesborough, a brilliant young scientist, who is the emotional center of a small American family. When she goes missing along the Colombia-Venezuela border, her brother and her husband — two men with deep military experience and complicated pasts — struggle to find her in a layered, personal drama, set against the explosive backdrop of a secret war." Echo 3 promises to feature an impressive list of cast members. If you want to learn more about the actors set to appear in this series, read ahead. Here are the cast members of the upcoming Apple TV+ TV series Echo 3.
Jessie Collins
Jessie Collins will be starring in the upcoming Apple TV+ series Echo 3, playing the character of Amber Chesborough. Collins is an actress best known for her roles in the television series Revolution and For the People. She has also appeared in the films Clickbait and Zero Dark Thirty. Born and raised in Los Angeles, California, Collins began her acting career in regional theater productions. She made her television debut in an episode of the series Ghost Whisperer. Collins went on to guest star on such popular shows as The Good Wife, House, and Person of Interest. In 2012, she was cast as one of the lead characters in Revolution, a post-apocalyptic drama set in a world where all forms of energy have been mysteriously shut down. The series was canceled after two seasons, but Collins' performance earned her critical acclaim. She has since continued to work steadily in television and film, appearing in such projects as For the People, Clickbait, and Free State of Jones. Collins is a talented actress with a bright future ahead of her.
Luke Evans
Luke Evans will be portraying the character of Bambi in the upcoming TV series Echo 3. Evans is a Welsh actor who began his career on the stage. He has starred in many West End productions, including Rent, Miss Saigon, and Piaf. Evans is best known for his roles in the blockbuster Fast & Furious 6 and Peter Jackson's The Hobbit. In Fast & Furious 6, Evans played Owen Shaw, the villainous leader of a criminal gang. In The Hobbit, he played Bard the Bowman, a heroic character who helps to defeat the dragon Smaug. Evans has also appeared in several other films, including Clash of the Titans, Dracula Untold, and Beauty and the Beast. Throughout his career, Luke Evans has proven to be a versatile and talented actor, capable of playing both heroic and villainous roles. Evans is set to appear as a villain in the upcoming movie Pinocchio. In an interview with Collider, he expressed his excitement over the project, saying: "Well, I've always loved Pinocchio. It's a timeless story. It's a very old fairy tale or fable, whatever you want to call it. It has very powerful messages woven into the storyline, many that I think relate to young kids and young people. I don't think it will be anything like any iteration of Pinocchio that we've seen before. I'm truly excited to be a part of it. I'm very honored that Disney has chosen me to play another villain in the world of Disney. I'm surrounded by some very talented people, including Mr. Hanks. It's just a joy to think that I'm in the same film as that legend. I'm very excited about it. Very excited, indeed."
Michiel Huisman
Michiel Huisman has been tapped to play a lead role in the upcoming Echo 3. He will be portraying a character named Prince. Michiel Huisman is a Dutch actor who has appeared in a number of films and television shows. He is perhaps best known for his role as Ellis Jones in the fantasy romance film The Age of Adaline. Huisman began his acting career in his native Netherlands, appearing in a number of theater productions. He made his film debut in 2001 with the Dutch drama Costa!, and he has since gone on to appear in a number of Hollywood films. In addition to The Age of Adaline, Huisman has appeared in The Young Victoria, World War Z, Wild, and The Invitation. He starred as Daario Naharis on the HBO series Game of Thrones. Here are his thoughts about taking on the iconic role, according to Interview Magazine: "I thought that the role was supercool. And I thought the world in which Daario lives, the world of the dragons, was one of the coolest and sexiest in the whole show. I don't think I realized the extent of the show's popularity at the time, funnily enough. I had seen quite a bunch of episodes, and after I was cast, I watched everything again. But I know how its popularity has helped me in the last year to land other roles that maybe before weren't really in the cards for me yet." Huisman is set to appear in the upcoming film Rebel Moon.
Elizabeth Anweis
Elizabeth Anweis will be playing Natalie Foster in the upcoming TV series Echo 3. She had previously appeared in Batwoman, Westworld, and Twin Peaks. She is described by ELAC Theater as follows: "Elizabeth Anweis is an American actress most known for her series regular role as Catherine Hamilton-Kane in the CW show Batwoman. She's guest starred in Westworld, NCIS: Los Angeles, 9-1-1, Twin Peaks, and The Affair as well as co-starring in Parks and Rec, and Grey's Anatomy. Midwest born and raised she began with a modeling career working around the world in runway, editorials, commercials and music videos which eventually brought her to Los Angeles where she soon after landed at the Actors' Gang and fell in love with theatre. She's currently writing and working to develop projects that amplify minority voices."
Fahim Fazli
Fahim Fazli will be portraying an Al Qaeda commander in the upcoming TV series Echo 3. The Afghan-American actor has appeared in some of Hollywood's biggest blockbusters, including Iron Man and G.I. Joe: The Rise of Cobra. Born in Kabul, Afghanistan, Fazli immigrated to the United States with his family in 1980.
Tell us what's wrong with this post? How could we improve it? :)
Let us improve this post!