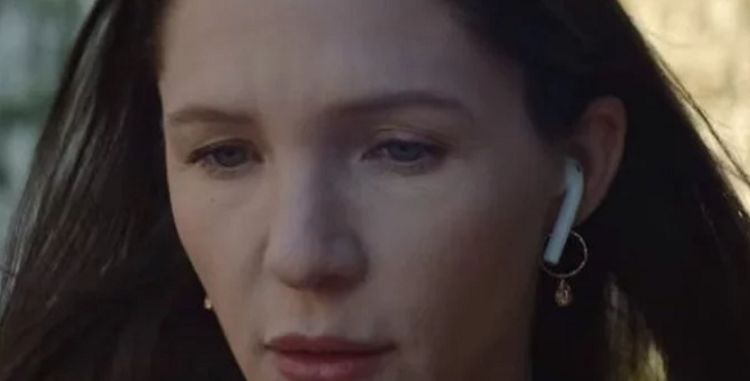 Jessica Collins has been acting professionally for more than 15 years. If you've ever seen what she can do, you'll probably agree that she hasn't gotten nearly as much credit as she deserves. Hopefully, that won't be the case for much longer. Jessica recently got a great opportunity with her role as Emma Beesly in the Netflix mini-series, Clickbait. While she may not have been one of the starring characters, Jessica played a very important role in the storyline and she did a great job of bringing Emma to life. Her growing fan base will be pleased to know that she also has another TV opportunity in the works. Keep reading to learn 10 things you didn't know about Jessica Collins.
1. She Isn't The Only Person In Her Family To Pursue A Career In The Arts
Jessica comes from a close family and she is one of four children. All three of her sisters have been involved in the arts in some capacity. Her father was also a country musician who had one hit song, however, he wasn't an active presence in her life. Despite all of the artistically talented people around her, Jessica didn't always want to become an actress.
2. She's From Texas
Jessica was born and raised in Texas. She moved to the San Antonio area where her grandfather owned a ranch. During an interview with Greatness Adjacent, Jessica said, "We were super poor, but also with all the things that come with white privilege also. We certainly have had the experience of poverty, but we did have a big piece of land and ranch that's my grandfather's."
3. She's Been On Broadway
Not only is Jessica incredible when it comes to being in front of the camera, but she's also a star on the stage. Her talents have taken her all the way to Broadway. In 2008, she was part of the production of Les Liaisons Dangereuses. She has also performed off-Broadway.
4. She Has More Than 20 On-Screen Credits
Clickbait may be the first time that many people are learning about Jessica Collins, but the truth is that you've probably seen her on your screen before. According to her page on IMDB, she currently has 22 on-screen credits. Some of the shows she's been in include House, Blue Bloods, and Law & Order: Criminal Intent.
5. She Studied At Juilliard
Once Jessica decided that she wanted to take acting seriously, she knew that she was going to have to put in a lot of work to reach her goals. She decided to apply to the prestigious Juilliard School where she went on to study acting. While talking about her experience applying to the school, she told Greatness Adjacent, "The story is my drama teacher, Eric Porter, literally drove me to the post office to turn in my application on time. He coached me through everything. My family couldn't afford to fly to do the audition in New York nor could we afford to visit the schools that I was applying to. "
6. She's A Private Person
Most of us are used to knowing way more than we should about the people who work in the entertainment industry. However, one person who no one can say that about is Jessica Collins. Throughout her career, she has always kept her personal life away from the spotlight.
7. She Used To Play Volleyball
Since acting wasn't always what Jessica saw herself doing, she attempted to find other things she was interested in when she was younger. Sports became one of those things. At one point, she joined her school's volleyball team but she quickly learned that sports weren't her thing.
8. She's A Wife And Mother
Since Jessica has been very private about the details of her personal life, there are a lot of things we don't know about her. How, in her interview with Greatness Adjacent, she mentioned that she is a wife and mother. Unfortunately, we weren't able to locate any information about her husband other than the fact that he's a writer.
9. Wearing Her Costume Helps Her Get Into Character
Getting into character can be one of the most challenging aspects of acting. Jessica has come up with somewhat of a routine to help herself really absorb the roles she plays. For her, getting into costume really helps her embody her character so she likes to get her costume/wardobe as early as possible so she can start feeling like her character.
10. She Is Sometimes Credited Under A Different Name
If you've been following Jessica's career, you may have noticed that sometimes she is credited under the name Ava Collins. She explained the reason for this in an interview with Pop Entertainment, "There is another Jessica Collins, who I hear is a wonderful actress. I was told by the Screen Actors Guild that we couldn't share the same name. I went through a series of [names] figuring it out, until finally the Screen Actors Guild said, "Well, you can use your name. You just have to sign a waiver." So, by the time I got to The Nine, it all finally was worked out. (laughs again) Yeah, we went through some billing discrepancies, which all worked out in the end."Clickbait
Tell us what's wrong with this post? How could we improve it? :)
Let us improve this post!