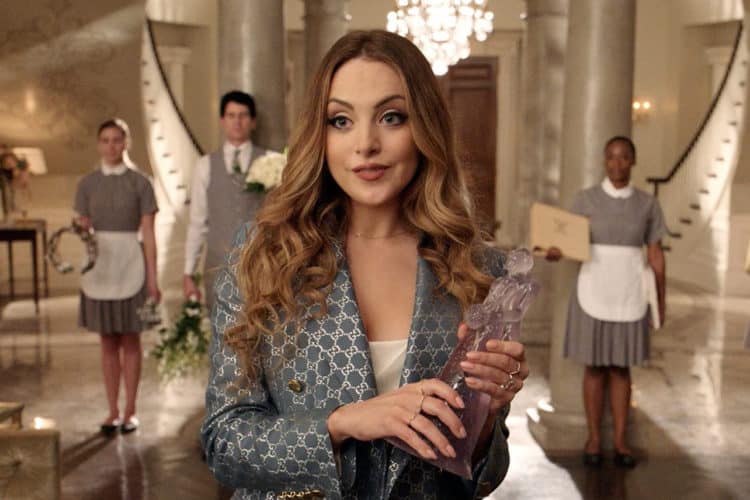 Since debuting in 2017, the TV series Dynasty has become a pretty big hit for The CW. Based on the 1970s series of the same name, Dynasty follows the Carringtons, a wealthy family who is struggling to navigate the overlapping worlds of business and family. Things get especially tense for the Carringtons when the family's patriarch marries a woman from a rival family. There's no doubt that drama is one of the reasons why the show has been so successful, but the cast has also played a major role in the show's success. With a combination of newcomers and industry vets, Dynasty is fortunate to have a long list of very talented actors who are affiliated with the show. Continue reading to learn more about the cast of the fifth season of Dynasty.
Elizabeth Gillies as Fallon Carrington
Born and raised in New Jersey, Elizabeth Gillies fell in love with acting at an early age. By the time she was a teenager, she knew that it was something she wanted to pursue seriously. She ultimately decided to drop out of high school to pursue her dream of becoming a professional actress. While most people will probably agree that dropping out of high school is a very risky decision, it turned out quite nicely for Elizabeth. When she was 15 years old, she made her Broadway debut in a production of 13. She made her on-screen debut in 2007 in a TV series called The Black Donnellys. Elizabeth has been fortunate to be working consistently ever since. Throughout her career, Elizabeth has also appeared in music videos for artists such as Ariana Grande and Victoria Justice. Outside of her work, Elizabeth has been married to Michael Corcoran since 2020.
Daniella Alonso as Cristal Jennings Carrington
Danielle Alonso is originally from New York City, but she comes from a very diverse background. When she was 15 years old, she was discovered by the Ford Modeling Agency and she began posing for popular teen publications such as Seventeen and Teen. She was also part of ad campaigns for several popular companies. She broke into the acting world in the late 1990s and she got her big break in 2004 when she was cast with a recurring role in the popular TV series One Tree Hill. Although her work takes up a pretty big part of her life, Danielle has lots of other interests. She has practiced martial arts for several years and she is a green belt in karate. She is also a proud animal lover who has used her platform to promote animal rights. In 2021, Daniella welcomed her first child.
Elaine Hendrix as Alexis Carrington Colby
These days, Elaine Hendrix is most well known for her work as an actress, but she actually started her career as a dancer. When she was in high school, she became a dancer for the Gary Harrison Dance Company. During that time, she was also working as a model. As a dancer, she got to work with some well-known artists such as MC Hammer and Keith Sweat. Sadly, Elaine was hit by a car in 1992 which put an end to her dancing career. Although she had done some acting prior to her accident, she decided to put more focus on it after her recovery. In 1995, she landed a recurring role in the TV series Get Smart. It didn't take long for things to take off for her, and she has been a strong presence on our screens ever since. When Elaine isn't working, she likes to use her platform to spread awareness about animal rights.
Rafael de La Fuente as Sam "Sammy Jo" Jones
With his good looks and charming on-screen presence, it's no surprise that Rafael de La Fuente has become a star. He was born and raised in Venezuela which is where he discovered his passion for acting. He began his acting career in the late 2000s. Rafael got his big break just a couple of years later when he was cast in the Nickelodeon Latin America series Grachi. In most recent years, he has been focused on being cast in United States-based productions. While he doesn't have the longest list of acting credits, Rafael has already shown the world that he is ready to take on any kind of role. In 2019, Rafael came out to the public as gay. Outside of that, though, he has been pretty private when it comes to his personal life.
Sam Underwood as Adam Carrington
Sam Underwood is a formally trained actor who was born and raised in England. Although he has become known for his on-screen work, the stage was his first love and he continues to be active in the theater world. Prior to being cast in Dynasty, Sam was best known for his roles in shows such as Fear the Walking Dead and The Following. In addition to his work as an actor, Sam has also ventured behind the scenes. In 2017, he wrote and produced a short film called Ophelia. For the most part, Sam has been pretty low-key about his life outside of acting, but we do know that he has been married to actress Valorie Curry since 2016. The couple does not have any children together.
Michael Michele as Dominique Deveraux
Michael Michele is the kind of actress who hasn't gotten nearly as much credit as she deserves over the year. Born and raised in Indiana, Michael decided to move to New York City after high school where she began acting. She made her on-screen debut in 1988 in a TV series 1st & Ten. She got her first major opportunity in 1992 when she was cast in Dangerous Curves. In addition to Dynasty, some of her more recent credits include Star and Queen Sugar. Though her TV appearances are what she is best known for, Michael has also been in several music videos.
Robert Christopher Riley as Michael Mulhane
Robert Christopher Riley is a Brooklyn native. We don't know how he fell in love with acting, but we do know that it's something he was serious about by the time he was a teenager. After graduating from high school, he went on to study acting at Lehigh University. He then earned a master's degree in acting from Ohio University. Robert earned his first on-screen role in 2006 in a movie called The Trade Off. He made several small appearances during the 2000s, but he didn't get a major break until 2013 when he was cast in the VH1 series Hit the Floor. Dynasty is arguably the biggest role of his career so far, and it's not something he's taking for granted. Though acting is his main focus, it isn't the only way that Robert likes to express himself through the arts. He also enjoys taking pictures and he is getting into directing and producing.
Sam Adegoke as Jeff Colby
Sam Adegoke was born in Nigera, but he moved to the United States when he was very young. His acting journey was a little different than many of his castmates'. When he went to college, he majored in marketing and finance. He began his professional acting career in 2015. His role in Dynasty is the biggest opportunity of his career so far and has consistently shown exactly why he was the perfect person for the role. When Sam isn't working, he loves to travel and is also really into motorcycles. During an interview with Bello Mag, he said, " I especially like exploring national parks on long rides over a weekend or even weeks if I have time".
Maddison Brown as Kirby Anders
Maddison Brown has been acting for the majority of her life. She was only about 5 years old when she started her career, and she was 12 when she got into modeling. Maddison only has a handful of acting credits, but viewers would never be able to tell because she carries herself with the confidence of an industry vet. Throughout her career, she has been a very private person and she seems to enjoy living a low-key lifestyle.
Adam Huber as Liam Ridley
Like Sam Adegoke, Adam Huber's acting journey hasn't exactly been a straight shot. He went to college at Penn State University where he studied business management. During the late 2000s, he got into modeling and he made his acting debut in 2012. Although he has appeared in a good number of projects over the years, most of his roles have been on the smaller side. Being cast in Dynasty has certainly helped take his career to the next level.
Eliza Bennett as Amanda Carrington
Eliza Bennett was only about 9 years old when she started her acting career with a role in a local play. It didn't take long for everyone to see that she had the potential to be a star. In 2004, she made her on-screen debut in a movie called The Prince and Me. Since then, she has been working her way towards bigger and better opportunities things have really started to take off for her. Since being cast in Dynasty, Eliza has been getting lots of attention.
Grant Show as Blake Carrington
Grant Show has been in the entertainment industry for well over 30 years. During that time, he has built a very impressive resume that includes film and TV roles. In 1992, he became well known after being cast in the series Melrose Place. When Grant is busy working, he loves spending time with his wife and daughter.
Tell us what's wrong with this post? How could we improve it? :)
Let us improve this post!